Way of the Sword in Chinese / Japanese...
Buy a Way of the Sword calligraphy wall scroll here!
Personalize your custom "Way of the Sword" project by clicking the button next to your favorite "Way of the Sword" title below...
---
---
Kendo / The Way of the Sword

Often associated with Kenjutsu, 剱道/劍道 means "The way of the sword" in Japanese (and Korean with an alternate form of the first character).
This is also the term used for swordsmanship and even fencing in Japanese and Korean, depending on context.

Note: These same characters are also used separately in Chinese, but this exact combination yields a common title in Japanese only (perhaps someone who is really into swords would use this in China).

Note: There is more than one way to write the "sword" character (shown above is the Japanese version - if you want the Korean version, please let me know when you place your order).
---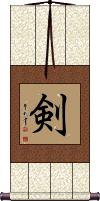 剱 is the modern Japanese way to write sword.

This Kanji character comes from original Chinese. This form would also be understood in Chinese (there are often several ways to write the same character) but I suggest this one only if your audience is Japanese (because they've settled on a slightly different form as the standard in China).

In Japanese, this character also means saber/sabre, blade, bayonet, stinger, and clock hand (clock hands are the "swords" of the clock).
---
See Also: Katana
Mark the boat to find the lost sword / Ignoring the changing circumstances of the world

刻舟求劍 is an originally-Chinese proverb that serves as a warning to people that things are always in a state of change.

Thus, you must consider that and not depend on the old ways or a way that may have worked in the past but is no longer valid.

This idiom/proverb comes from the following story:
A man was traveling in a ferry boat across a river. With him, he carried a treasured sword. Along the way, the man became overwhelmed and intoxicated by the beautiful view and accidentally dropped his prized sword into the river. Thinking quickly, he pulled out a knife and marked on the rail of the boat where exactly he had lost his sword.

When the boat arrived on the other side of the river, the man jumped out of the boat and searched for his sword right under where he'd made the mark. Of course, the boat had moved a great distance since he made the mark, and thus, he could not find the sword.

While this man may seem foolhardy, we must take a great lesson from this parable: Circumstances change, so one should use methods to handle the change. In modern China, this is used in business to mean that one should not depend on old business models for a changing market.
---
This proverb dates back to the Spring and Autumn period (770–476 BC) of the territory now known as China. It has spread and is somewhat known in Japan and Korea.

海東劍道 is the Korean martial arts style that means Eastern Sea Sword Way.

The character meanings break down this way:
海 = Sea
東 = East/Eastern
劍 = Sword
道 = Way/Path/Style/Method

This can sometimes be romanized as "Hae Dong Kum Do," "Haidong Kendo," "Hae Dong Geom Do," "Haedong Geomdo," or "Haedong Kumdo."

If you want this written in modern Korean Hangul (해동검도) instead of Hanja (Chinese), click on the Hangul characters next to the Korean flag above, instead of the regular button.

気剣体一致 is the title Ki Ken-Tai Icchi.

気 = energy, 剣 = sword, 体 = body, 一致 = synchronization/unity. So, "energy, sword, and body in unison" would be one way to translate this. Sometimes written with the possessive article, の, making it 気剣体の一致 or "Ki Ken-Tai no Icchi." Let me know in the special instructions if you want that の character added by the calligrapher.
Daodejing / Tao Te Ching - Chapter 9
chí ér yíng zhī bù rú qí yǐ chuǎi ér zhī bù kě cháng bǎo jīn yù mǎn táng mò zhī néng shǒu fù guì ér jiāo zì yí qí jiù gōng suì shēn tuì tiān zhī dào

This text is the ninth chapter of the Daodejing / Tao Te Ching.

The text reads:
持而盈之、不如其已。揣而梲之、不可長保。 金玉滿堂、莫之能守。 富貴而驕、自遺其咎。 功遂身退、天之道。

This classical Chinese passage comes from the Mawangdui (馬王堆帛書) text.
Dr. Charle Muller translates it this way:
To hold until full is not as good as stopping.
An oversharpened sword cannot last long.
A room filled with gold and jewels cannot be protected.
Boasting of wealth and virtue brings your demise.
After finishing the work, withdraw.
持而盈之不如其已揣而梲之不可長保金玉滿堂莫之能守富貴而驕自遺其咎功遂身退天之道 is the Way of Heaven.
Dr. Muller's translation of all 81 Daodejing chapters

In Japanese, the modern definition, using simple terms, 剣術 is "A martial art involving swords" or "The art of the sword."

However, in Chinese, this is the word for fencing (as in the Olympic sport).

I will suppose that you want this for the Japanese definition, which comes from skills and techniques developed in the 15th century. At that time, Kenjutsu (or swordsmanship) was a strictly military art taught to Samurai and Bushi (soldiers). The fact that swords are rarely used in military battles anymore, and with the pacification of Japan after WWII, Kenjutsu is strictly a ceremonial practice often studied as a form of martial art (more for the discipline aspect rather than practical purpose).

Language note: The Korean definition is close to the Japanese version described above. However, it should be noted that this can mean "fencing" depending on the context in Japanese, Chinese, and Korean.




Character variation notes: There are slight variations possible with the second character. Either way is correct and understood by both Japanese and Chinese folks.

Since there are about 5 common ways to write the sword character, if you are particular about which version you want, please note that in the "special instructions" when you place your order.

Romanization note: This term is often Romanized as Kenjitsu; however, following the rules of Japanese Romaji, it should be Kenjutsu.
This in-stock artwork might be what you are looking for, and ships right away...
Not the results for way of the sword that you were looking for?
Below are some entries from our dictionary that may match your way of the sword search...
Characters

If shown, 2nd row is Simp. Chinese

Pronunciation
Romanization
Simple Dictionary Definition

剣の道

see styles
kennomichi
けんのみち
The following table may be helpful for those studying Chinese or Japanese...
Title
Characters
Romaji

(Romanized Japanese)

Various forms of Romanized Chinese
Kendo
The Way of the Sword
剱道 / 劍道

---

剣道
kendou / kendo
jiàn dào / jian4 dao4 / jian dao / jiandao
chien tao / chientao
Sword
剱

---

剣
ken
jiàn / jian4 / jian
chien
Mark the boat to find the lost sword
Ignoring the changing circumstances of the world
刻舟求劍

---

刻舟求剑
kokushuukyuuken

---

kokushukyuken
kè zhōu qiú jiàn

---

ke4 zhou1 qiu2 jian4

---

ke zhou qiu jian

---

kezhouqiujian
k`o chou ch`iu chien

---

kochouchiuchien

---

ko chou chiu chien
Haidong Gumdo
海東劍道

---

海东剑道
hǎi dǒng jiàn dào

---

hai3 dong3 jian4 dao4

---

hai dong jian dao

---

haidongjiandao
hai tung chien tao

---

haitungchientao
Ki Ken-Tai Icchi
気剣体一致
ki ken tai icchi

---

kikentaiicchi

---

ki ken tai ichi
Daodejing
Tao Te Ching - Chapter 9
持而盈之不如其已揣而梲之不可長保金玉滿堂莫之能守富貴而驕自遺其咎功遂身退天之道

---

持而盈之不如其已揣而梲之不可长保金玉满堂莫之能守富贵而骄自遗其咎功遂身退天之道
chí ér yíng zhī bù rú qí yǐ chuǎi ér zhī bù kě cháng bǎo jīn yù mǎn táng mò zhī néng shǒu fù guì ér jiāo zì yí qí jiù gōng suì shēn tuì tiān zhī dào

---

chi2 er2 ying2 zhi1 bu4 ru2 qi2 yi3 chuai3 er2 棁 zhi1 bu4 ke3 chang2 bao3 jin1 yu4 man3 tang2 mo4 zhi1 neng2 shou3 fu4 gui4 er2 jiao1 zi4 yi2 qi2 jiu4 gong1 sui4 shen1 tui4 tian1 zhi1 dao4

---

chi er ying zhi bu ru qi yi chuai er 棁 zhi bu ke chang bao jin yu man tang mo zhi neng shou fu gui er jiao zi yi qi jiu gong sui shen tui tian zhi dao
ch`ih erh ying chih pu ju ch`i i ch`uai erh chih pu k`o ch`ang pao chin yü man t`ang mo chih neng shou fu kuei erh chiao tzu i ch`i chiu kung sui shen t`ui t`ien chih tao

---

chih erh ying chih pu ju chi i chuai erh chih pu ko chang pao chin yü man tang mo chih neng shou fu kuei erh chiao tzu i chi chiu kung sui shen tui tien chih tao
Kenjutsu
Kenjitsu
剣術

---

剑术
kenjutsu
jiàn shù / jian4 shu4 / jian shu / jianshu
chien shu / chienshu
In some entries above you will see that characters have different versions above and below a line.
In these cases, the characters above the line are Traditional Chinese, while the ones below are Simplified Chinese.
Many custom options...




And formats...



Successful Chinese Character and Japanese Kanji calligraphy searches within the last few hours...
All of our calligraphy wall scrolls are handmade.
When the calligrapher finishes creating your artwork, it is taken to my art mounting workshop in Beijing where a wall scroll is made by hand from a combination of silk, rice paper, and wood.
After we create your wall scroll, it takes at least two weeks for air mail delivery from Beijing to you.
Allow a few weeks for delivery. Rush service speeds it up by a week or two for $10!
When you select your calligraphy, you'll be taken to another page where you can choose various custom options.
Check out my lists of Japanese Kanji Calligraphy Wall Scrolls and Old Korean Hanja Calligraphy Wall Scrolls.
Some people may refer to this entry as Way of the Sword Kanji, Way of the Sword Characters, Way of the Sword in Mandarin Chinese, Way of the Sword Characters, Way of the Sword in Chinese Writing, Way of the Sword in Japanese Writing, Way of the Sword in Asian Writing, Way of the Sword Ideograms, Chinese Way of the Sword symbols, Way of the Sword Hieroglyphics, Way of the Sword Glyphs, Way of the Sword in Chinese Letters, Way of the Sword Hanzi, Way of the Sword in Japanese Kanji, Way of the Sword Pictograms, Way of the Sword in the Chinese Written-Language, or Way of the Sword in the Japanese Written-Language.
41 people have searched for Way of the Sword in Chinese or Japanese in the past year.
Way of the Sword was last searched for by someone else on Jan 3rd, 2023