Katana in Chinese / Japanese...
Buy a Katana calligraphy wall scroll here!
Personalize your custom "Katana" project by clicking the button next to your favorite "Katana" title below...
Katana
Japanese Samurai Sword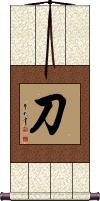 刀 is the Japanese Kanji for "sword." This refers to the style of sword carried by warriors, samurai, and shogun of ancient Japan.

With the pacification of Japan, such swords are now only used for ceremony and decoration. The true art of sword-smithing is all but lost in Japan with new sword production dedicated to making inexpensive replicas for the tourist and foreign market.

For those of you that want to ask whether I can get you a real antique sword. Let me tell you that most real Asian swords were melted down after WWII in Japan, and during the Great Leap Forward in China. Any remaining swords are family heirlooms that nobody will part with.

Please carefully note that the Japanese kanji character shown above is only for a Japanese audience. In China, this character means "knife." See our other entry for "sword" in Chinese.
Note: 刀 can mean knife, sword, or blade in Korean, depending on context.
---
See Also: Sword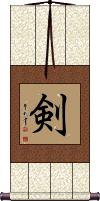 剱 is the modern Japanese way to write sword.

This Kanji character comes from original Chinese. This form would also be understood in Chinese (there are often several ways to write the same character) but I suggest this one only if your audience is Japanese (because they've settled on a slightly different form as the standard in China).

In Japanese, this character also means saber/sabre, blade, bayonet, stinger, and clock hand (clock hands are the "swords" of the clock).
Kendo / The Way of the Sword

Often associated with Kenjutsu, 剱道/劍道 means "The way of the sword" in Japanese (and Korean with an alternate form of the first character).
This is also the term used for swordsmanship and even fencing in Japanese and Korean, depending on context.

Note: These same characters are also used separately in Chinese, but this exact combination yields a common title in Japanese only (perhaps someone who is really into swords would use this in China).

Note: There is more than one way to write the "sword" character (shown above is the Japanese version - if you want the Korean version, please let me know when you place your order).
---
See Also: Sword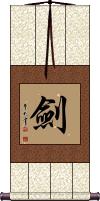 劍 is pronounced "jian" in Chinese. When you say it, imagine that you are making the sound of a sword as it clashes with a metal shield. This might get you closer to the correct pronunciation in Chinese.

I actually wonder if this word came from the metallic ringing sounds of a sword in battle - but such knowledge is lost in history.

The sword is a symbol of a warrior. The one thing that a soldier in ancient China lived and died by. A warrior with his skills and sword proves himself of great value. A warrior who losses his sword instantly becomes worthless.

劍 is an excellent scroll for someone in the military (especially officers of all services - as well as enlisted NCO Marines since they still carry swords even if mainly for ceremonial purposes). Or perhaps someone who practices variations of kung fu or tai chi that involve weapons.

Please note that while this character is understood with the sword meaning in Japanese, you might be looking for the word "katana" which also means sword in Japanese but means "knife" in Chinese.
---
There are other ways to write sword, and here are a few...

































If you are particular about the version you receive, please let me know when you place your order (Note: Special styles are only available from one of our master calligraphers).
Not the results for katana that you were looking for?
Below are some entries from our dictionary that may match your katana search...
Characters

If shown, 2nd row is Simp. Chinese

Pronunciation
Romanization
Simple Dictionary Definition

刀

see styles
dāo
dao1

---

tao

---

tou / to
とう

More info & calligraphy:

Katana

knife; blade; single-edged sword; cutlass; CL:把[ba3]; (slang) dollar (loanword); classifier for sets of one hundred sheets (of paper); classifier for knife cuts or stabs

---

(1) sword (esp. Japanese single-edged); katana; (2) (とう only) scalpel; (3) (とう only) (See 彫刻刀・ちょうこくとう) chisel; burin; graver; (4) (とう only) (See 刀銭) knife money (knife-shaped commodity money used in ancient China); (personal name) Tou

---

sword

両腰

see styles
ryougoshi / ryogoshi
りょうごし

打刀

see styles
uchigatana
うちがたな

片名

see styles
piān míng
pian1 ming2

---

p`ien ming
pien ming

---

katana
かたな

---

(place-name) Katana

竹光

see styles
takemitsu
たけみつ

諸腰

see styles
morokoshi; morogoshi
もろこし; もろごし

佳多奈

see styles
katana
かたな

日本刀

see styles
rì běn dāo
ri4 ben3 dao1

---

jih pen tao

---

nihontou(p); nippontou / nihonto(p); nipponto
にほんとう(P); にっぽんとう

---

Japanese sword (usu. single-edged and curved); Japanese bladed weapon

武士刀

see styles
wǔ shì dāo
wu3 shi4 dao1

---

wu shih tao

抜き打ち

see styles
nukiuchi
ぬきうち

上毛野形名

see styles
kamitsukenukatana
かみつけぬかたな

Variations:
打刀
打ち刀

see styles
uchigatana
うちがたな
(See 刀・1) katana (sword worn on the hip edge up by samurai)

Variations:
抜き打ち
抜打ち

see styles
nukiuchi
ぬきうち
(1) drawing a katana and attacking in the same stroke; (noun - becomes adjective with の) (2) doing (something) suddenly and without warning; doing without prior notice
The following table may be helpful for those studying Chinese or Japanese...
Title
Characters
Romaji

(Romanized Japanese)

Various forms of Romanized Chinese
Katana
刀
katana
dāo / dao1 / dao
tao
Sword
剱

---

剣
ken
jiàn / jian4 / jian
chien
Kendo
The Way of the Sword
剱道 / 劍道

---

剣道
kendou / kendo
jiàn dào / jian4 dao4 / jian dao / jiandao
chien tao / chientao
Battojutsu
抜刀術
battou jutsu

---

battoujutsu

---

batto jutsu
Sword
劍

---

剑
ken / tsurugi
jiàn / jian4 / jian
chien
In some entries above you will see that characters have different versions above and below a line.
In these cases, the characters above the line are Traditional Chinese, while the ones below are Simplified Chinese.
Many custom options...




And formats...



Successful Chinese Character and Japanese Kanji calligraphy searches within the last few hours...
All of our calligraphy wall scrolls are handmade.
When the calligrapher finishes creating your artwork, it is taken to my art mounting workshop in Beijing where a wall scroll is made by hand from a combination of silk, rice paper, and wood.
After we create your wall scroll, it takes at least two weeks for air mail delivery from Beijing to you.
Allow a few weeks for delivery. Rush service speeds it up by a week or two for $10!
When you select your calligraphy, you'll be taken to another page where you can choose various custom options.
Check out my lists of Japanese Kanji Calligraphy Wall Scrolls and Old Korean Hanja Calligraphy Wall Scrolls.
Some people may refer to this entry as Katana Kanji, Katana Characters, Katana in Mandarin Chinese, Katana Characters, Katana in Chinese Writing, Katana in Japanese Writing, Katana in Asian Writing, Katana Ideograms, Chinese Katana symbols, Katana Hieroglyphics, Katana Glyphs, Katana in Chinese Letters, Katana Hanzi, Katana in Japanese Kanji, Katana Pictograms, Katana in the Chinese Written-Language, or Katana in the Japanese Written-Language.
105 people have searched for Katana in Chinese or Japanese in the past year.
Katana was last searched for by someone else on Mar 20th, 2023