The name Sword in Chinese / Japanese...
Buy a Sword calligraphy wall scroll here!
Personalize your custom "Sword" project by clicking the button next to your favorite "Sword" title below...
---
---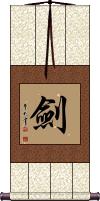 劍 is pronounced "jian" in Chinese. When you say it, imagine that you are making the sound of a sword as it clashes with a metal shield. This might get you closer to the correct pronunciation in Chinese.

I actually wonder if this word came from the metallic ringing sounds of a sword in battle - but such knowledge is lost in history.

The sword is a symbol of a warrior. The one thing that a soldier in ancient China lived and died by. A warrior with his skills and sword proves himself of great value. A warrior who losses his sword instantly becomes worthless.

劍 is an excellent scroll for someone in the military (especially officers of all services - as well as enlisted NCO Marines since they still carry swords even if mainly for ceremonial purposes). Or perhaps someone who practices variations of kung fu or tai chi that involve weapons.

Please note that while this character is understood with the sword meaning in Japanese, you might be looking for the word "katana" which also means sword in Japanese but means "knife" in Chinese.
---
There are other ways to write sword, and here are a few...

































If you are particular about the version you receive, please let me know when you place your order (Note: Special styles are only available from one of our master calligraphers).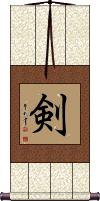 剱 is the modern Japanese way to write sword.

This Kanji character comes from original Chinese. This form would also be understood in Chinese (there are often several ways to write the same character) but I suggest this one only if your audience is Japanese (because they've settled on a slightly different form as the standard in China).

In Japanese, this character also means saber/sabre, blade, bayonet, stinger, and clock hand (clock hands are the "swords" of the clock).
---
See Also: Katana
Live By The Sword Die By The Sword
Matthew 26:52
Kendo / The Way of the Sword

Often associated with Kenjutsu, 剱道/劍道 means "The way of the sword" in Japanese (and Korean with an alternate form of the first character).
This is also the term used for swordsmanship and even fencing in Japanese and Korean, depending on context.

Note: These same characters are also used separately in Chinese, but this exact combination yields a common title in Japanese only (perhaps someone who is really into swords would use this in China).

Note: There is more than one way to write the "sword" character (shown above is the Japanese version - if you want the Korean version, please let me know when you place your order).
---
See Also: Katana

殺人剣 is a Japanese title for "Death Sword," "Life Taking Sword," or "satsujinken."

This is the opposite of katsujinken or the "life-saving sword." This title is not as commonly used in Japanese but pairs well when hung with katsujinken.

The first two Kanji are a word that translates as homicide, murder or kill (a person). 殺人剣 is specifically to kill a person (as the second character means person or human) as opposed to an animal, etc.

The last Kanji is the Japanese variant of the originally-Chinese character for a sword.
---
See Also: Katsujinken

剣聖 can be translated as "Sword Saint," "God of the Sword," or "Saint of the Sword." This is an ancient Japanese title bestowed on a master with the greatest of skills in swordsmanship.

Keep in mind that this is an antiquated term. It will only be understood in the context of martial arts. The pronunciation "kensei" also applies to other words like "constitutional government" and power (these words have different kanji and are completely unrelated).

Notes: This is sometimes Romanized as "kensei," "ken sei," and incorrectly as "Kensai."

Chinese Note: This title is pronounceable in Chinese but seldom, if ever, used in Chinese. Also, the first character is an alternate character form for a sword, currently only used in Japan.

活人剣 is a Japanese title for "life-saving sword" or "katsujinken."

This title suggests that a sword used for killing can also be used for saving or giving life.
---
See Also: Satsujinken
Energy Sword Body in Concert
Spirit, Sword & Body as One

气剑体一致 often gets translated as "Mind Sword Body," or "Spirit, Sword, and Body as One." But I think these translations don't tell you enough about what this is really saying.

In this context, 気, which is the modern Japanese version of 氣, means spiritual and unseen energy or "life energy." In some cases, 気 can be translated as spirit, feeling, or nature. If defined as the mind, it's more about the invisible or intangible parts of one's mind (or soul).

剣 is the Japanese version of 劍 meaning sword.

体 is the modern Japanese version of 體 meaning body.

The Kanji 一 means one, and in this case, suggests "all in one." The Kanji 到 means to send, deliver, or convey. But together, 一到 suggests all these things in agreement, union cooperation, or in concert.

Note: Arguments exist as to whether this should be romanized as Kikentaiitchi, Kikentaiicchi, or kikentaiichi. Technically, if you drop the last character, you get 気剣体一 and kikentaiichi (ki ken tai ichi), which is also a valid phrase.
Katana
Japanese Samurai Sword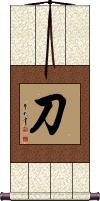 刀 is the Japanese Kanji for "sword." This refers to the style of sword carried by warriors, samurai, and shogun of ancient Japan.

With the pacification of Japan, such swords are now only used for ceremony and decoration. The true art of sword-smithing is all but lost in Japan with new sword production dedicated to making inexpensive replicas for the tourist and foreign market.

For those of you that want to ask whether I can get you a real antique sword. Let me tell you that most real Asian swords were melted down after WWII in Japan, and during the Great Leap Forward in China. Any remaining swords are family heirlooms that nobody will part with.

Please carefully note that the Japanese kanji character shown above is only for a Japanese audience. In China, this character means "knife." See our other entry for "sword" in Chinese.
Note: 刀 can mean knife, sword, or blade in Korean, depending on context.
Shinkage-Ryu
Style of Japanese sword fighting
This in-stock artwork might be what you are looking for, and ships right away...
Gallery Price: $106.00
Your Price: $58.88
Gallery Price: $108.00
Your Price: $59.88
Gallery Price: $108.00
Your Price: $59.88
The following table may be helpful for those studying Chinese or Japanese...
Title
Characters
Romaji

(Romanized Japanese)

Various forms of Romanized Chinese
Sword
劍

---

剑
ken / tsurugi
jiàn / jian4 / jian
chien
Sword
剱

---

剣
ken
jiàn / jian4 / jian
chien
Live By The Sword Die By The Sword
凡動刀的必死在刀下

---

凡动刀的必死在刀下
fán dòng dāo de bì sǐ zài dāo xià

---

fan2 dong4 dao1 de bi4 si3 zai4 dao1 xia4

---

fan dong dao de bi si zai dao xia
fan tung tao te pi ssu tsai tao hsia
Kendo
The Way of the Sword
剱道 / 劍道

---

剣道
kendou / kendo
jiàn dào / jian4 dao4 / jian dao / jiandao
chien tao / chientao
Sword of Death
殺人剣

---

杀人剣
satsu jin ken

---

satsujinken
Sword Saint
剣聖 / 剣聖

---

剣圣
kensei
jiàn shèng

---

jian4 sheng4

---

jian sheng

---

jiansheng
chien sheng

---

chiensheng
Life-Saving Sword
活人剣
katsu jin ken

---

katsujinken
Energy Sword Body in Concert
気剣体一致 / 氣劍體一致

---

气剑体一致
ki ken tai icchi

---

kikentaiicchi

---

ki ken tai ichi
Katana
刀
katana
dāo / dao1 / dao
tao
Shinkage-Ryu
新陰流
shin kage ryuu

---

shinkageryuu

---

shin kage ryu
In some entries above you will see that characters have different versions above and below a line.
In these cases, the characters above the line are Traditional Chinese, while the ones below are Simplified Chinese.
Many custom options...




And formats...



Successful Chinese Character and Japanese Kanji calligraphy searches within the last few hours...
All of our calligraphy wall scrolls are handmade.
When the calligrapher finishes creating your artwork, it is taken to my art mounting workshop in Beijing where a wall scroll is made by hand from a combination of silk, rice paper, and wood.
After we create your wall scroll, it takes at least two weeks for air mail delivery from Beijing to you.
Allow a few weeks for delivery. Rush service speeds it up by a week or two for $10!
When you select your calligraphy, you'll be taken to another page where you can choose various custom options.
Check out my lists of Japanese Kanji Calligraphy Wall Scrolls and Old Korean Hanja Calligraphy Wall Scrolls.
Some people may refer to this entry as Sword Kanji, Sword Characters, Sword in Mandarin Chinese, Sword Characters, Sword in Chinese Writing, Sword in Japanese Writing, Sword in Asian Writing, Sword Ideograms, Chinese Sword symbols, Sword Hieroglyphics, Sword Glyphs, Sword in Chinese Letters, Sword Hanzi, Sword in Japanese Kanji, Sword Pictograms, Sword in the Chinese Written-Language, or Sword in the Japanese Written-Language.
141 people have searched for Sword in Chinese or Japanese in the past year.
Sword was last searched for by someone else on Sep 28th, 2023