The name Reality and Illusion in Chinese / Japanese...
Buy a Reality and Illusion calligraphy wall scroll here!
Personalize your custom "Reality and Illusion" project by clicking the button next to your favorite "Reality and Illusion" title below...
---
---
Reality and Illusion
Buddhism Concept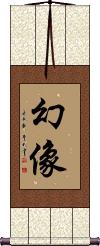 幻像 is a universal word for Illusion in Chinese, Japanese Kanji, and old Korean Hanja.

The first character means phantasm, vision, dream, illusion, apparition, or fantasy.

The second character means statue, picture, image, figure, portrait, shape, form, appearance, to be like, to resemble, to take after, to seem, or in rare/ancient context: an elephant.
---

Note that the first character can be written without the left-side radical in Chinese. This form is shown to the right. Both forms are acceptable in Chinese but the character shown to the right is more likely to be read as "elephant."
---
See Also: Reality

現実性 is a Japanese word that expresses the idea of reality or coming to understand what is true and real.

This can also be translated as realistic, practical, or feasible.
---
See Also: Illusion

大夢 means "Big Dream" in Chinese and Japanese.

大夢 is primarily a Buddhist term referring to the great dream that represents a long and winding life that feels like a dream (since reality is an illusion anyway in Buddhism).

This can also be a female given name, Hiromu, or Oomu, in Japanese. Also, more rare unisex given names Daimu or Taimu.
Not the results for reality and illusion that you were looking for?
Below are some entries from our dictionary that may match your reality and illusion search...
Characters

If shown, 2nd row is Simp. Chinese

Pronunciation
Romanization
Simple Dictionary Definition

三德

see styles
sān dé
san1 de2

---

san te

---

santoku

三惑

see styles
sān huò
san1 huo4

---

san huo

---

sanwaku; sannaku
さんわく; さんなく

---

A Tiantai classification of the three delusions, also styled 三煩惱; 三漏; 三垢; 三結; trials or temptations, leakages, uncleannesses, and bonds. The first of the following three is common to all disciples, the two last to bodhisattvas. They arise from (a) 見, 思, 惑 things seen and thought, i.e. illusions from imperfect perception, with temptation to love, hate, etc.; to be rid of these false views and temptations is the discipline and nirvāṇa of ascetic or Hīnayāna Buddhists. Mahāyāna proceeds further in and by its bodhisattva aims, which produce their own difficulties, i.e. (b) 塵沙惑 illusion and temptation through the immense variety of duties in saving men; and (c) 無明惑 illusions and temptations that arise from failure philosophically to understand things in their reality.

二執

---

二执

see styles
èr zhí
er4 zhi2

---

erh chih

---

nishū

五觀

---

五观

see styles
wǔ guān
wu3 guan1

---

wu kuan

---

gokan

十力

see styles
shí lì
shi2 li4

---

shih li

---

jūriki

我空

see styles
wǒ kōng
wo3 kong1

---

wo k`ung
wo kung

---

gakū

法性

see styles
fǎ xìng
fa3 xing4

---

fa hsing

---

hosshou / hossho
ほっしょう

---

dharmatā. Dharma-nature, the nature underlying all thing, the bhūtatathatā, a Mahāyāna philosophical concept unknown in Hīnayāna, v. 眞如 and its various definitions in the 法相, 三論 (or法性), 華嚴, and 天台 Schools. It is discussed both in its absolute and relative senses, or static and dynamic. In the Mahāparinirvāṇa sūtra and various śāstras the term has numerous alternative forms, which may be taken as definitions, i. e. 法定 inherent dharma, or Buddha-nature; 法住 abiding dharma-nature; 法界 dharmakṣetra, realm of dharma; 法身 dharmakāya, embodiment of dharma; 實際 region of reality; 實相 reality; 空性 nature of the Void, i. e. immaterial nature; 佛性 Buddha-nature; 無相 appearance of nothingness, or immateriality; 眞如 bhūtatathatā; 如來藏 tathāgatagarbha; 平等性 universal nature; 離生性 immortal nature; 無我性 impersonal nature; 虛定界: realm of abstraction; 不虛妄性 nature of no illusion; 不變異性 immutable nature; 不思議界 realm beyond thought; 自性淸淨心 mind of absolute purity, or unsulliedness, etc. Of these the terms 眞如, 法性, and 實際 are most used by the Prajñāpāramitā sūtras.

法界

see styles
fǎ jiè
fa3 jie4

---

fa chieh

---

hokkai; houkai / hokkai; hokai
ほっかい; ほうかい

---

dharmadhātu, 法性; 實相; 達磨馱都 Dharma-element, -factor, or-realm. (1) A name for "things" in general, noumenal or phenomenal; for the physical universe, or any portion or phase of it. (2) The unifying underlying spiritual reality regarded as the ground or cause of all things, the absolute from which all proceeds. It is one of the eighteen dhātus. These are categories of three, four, five, and ten dharmadhātus; the first three are combinations of 事 and 理 or active and passive, dynamic and static; the ten are: Buddha-realm, Bodhisattva-realm, pratyekabuddha-realm, śrāvaka, deva, Human, asura, Demon, Animal, and Hades realms-a Huayan category. Tiantai has ten for meditaton, i.e. the realms of the eighteen media of perception (the six organs, six objects, and six sense-data or sensations), of illusion, sickness, karma, māra, samādhi, (false) views, pride, the two lower Vehicles, and the Bodhisattva Vehicle.

理惑

see styles
lǐ huò
li3 huo4

---

li huo

---

riwaku

空定

see styles
kōng dìng
kong1 ding4

---

k`ung ting
kung ting

---

kūjō

見愛

---

见爱

see styles
jiàn ài
jian4 ai4

---

chien ai

---

ken'nai

---

views and desires, e. g. the illusion that the ego is a reality and the consequent desires and passions; the two are the root of all suffering.

賢者

---

贤者

see styles
xián zhě
xian2 zhe3

---

hsien che

---

kenja; kensha
けんじゃ; けんしゃ

---

A good and wise man, not yet free from illusion or fully comprehending reality; also anyone occupying a superior position, or a good man in general.

賢聖

---

贤圣

see styles
xián shèng
xian2 sheng4

---

hsien sheng

---

kensei / kense
けんせい

---

Those who are noted for goodness, and those who are also noted for wisdom, or insight; the xian are still of ordinary human standard, the sheng transcend them in wisdom and character; the attainments from 見道 upwards are those of the sheng; the xian is on the moral plane, and has not eliminated illusion; the sheng has cut of illusion and has insight into absolute reality. The Mahāyāna has three stages for the xian and ten for the sheng; the Hīnayāna has seven for each.
The following table may be helpful for those studying Chinese or Japanese...
Title
Characters
Romaji

(Romanized Japanese)

Various forms of Romanized Chinese
Reality and Illusion
現実と幻想
gen jitsu to gen sou

---

genjitsutogensou

---

gen jitsu to gen so
Reality and Illusion
真妄
zhēn wàng

---

zhen1 wang4

---

zhen wang

---

zhenwang
chen wang

---

chenwang
Illusion
幻像

---

幻像 / 幻象
gen zou / genzou / gen zo
huàn xiàng

---

huan4 xiang4

---

huan xiang

---

huanxiang
huan hsiang

---

huanhsiang
Reality
Realistic
現実性
gen jitsu sei

---

genjitsusei
Life Is But A Dream
人生如夢

---

人生如梦
rén shēng rú mèng

---

ren2 sheng1 ru2 meng4

---

ren sheng ru meng

---

renshengrumeng
jen sheng ju meng

---

jenshengjumeng
Big Dream
大夢
daimu
dà mèng / da4 meng4 / da meng / dameng
ta meng / tameng
In some entries above you will see that characters have different versions above and below a line.
In these cases, the characters above the line are Traditional Chinese, while the ones below are Simplified Chinese.
Many custom options...




And formats...



Successful Chinese Character and Japanese Kanji calligraphy searches within the last few hours...
All of our calligraphy wall scrolls are handmade.
When the calligrapher finishes creating your artwork, it is taken to my art mounting workshop in Beijing where a wall scroll is made by hand from a combination of silk, rice paper, and wood.
After we create your wall scroll, it takes at least two weeks for air mail delivery from Beijing to you.
Allow a few weeks for delivery. Rush service speeds it up by a week or two for $10!
When you select your calligraphy, you'll be taken to another page where you can choose various custom options.
Check out my lists of Japanese Kanji Calligraphy Wall Scrolls and Old Korean Hanja Calligraphy Wall Scrolls.
Some people may refer to this entry as Reality and Illusion Kanji, Reality and Illusion Characters, Reality and Illusion in Mandarin Chinese, Reality and Illusion Characters, Reality and Illusion in Chinese Writing, Reality and Illusion in Japanese Writing, Reality and Illusion in Asian Writing, Reality and Illusion Ideograms, Chinese Reality and Illusion symbols, Reality and Illusion Hieroglyphics, Reality and Illusion Glyphs, Reality and Illusion in Chinese Letters, Reality and Illusion Hanzi, Reality and Illusion in Japanese Kanji, Reality and Illusion Pictograms, Reality and Illusion in the Chinese Written-Language, or Reality and Illusion in the Japanese Written-Language.
52 people have searched for Reality and Illusion in Chinese or Japanese in the past year.
Reality and Illusion was last searched for by someone else on Dec 4th, 2023