Not what you want?
Try searching again using:
1. Other similar-meaning words.
2. Fewer words or just one word.
Milky Way Galaxy in Chinese / Japanese...
Buy a Milky Way Galaxy calligraphy wall scroll here!
Start your custom "Milky Way Galaxy" project by clicking the button next to your favorite "Milky Way Galaxy" title below...

yín hé xì

gingakei

은하계

銀河系 is the long form of the Chinese, Japanese, and old Korean name for the Milky Way Galaxy (our galactic system).

yín hé

ginga

은하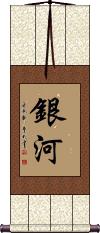 銀河 is the Chinese, Japanese Kanji, and old Korean Hanja name for the Milky Way (our galaxy).

This can also be the Japanese female given name, Ginga.
Not the results for milky way galaxy that you were looking for?
Below are some entries from our dictionary that may match your milky way galaxy search...
Characters

If shown, 2nd row is Simp. Chinese

Pronunciation
Romanization
Simple Dictionary Definition

Fatal error: Cannot redeclare mockup() (previously declared in /home/admin/web/orientaloutpost.com/public_html/includes/render5.php:4) in /home/admin/web/orientaloutpost.com/public_html/render5.php on line 537