Metal in Chinese / Japanese...
Buy a Metal calligraphy wall scroll here!
Personalize your custom "Metal" project by clicking the button next to your favorite "Metal" title below...
---
---
金 is the symbol for metal (often means gold or money) in Chinese, Korean and Japanese.

In an interesting twist, in Japanese, this Kanji can also mean "Friday". I guess Friday is "the golden day" in Japan.
---
Gold / Metal is one of the five elements that ancient Chinese believed all things were composed of. These elements are also part of the cycle of Chinese astrology. Every person has both an animal sign, and one of the five elements according to the date of their birth. See also Five Elements and Chinese 12 Animals / Zodiac.
金木水火土 is a list of the Chinese characters for the five elements in a comfortable order (meaning that they simply "feel right" to a Chinese person who views this arrangement).

The order is metal, wood, water, fire, earth.

Note that sometimes the metal element is translated as gold. And earth refers to soil versus the whole planet earth.
五行 is the title of the five elements which are: wood, fire, water, earth, and metal.

The first character means "5" and the second character is simply "elements".

According to ancient Chinese science, all matter in the world is made up of these elements. One idea presented with the five elements is that when energy is added, matter is believed to expand. When energy is removed, matter contracts. Oddly, this concept is not far from Einstein's theories, and modern science. Just a few thousand years before Einstein.
---
More info: Wikipedia - Five Elements (Wu Xing).
---
See Also: Wood | Fire | Water | Earth | Five Elements
Words Have Enormous Weight: One Word Worth Nine Caldrons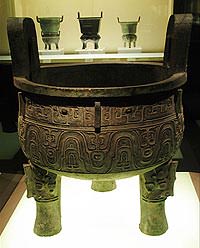 一言九鼎 is an ancient Chinese proverb used in modern times talk of profound or powerful words.

The literal meaning is, "one word [worth] nine [sacred] tripods". The tripod is a highly-prized three-legged (sometimes four-legged) metal pot or kettle of ancient China. They are often made of bronze, and the Emperor would have very large ones gilded in gold. See the image to the right for an example.
金剛 is a common way to call diamonds in Chinese and Japanese.

Traditionally, there were not that many diamonds that made their way to Asia, so this word does not have the deep cultural significance that it does in the west (thanks mostly to De Beers marketing). Therefore, this word was kind of borrowed from other uses.

This title can also refer to vajra (a Sanskrit word meaning both thunderbolt and diamond that originally refers to an indestructible substance); hard metal; pupa of certain insects; Vajrapani, Buddha's warrior attendant; King Kong; adamantine; Buddhist symbol of the indestructible truth.
This Character is pronounced "jian" in Chinese. When you say it, imagine that you are making the sound of a sword as it clashes with a metal shield. This might get you closer to the correct pronunciation in Chinese.

I actually wonder if this word came from the metallic ringing sounds of a sword in battle - but such knowledge is lost in history.

The sword is a symbol of a warrior. The one thing that a soldier in ancient China lived and died by. A warrior with his skills and sword proves himself of great value. A warrior who losses his sword instantly becomes worthless.

劍 is an excellent scroll for someone in the military (especially officers of all services - as well as enlisted NCO Marines since they still carry swords even if mainly for ceremonial purposes). Or perhaps someone who practices variations of kung fu or tai chi that involve weapons.

Please note that while this character is understood with the sword meaning in Japanese, you might be looking for the word "katana" which also means sword in Japanese but means "knife" in Chinese.
---
There are other ways to write sword, and here are a few...

































If you are particular about the version you receive, please let me know when you place your order (Note: Special styles are only available from one of our master calligraphers).

We have a forum entry that addresses the many ways to write sword. You can find that here: 100 Ways to Write Sword - Deciphering Ancient Seal Script
錢 is the simplest way to say "money" in Chinese.

It can also mean cash, coins, or currency. It's also a surname, Qian, in China.



This also means coins in old Korean Hanja, and Japanese Kanji (though they use a slightly alternate form in Japan as seen to the right). In both Japan and Korea, this can simply mean "one cent".



On the left side of this character is a radical which means "gold" (or metal depending on context).




On the right are two repeated radicals which currently mean "small" or "narrow" but used to kind of mean "tools" or "weapon".

It's a bit of a stretch but you could suggest that money = "gold weapons" or "gold tools" in Chinese. Many Chinese people would argue otherwise depending on what they know of or the way they understand the etymology of the right side radical. I've seen some who say it means "industrialized gold" but I take that to mean "raw gold turned into coins".
The following table may be helpful for those studying Chinese or Japanese...
Title
Characters
Romaji

(Romanized Japanese)

Various forms of Romanized Chinese
Gold
Metal
金
kin
jīn / jin1 / jin
chin
Five Elements
金木水火土
jīn mù shuǐ huǒ tǔ

---

jin1 mu4 shui3 huo3 tu3

---

jin mu shui huo tu

---

jinmushuihuotu
chin mu shui huo t`u

---

chinmushuihuotu

---

chin mu shui huo tu
Five Elements
五行
gogyou / gogyo
wǔ xíng / wu3 xing2 / wu xing / wuxing
wu hsing / wuhsing
Blacksmith
鐵匠

---

铁匠
tiě jiang

---

tie3 jiang5

---

tie jiang

---

tiejiang
t`ieh chiang

---

tiehchiang

---

tieh chiang
Golden Dragon
金龍

---

金龙
kin ryuu / kinryuu / kin ryu / kinryu
jīn lóng / jin1 long2 / jin long / jinlong
chin lung / chinlung
Words Have Enormous Weight: One Word Worth Nine Caldrons
一言九鼎
yī yán jiǔ dǐng

---

yi1 yan2 jiu3 ding3

---

yi yan jiu ding

---

yiyanjiuding
i yen chiu ting

---

iyenchiuting
Diamond
金剛

---

金刚
kon gou / kongou / kon go / kongo
jīn gāng / jin1 gang1 / jin gang / jingang
chin kang / chinkang
Sword
劍

---

剑
ken / tsurugi
jiàn / jian4 / jian
chien
Money
錢 / 銭

---

钱
sen
qián / qian2 / qian
ch`ien / chien
In some entries above you will see that characters have different versions above and below a line.
In these cases, the characters above the line are Traditional Chinese, while the ones below are Simplified Chinese.
Many custom options...
And formats...
Successful Chinese Character and Japanese Kanji calligraphy searches within the last few hours...
All of our calligraphy wall scrolls are handmade.
When the calligrapher finishes creating your artwork, it is taken to my art mounting workshop in Beijing where a wall scroll is made by hand from a combination of silk, rice paper, and wood.
After we create your wall scroll, it takes at least two weeks for air mail delivery from Beijing to you.
Allow a few weeks for delivery. Rush service speeds it up by a week or two for $10!
When you select your calligraphy, you'll be taken to another page where you can choose various custom options.
Check out my lists of Japanese Kanji Calligraphy Wall Scrolls and Old Korean Hanja Calligraphy Wall Scrolls.
Some people may refer to this entry as Metal Kanji, Metal Characters, Metal in Mandarin Chinese, Metal Characters, Metal in Chinese Writing, Metal in Japanese Writing, Metal in Asian Writing, Metal Ideograms, Chinese Metal symbols, Metal Hieroglyphics, Metal Glyphs, Metal in Chinese Letters, Metal Hanzi, Metal in Japanese Kanji, Metal Pictograms, Metal in the Chinese Written-Language, or Metal in the Japanese Written-Language.
50 people have searched for Metal in Chinese or Japanese in the past year.
Metal was last searched for by someone else on Dec 5th, 2021