Rabbit / Hare Chinese Calligraphy Wall Scroll
2011 is the Year of the Rabbit! If you were born after Chinese New Years in 2011, 1999, 1987, 1975, 1963, 1951, or 1939, you're a Rabbit.
Not a Rabbit? See Chinese Zodiac and Animal Signs to calculate your sign.
---
---
Rabbit / Hare
Year of the Rabbit / Zodiac Sign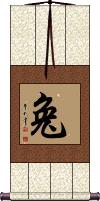 兔 is the character for rabbit or hare in Chinese, old Korean, and Japanese.

If you were born in the year of the rabbit, you...

Are gentle and full of sympathy.
Love to help others.
Enjoy a quiet life.
Are a good worker.
Are, however, a bit of a pushover.
---
See also our Chinese Zodiac page.
A sly rabbit has three openings to its den
-or- The crafty rabbit has three different entrances to its lair

狡兔三窟 speaks to the cunning character of a sly rabbit. Such a rabbit will not have just one hole but rather a few entrances and exits from his liar.

About 2,250 years ago, a rich man told his assistant to go and buy something wonderful that he did not yet possess. He was a man that already had everything, so the assistant went to a local village that owed a great deal of money to the rich man. The assistant told the village elders that all debts were forgiven. All the villagers rejoiced and praised the rich man's name. The assistant returned to the rich man and told him he had purchased "benevolence" for him. The rich man was mildly amused but perhaps slightly confused by the action.

Sometime later, the rich man fell from the favor of the Emperor and was wiped out without a penny to his name. One day he was walking aimlessly and stumbled into the village where the debts had been forgiven. The villagers recognized the man and welcomed him with open arms, clothed, fed him, and gave him a place to live.

Without trying, the man had become like the sly and cunning rabbit. When his exit was blocked, he had another hole to emerge from - and was reborn. This story and idiom come from a book titled "The Amendment" - it's unclear whether this man actually existed or not. But the book did propel this idiom into common use in China.

Still today, this idiom about the rabbit is used in China when suggesting "backup plans," alternate methods, and anyone with a good escape plan.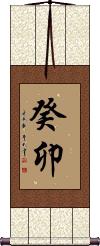 癸卯 is the designation for the 40th year of the 60-year or sexagenary cycle, e.g. 1903, 1963, or 2023.

This is the year of the Water Rabbit. The characters here designate the year in a special way, but do not literally mean water and rabbit.
---
The 60 year cycle has 5 elements and 12 animals. As each cycles every year, the math works out to 5 x 12 = 60.
Year of the Water Rabbit
1903 1963 2023
Fire Rabbit
The Year of the Fire Rabbit
Earth Rabbit
The Year of the Earth Rabbit
Golden/Metal Rabbit
The Year of the Golden/Metal Rabbit
Water Rabbit
The Year of the Water Rabbit
Wood Rabbit
The Year of the Wood Rabbit
Better to be Happy than Rich

安貧樂道 means "It's better to be happy than rich" in Chinese.

Even if you are poor, you should still feel satisfied in your life...

...Satisfaction, happiness and the meaning of your life come from within yourself and not from money or riches of the world.

In Chinese, there are a lot of four-character proverbs which express some very old philosophies.
Though there are only four characters on this scroll, in Chinese, the meanings often surpass the dictionary definition of each character.

In this case, you should not set your expectations too high for the money or riches you wish to have. One who sets their expectations too high is almost always disappointed. Instead, you should cherish what you have, seek to improve yourself from within, and not measure your worth by the size of your bank account.
---
This in-stock artwork might be what you are looking for, and ships right away...
Gallery Price: $200.00
Your Price: $69.88
The following table may be helpful for those studying Chinese or Japanese...
Title
Characters
Romaji

(Romanized Japanese)

Various forms of Romanized Chinese
Rabbit
Hare
兔
usagi
tù / tu4 / tu
t`u / tu
A sly rabbit has three openings to its den
狡兔三窟
jiǎo tù sān kū

---

jiao3 tu4 san1 ku1

---

jiao tu san ku

---

jiaotusanku
chiao t`u san k`u

---

chiaotusanku

---

chiao tu san ku
Year Of The Water Rabbit
癸卯
mizunotou / kibou

---

mizunoto / kibo
guǐ mǎo / gui3 mao3 / gui mao / guimao
kuei mao / kueimao
Year of the Water Rabbit
水兔年
mizu usagi toshi

---

mizuusagitoshi
shuǐ tù nián

---

shui3 tu4 nian2

---

shui tu nian

---

shuitunian
shui t`u nien

---

shuitunien

---

shui tu nien
Fire Rabbit
火兔
huǒ tù / huo3 tu4 / huo tu / huotu
huo t`u / huotu / huo tu
Earth Rabbit
土兔
tǔ tù / tu3 tu4 / tu tu / tutu
t`u t`u / tutu / tu tu
Golden/Metal Rabbit
金兔
jīn tù / jin1 tu4 / jin tu / jintu
chin t`u / chintu / chin tu
Water Rabbit
水兔
shuǐ tù / shui3 tu4 / shui tu / shuitu
shui t`u / shuitu / shui tu
Wood Rabbit
木兔
mù tù / mu4 tu4 / mu tu / mutu
mu t`u / mutu / mu tu
Better to be Happy than Rich
安貧樂道

---

安贫乐道
ān pín lè dào

---

an1 pin2 le4 dao4

---

an pin le dao

---

anpinledao
an p`in le tao

---

anpinletao

---

an pin le tao
In some entries above you will see that characters have different versions above and below a line.
In these cases, the characters above the line are Traditional Chinese, while the ones below are Simplified Chinese.
Many custom options...




And formats...




All of our calligraphy wall scrolls are handmade.
When the calligrapher finishes creating your artwork, it is taken to my art mounting workshop in Beijing where a wall scroll is made by hand from a combination of silk, rice paper, and wood.
After we create your wall scroll, it takes at least two weeks for air mail delivery from Beijing to you.
Allow a few weeks for delivery. Rush service speeds it up by a week or two for $10!
When you select your calligraphy, you'll be taken to another page where you can choose various custom options.