Not what you want?
Try other similar-meaning words, fewer words, or just one word.

Enter your email below, and get an automatic notice when results for Lion King are added or updated...
Lion King in Chinese / Japanese...
Buy a Lion King calligraphy wall scroll here!
Personalize your custom "Lion King" project by clicking the button next to your favorite "Lion King" title below...
Tiger
Year of the Tiger / Zodiac Sign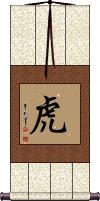 虎 is the character for tiger in Chinese, old Korean Hanja, and Japanese Kanji.

Since you already know what a tiger is, here's some trivia: If you look at the Japanese pronunciation, you might remember a movie called "Tora Tora Tora" which was the code word used to initiate the attack on Pearl Harbor. It simply means "Tiger Tiger Tiger".

In Chinese culture, the tiger is considered to be the king of all animals (in much the way we see the lion in western culture).

From the Chinese Zodiac, if you were born in the year of the tiger, you . . .

Have a strong personality.
Are full of self-confidence.
Love adventure
Don't like to obey others.
---
See also our Chinese Zodiac or Tiger Calligraphy pages.

動物王國 is literally what it says.

There is even a TV show in China that is similar to Wild Kingdom or what you would currently see on the Discovery Channel that has this same title.

For your information: In the Chinese way of thinking, the Tiger is the king of the animal kingdom (lions are not native to China, so the tiger took the role that we have given to the lion in our western way of thinking).

The Japanese version has a slight variation on the last character. Let me know if your audience is Japanese, and we will have it written in that form for you.
This in-stock artwork might be what you are looking for, and ships right away...
The following table may be helpful for those studying Chinese or Japanese...
Title
Characters
Romaji

(Romanized Japanese)

Various forms of Romanized Chinese
Lion King
獅子王

---

狮子王
shi shi ou / shishiou / shi shi o / shishio
shī zǐ wáng

---

shi1 zi3 wang2

---

shi zi wang

---

shiziwang
shih tzu wang

---

shihtzuwang
Lion Heart
獅子心王

---

狮子心王
shi shi shin ou

---

shishishinou

---

shi shi shin o

---

shishishino
Lion Heart
獅心

---

狮心
shī xīn / shi1 xin1 / shi xin / shixin
shih hsin / shihhsin
Tiger
虎
tora
hǔ / hu3 / hu
Animal Kingdom
動物王國

---

动物王国
doubutsu oukoku

---

doubutsuoukoku

---

dobutsu okoku

---

dobutsuokoku
dòng wù wáng guó

---

dong4 wu4 wang2 guo2

---

dong wu wang guo

---

dongwuwangguo
tung wu wang kuo

---

tungwuwangkuo
In some entries above you will see that characters have different versions above and below a line.
In these cases, the characters above the line are Traditional Chinese, while the ones below are Simplified Chinese.
Not the results for lion king that you were looking for?
Below are some entries from our dictionary that may match your lion king search...
Characters

If shown, 2nd row is Simp. Chinese

Pronunciation
Romanization
Simple Dictionary Definition

十二

see styles
shí èr

/ shi2 er4

---

shih erh

---

jūni / とおじ

---

12; twelve; (given name) Tooji

---

dvātriṃśa. Thirty-two. 三十二應 (or 三十二身) The thirty-two forms of Guanyin, and of Puxian, ranging from that of a Buddha to that of a man, a maid, a rakṣas; similar to the thirty-three forms named in the Lotus Sūtra. 三十二相三十二大人相 dvātriṃśadvaralakṣaṇa. The thirty-two lakṣaṇas, or physical marks of a cakravartī, or 'wheel-king', especially of the Buddha, i. e. level feet, thousand-spoke wheel-sign on feet, long slender fingers, pliant hands and feet, toes and fingers finely webbed, full-sized heels, arched insteps, thighs like a royal stag, hands reaching below the knees well-retracted male organ, height and stretch of arms equal, every hair-root dark coloured, body hair graceful and curly, golden-hued body, a 10 ft. halo around him, soft smooth skin, the 七處, i. e. two soles, two palms, two shoulders, and crown well rounded, below the armpits well-filled, lion-shaped body, erect, full shoulders, forty teeth, teeth white even and close, the four canine teeth pure white, lion-jawed, saliva improving the taste of all food, tongue long and broad, voice deep and resonant, eyes deep blue, eyelashes like a royal bull, a white ūrnā or curl between the eyebrows emitting light, an uṣṇīṣa or fleshy protuberance on the crown. These are from the 三藏法數 48, with which the 智度論 4, 涅盤經 28, 中阿含經, 三十ニ相經 generally agree. The 無量義經 has a different list. 三十二相經 The eleventh chapter of the 阿含經. 三十二相經願 The twenty-first of Amitābha's vows, v. 無量壽經. 三十三 trayastriṃśat. Thirty-three. 三十三天忉利天; 憺梨天, 多羅夜登陵舍; 憺利夜登陵奢; 憺利耶憺利奢 Trayastriṃśas. The Indra heaven, the second of the six heavens of form. Its capital is situated on the summit of Mt. Sumeru, where Indra rules over his thirty-two devas, who reside on thirty-two peaks of Sumeru, eight in each of the four directons. Indra's capital is called 殊勝 Sudarśana, 喜見城 Joy-view city. Its people are a yojana in height, each one's clothing weighs 六鐵 (1; 4 oz. ), and they live 1, 000 years, a day and night being equal to 100 earthly years. Eitel says Indra's heaven 'tallies in all its details with the Svarga of Brahminic mythology' and suggests that 'the whole myth may have an astronomical meaning', or be connected, with 'the atmosphere with its phenomena, which strengthens Koeppen's hypothesis explaining the number thirty-three as referring to the eight Vasus, eleven Rudras, twelve Ādityas, and two Aśvins of Vedic mythology'. In his palace called Vaijayanta 'Indra is enthroned with 1, 000 eyes with four arms grasping the vajra. There he revels in numberless sensual pleasures together with his wife Śacī... and with 119, 000 concubines with whom he associates by means of transformation'.; dvādaśa, twelve.

師子

---

师子

see styles
shī zǐ

/ shi1 zi3

---

shih tzu

---

shishi / のりこ

---

siṃha, a lion; also 枲伽; idem獅子 Buddha, likened to the lion, the king of animals, in respect of his fearlessness.

文殊

see styles
wén shū

/ wen2 shu1

---

wen shu

---

Monju / もんじゅ

---

(Buddhist term) Manjushri; Manjusri; Bodhisattva that represents transcendent wisdom; (p,s,f) Monju

---

(文殊師利) Mañjuśrī 滿殊尸利 -later 曼殊室利. 文殊 is also used for Mañjunātha, Mañjudeva, Mañjughoṣa, Mañjuṣvara, et al. T., hjamdpal; J., Monju. Origin unknown; presumably, like most Buddhas and bodhisattvas, an idealization of a particular quality, in his case of Wisdom. Mañju is beautiful, Śrī; good fortune, virtue, majesty, lord, an epithet of a god. Six definitions are obtained from various scriptures: 妙首 (or 頭 ) wonderful or beautiful) head; 普首 universal head; 濡首 glossy head (probably a transliteration); 敬首 revered head; 妙德 wonderful virtue (or power); 妙吉祥 wonderfully auspicious; the last is a later translation in the 西域記. As guardian of wisdom 智慧 he is often placed on Śākyamuni's left, with 普顯 on the right as guardian of law 理, the latter holding the Law, the former the wisdom or exposition of it; formerly they held the reverse positions. He is often represented with five curls or waves to his hair indicating the 五智 q. v. or the five peaks; his hand holds the sword of wisdom and he sits on a lion emblematic of its stern majesty: but he has other forms. He is represented as a youth, i. e. eternal youth. His present abode is given as east of the universe, known as 淸涼山 clear and cool mountain, or a region 寶住 precious abode, or Abode of Treasures, or 寶氏 from which he derives one of his titles, 寶相如來. One of his dhāraṇīs prophesies China as his post-nirvāṇa realm. In past incarnations he is described as being the parent of many Buddhas and as having assisted the Buddha into existence; his title was 龍種上佛 the supreme Buddha of the nāgas, also 大身佛 or 神仙佛; now his title is 歡喜藏摩尼寶精佛 The spiritual Buddha who joyfully cares for the jewel: and his future title is to be 普現佛 Buddha universally revealed. In the 序品 Introductory Chapter of the Lotus Sutra he is also described as the ninth predecessor or Buddha-ancestor of Śākyamuni. He is looked on as the chief of the Bodhisattvas and represents them, as the chief disciple of the Buddha, or as his son 法王子. Hīnayāna counts Śāriputra as the wisest of the disciples, Mahāyāna gives Mañjuśrī the chief place, hence he is also styled 覺母 mother, or begetter of understanding. He is shown riding on either a lion or a peacock, or sitting on a white lotus; often he holds a book, emblem of wisdom, or a blue lotus; in certain rooms of a monastery he is shown as a monk; and he appears in military array as defender of the faith. His signs, magic words, and so on, are found in various sutras. His most famous centre in China is Wu-tai shan in Shansi. where he is the object of pilgrimages, especially of Mongols. The legends about him are many. He takes the place in Buddhism of Viśvakarman as Vulcan, or architect, of the universe. He is one of the eight Dhyāni-bodhisattvas, and sometimes has the image of Akṣobhya in his crown. He was mentioned in China as early as the fourth century and in the Lotus Sutra he frequently appears, especially as the converter of the daughter of the Dragon-king of the Ocean. He has five messengers 五使者 and eight youths 八童子 attending on him. His hall in the Garbhadhātu maṇḍala is the seventh, in which his group numbers twenty-five. His position is northeast. There are numerous sutras and other works with his name as title, e. g. 文殊師利問菩提經 Gayaśīrṣa sūtra, tr. by Kumārajīva 384-417: and its 論 or .Tīkā of Vasubandhu, tr. by Bodhiruci 535. see list in B. N; Mañjuśrī

師子王

---

师子王

see styles
shī zǐ wáng

/ shi1 zi3 wang2

---

shih tzu wang

---

shishi ō

獅子王

---

狮子王

see styles
shī zǐ wáng

/ shi1 zi3 wang2

---

shih tzu wang

---

shishiou / shishio / ししおう

More info & calligraphy:
Lion King

lion (king of beasts); (surname) Shishiou

---

lion king

百獣の王

see styles

hyakujuunoou / hyakujunoo / ひゃくじゅうのおう
Many custom options...




And formats...



Successful Chinese Character and Japanese Kanji calligraphy searches within the last few hours...
All of our calligraphy wall scrolls are handmade.
When the calligrapher finishes creating your artwork, it is taken to my art mounting workshop in Beijing where a wall scroll is made by hand from a combination of silk, rice paper, and wood.
After we create your wall scroll, it takes at least two weeks for air mail delivery from Beijing to you.
Allow a few weeks for delivery. Rush service speeds it up by a week or two for $10!
When you select your calligraphy, you'll be taken to another page where you can choose various custom options.
Check out my lists of Japanese Kanji Calligraphy Wall Scrolls and Old Korean Hanja Calligraphy Wall Scrolls.
Some people may refer to this entry as Lion King Kanji, Lion King Characters, Lion King in Mandarin Chinese, Lion King Characters, Lion King in Chinese Writing, Lion King in Japanese Writing, Lion King in Asian Writing, Lion King Ideograms, Chinese Lion King symbols, Lion King Hieroglyphics, Lion King Glyphs, Lion King in Chinese Letters, Lion King Hanzi, Lion King in Japanese Kanji, Lion King Pictograms, Lion King in the Chinese Written-Language, or Lion King in the Japanese Written-Language.
5 people have searched for Lion King in Chinese or Japanese in the past year.
Lion King was last searched for by someone else on Jul 6th, 2018