Tiger
Chinese Calligraphy Portrait
This Chinese character is "hu" which means tiger.
In Mandarin Chinese this word is pronounced kind of like the English word "who".
In Chinese culture, the tiger is seen as the king of all animals.
Proof of this can be found by looking at another character "wang" which is written like this...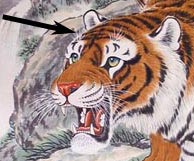 This character means "king".
If you have ever looked at a tiger face to face, you will see the fur on the tiger's head is in a similar shape to this "wang character" - take a look...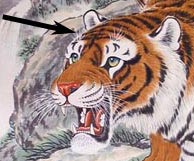 If you aren't Chinese, it might take a little imagination to see the symbol on the tiger's head, but anyone who speaks and writes Chinese will tell you that it's true.
This is a great gift for a real tiger-lover
---
Link: Options for custom Tiger-related Chinese/Japanese/Korean calligraphy are available here!
---
About the materials and construction of this painting:
The calligraphy was done using black Chinese ink on xuan paper (known incorrectly in the west as "rice paper"). The raw artwork was then taken to our Wall Scroll Workshop where it was laminated to more sheets of xuan paper, and built into a beautiful portrait with silk brocade border.
---
About the artist:
This calligraphy was created by Li Dan-Qing of Beijing. He's an older gentleman who has been involved with the art community of China, all of his life. Now in retirement, he creates calligraphy for us for sort of "hobby income".
This item was listed or modified
Nov 7th, 2015
Gary's random little things about China:
Beijing/Peking Roast Duck:
If you order Peking Roast Duck, you should do so only in Beijing, China (anywhere else, it's just not the same).

A hot tip: Always ask how long it will take before the duck is served.
If they tell you any timeframe less than 30 minutes, change your mind and order the Kung Pao Chicken (Gong Bao Ji Ding) instead.
The reason: If they can serve Beijing Roast Duck in less than 30 minutes, that means you are getting "pre-cooked" duck.
If you have to "duck the duck", next time look for a restaurant with ducks hanging over an open wood fire.