Not what you want?
Try searching again using:
1. Other similar-meaning words.
2. Fewer words or just one word.

If all else fails, email me and
tell me what you need.
Jin Jin in Chinese / Japanese...
Buy a Jin Jin calligraphy wall scroll here!
Personalize your custom "Jin Jin" project by clicking the button next to your favorite "Jin Jin" title below...

chén

chan

chin

진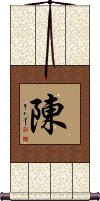 陳 is the most common character for a Chinese surname that romanizes as "Chen."

陳 is also a surname You or Yo in Japanese, though it can also be pronounced as Chin in Japanese.

In Korean, it is a surname romanized as Jin.

As a word, this character means: to lay out; to exhibit; to display; to narrate; to state; to explain; to tell.

The Chen clan or family was a small kingdom from 1046 BC to 479 BC. It was one of 12 small-but-powerful vassal states during the Spring and Autumn Period 770-475 BC. This name reappeared as the Chen Dynasty (陳朝) of the Southern dynasties from 557 AD to 589 AD.

rén

jin

인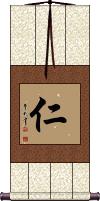 Beyond "benevolence" 仁 can be also be defined as "charity" or "mercy" depending on context.

The deeper meaning suggests that one should pay alms to the poor, care for those in trouble, and take care of his fellow man (or woman).

仁 is one of the five tenets of Confucius. In fact, it is a subject in which Confucius spent a great deal of time explaining to his disciples.

I have also seen this benevolent-related word translated as perfect virtue, selflessness, love for humanity, humaneness, goodness, good will, or simply "love" in the non-romantic form.

仁 is so important to me that I named my second daughter with this character. Her name is "Renni" which means "Benevolent Girl."
-Gary.
---
This is also a virtue of the Samurai Warrior
See our page with just Code of the Samurai / Bushido here
---

zhāng

chou

장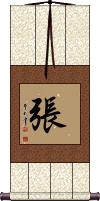 張 is a Chinese surname that romanizes as Zhang, but in Taiwan or old romanization can be Cheung.

This can also be the Japanese surnames Harisaki, Hari, Hara, Tsuan, Chou, Cho, Chiyan, Chiyau, Chan, Chian, Sun, Jin, Jiyon, Jiyan, Zan, San, or Kin.

The meaning of this character can be: to open up; to spread; sheet of paper; classifier for flat objects; sheet; classifier for votes.

chén

chan

chin

진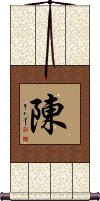 陳 is the Chinese character that was the Vietnamese surname Trần before Vietnam romanized their language.

This can also refer to the Trần Dynasty of Vietnam (1225 to 1400).

陳 is also the Chinese surname Chen, Chin or Chan, Korean surname Jin, and Japanese Surname Yo or Chin.

jīn gāng

kongou

금강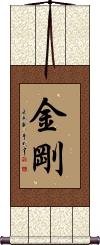 金剛 can translate as adamantine from Chinese, Japanese, and old Korean.

Other meanings and translations can include diamond, thunderbolt, Indra's indestructible weapon, Buddhist symbol of the indestructible truth, Vajra (a mythical weapon), guardian deity, hardness, indestructibility, power, the least frangible of minerals.

The Chinese pronunciation of "Jīn Gāng" became the loanword used in English as "King Kong". You can see King Kong as the indestructible ape guardian deity depending on how you read the story.

shén

shin / kami

신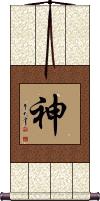 神 is the simplest way to write spirit in Chinese, Japanese Kanji, and old Korean.

This single character alone will conjure up ideas of the spiritual world. 神 can also be translated as "vital awareness" as in the fact that one must know they exist to exist (I think, therefore, I am).

Other translations include:
God, deity, mysterious, divine essence, lively, spiritual being, divinity, supernatural, soul, mind, nerves, and energy. In some extended context it can mean genius or unusual.

Japanese romanizations vary a lot when this character is combined into other words. However, shin is the original pronunciation taken from Chinese into Japanese. You'll also see it romanized as kami, gami, jin, and a few others, depending on context.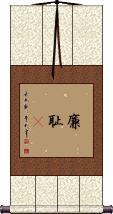 廉耻精進忍耐遵守克己謙遜百折不屈 are the tenets of Tang Soo Do


| | | | |
| --- | --- | --- | --- |
| English | Old Hanja | Modern Hangul | Pronunciation |
| 1. Integrity | 廉耻 | 렴치 or 염치 | yeom ci |
| 2. Concentration | 精進 | 정진 | jeong jin |
| 3. Perseverence | 忍耐 | 인내 | in nae |
| 4. Respect & Obedience | 遵守 | 준수 | jun su |
| 5. Self-Control | 克己 | 극기 | geug gi |
| 6. Humility | 謙遜 | 겸손 | gyeom son |
| 7. Indomitable Spirit | 百折不屈 | 백절불굴 | baeg jeor bur gur |
After some research, it appears this list was compiled in English based on Taekwondo tenets. We filled in a few of the words that did not have a corresponding Hanja or Hangul. If someone else has a better list with characters included, please contact me.

jié zé ér yú

In 632 BC, Duke Wen of the Kingdom of Jin was about to lead an army against the forces of the Kingdom of Chu.
The Duke asked one of his advisers, Jiu Fan, how they could possibly win the impending battle, as they were drastically outnumbered.
Jiu Fan said, "All is fair in war," and went on to suggest a plan of dishonorable tactics (cheating).
The Duke was not sure of this advice, so he asked another adviser, Yong Ji, who replied, "If you catch fish by draining the pond, you can certainly get all the fish. But there will be no fish the following year. You can cheat this one time in battle but such tactics can only be used once, as the enemy will be wise in future encounters."

The Duke heard the words of his wiser adviser but cheated to gain victory in the battle. However, he rewarded Yong Ji more than Jiu Fan at the victory celebration, stating that while Jiu Fan's advice gained one victory, the wise words of Yong Ji would last forever.

This Chinese idiom/proverb is still used, over 2600 years later to remind people not to burn bridges, cheat, or dishonor oneself in exchange for a short term gain, while sacrificing the future.

竭澤而漁 is very similar to the meaning of the English phrase, "Kill the goose that lays the golden eggs."
Past experience is the teacher for the future.
Past events not forgotten serve as teachers for later events.

qián shì bú wàng hòu shí zhī shī

The most literal translation to English of this ancient Chinese proverb is:
"Past events not forgotten serve as teachers for later events."

However, it's been translated several ways:
Don't forget past events, they can guide you in future.
Benefit from past experience.
Past experience, if not forgotten, is a guide for the future.
Past calamity is my teacher.
A good memory for the past is a teacher for the future.
The remembrance of the past is the teacher of the future.
If one remembers the lessons of the past; They will serve as a guide to avoid mistakes in the future.

The origin:
This proverb comes from the 5th century B.C. just before the Warring States Period in the territory now known as China.
The head of the State of Jin, Zhi Bo, seized power in a coup. He did this with help from the armies of the State of Han and Wei. Instead of being grateful for the help from Han and Wei, he treacherously took the land of Han and Wei. Never satisfied, Zhi Bo employed the armies of Han and Wei to attack and seize the State of Zhao.

The king of Zhao took advice from his minister Zhang Mengtan and secretly contacted the Han and Wei armies to reverse their plans and attack the army of Zhi Bo instead. The plan was successful, and the State of Zhao was not only saved but was set to become a powerful kingdom in the region.

Zhang Mengtan immediately submitted his resignation to a confused king of Zhao. When asked why, Zhang Mengtan said, "I've done my duty to save my kingdom but looking back at past experience, I know sovereign kings are never satisfied with the power or land at hand. They will join others and fight for more power and more land. I must learn from past experiences, as those experiences are the teachers of future events."
The king could not dispute the logic in that statement and accepted Zhang Mengtan's resignation.

For generations, the State of Zhao continued to fight for power and land until finally being defeated and decimated by the State of Qin (which lead to the birth of the Qin Dynasty in 221 B.C.).
Many custom options...




And formats...



The following table may be helpful for those studying Chinese or Japanese...
Title
Characters
Romaji

(Romanized Japanese)

Various forms of Romanized Chinese
Jin Ji Du Li
金雞獨立

---

金鸡独立
kin kei doku ritsu

---

kinkeidokuritsu
jīn jī dú lì

---

jin1 ji1 du2 li4

---

jin ji du li

---

jinjiduli
chin chi tu li

---

chinchituli
Chen
Chan
Yo
Jin
陳

---

陈
chin
chén / chen2 / chen
ch`en / chen
Benevolence
仁
jin
rén / ren2 / ren
jen
Hachiman: God of War
八幡神
hachi man jin

---

hachimanjin
Zhang
Cheung
張

---

张
chou / cho
zhāng / zhang1 / zhang
chang
Tran
陳
chin
chén / chen2 / chen
ch`en / chen
Adamantine
King Kong
金剛

---

金刚
kongou / kongo
jīn gāng / jin1 gang1 / jin gang / jingang
chin kang / chinkang
Spirit
Spiritual Essence
神
shin / kami
shén / shen2 / shen
Tang Soo Do Tenets
廉耻精進忍耐遵守克己謙遜百折不屈 / 廉恥精進忍耐遵守克己謙遜百折不屈

---

廉耻精进忍耐遵守克己谦逊百折不屈
Drain the pond to get all the fish
竭澤而漁

---

竭泽而渔
jié zé ér yú

---

jie2 ze2 er2 yu2

---

jie ze er yu

---

jiezeeryu
chieh tse erh yü

---

chiehtseerhyü
Past experience is the teacher for the future.
前事不忘后事之師

---

前事不忘后事之师
qián shì bú wàng hòu shí zhī shī

---

qian2 shi4 bu2 wang4 hou4 shi2 zhi1 shi1

---

qian shi bu wang hou shi zhi shi
ch`ien shih pu wang hou shih chih shih

---

chien shih pu wang hou shih chih shih
In some entries above you will see that characters have different versions above and below a line.
In these cases, the characters above the line are Traditional Chinese, while the ones below are Simplified Chinese.
Successful Chinese Character and Japanese Kanji calligraphy searches within the last few hours...
All of our calligraphy wall scrolls are handmade.
When the calligrapher finishes creating your artwork, it is taken to my art mounting workshop in Beijing where a wall scroll is made by hand from a combination of silk, rice paper, and wood.
After we create your wall scroll, it takes at least two weeks for air mail delivery from Beijing to you.
Allow a few weeks for delivery. Rush service speeds it up by a week or two for $10!
When you select your calligraphy, you'll be taken to another page where you can choose various custom options.
Check out my lists of Japanese Kanji Calligraphy Wall Scrolls and Old Korean Hanja Calligraphy Wall Scrolls.
Some people may refer to this entry as Jin Jin Kanji, Jin Jin Characters, Jin Jin in Mandarin Chinese, Jin Jin Characters, Jin Jin in Chinese Writing, Jin Jin in Japanese Writing, Jin Jin in Asian Writing, Jin Jin Ideograms, Chinese Jin Jin symbols, Jin Jin Hieroglyphics, Jin Jin Glyphs, Jin Jin in Chinese Letters, Jin Jin Hanzi, Jin Jin in Japanese Kanji, Jin Jin Pictograms, Jin Jin in the Chinese Written-Language, or Jin Jin in the Japanese Written-Language.
0 people have searched for Jin Jin in Chinese or Japanese in the past year.
Jin Jin was last searched for by someone else on Jun 13th, 2019