Harm in Chinese / Japanese...
Buy a Harm calligraphy wall scroll here!
Personalize your custom "Harm" project by clicking the button next to your favorite "Harm" title below...
---
---
Benevolent and Skilled Doctor
Short version
Benevolent and Skilled Doctor
miào shǒu rén xīn xuán hú jì shì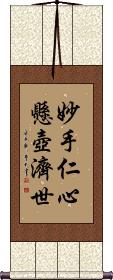 This phrase celebrates the benevolence, skill, and service to his/her patients.

Here's a breakdown of the characters:
妙手 miào shǒu admirable skill in curing disease (when used in reference to doctors).
仁心 rén xīn kindheartedness, charity, benevolent heart.
悬壶济世 xuán hú jì shì practice medicine or pharmacy to help the people or public.

Safety and Well-Being of the Family
Kanai Anzen

家內安全 is kind of the Japanese way of saying, "Family First". It's really a Japanese proverb about the safety and well-being of your family, and/or, peace and prosperity in the household.

Some Japanese will hang an amulet in their home with these Kanji on it. The purpose being to keep your family safe from harm.

According to Shinto followers, hanging this in your home is seen as an invocation to God to always keep members of the family free from harm.

We were actually looking for a way to say "family first" in Japanese when this proverb came up in the conversation and research. While it doesn't literally say "family first", it shows that the safety and well-being of your family is your first or most important priority. So, this proverb is the most natural way to express the idea that you put your family first.
---
See Also: Peace and Prosperity

In the most basic translation, this means road through the middle, or middle road.

The expanded meaning can be moderation, golden mean.

But if you are looking for this title, you are probably seeking the Buddhist definition, which is more complex.

中道 is the middle way or middle path of Buddhism. 中道 has various interpretations. In general, it denotes the mean between two extremes and has special reference to the mean between realism and nihilism, or eternal substantial existence and annihilation.

The Buddha teaches that one should not take things to extremes. Don't be extremely evil, and engage in debauchery and murder. But do not spend every waking out trying to be a perfect saint. Instead, take the middle path, try to help others, show loving kindness wherever you can, try not to do harm. If you do inadvertently harm another being, make amends if you can, and move on. Realize you are not perfect, but in time, a path of moderation lead toward proper living and enlightenment.

護身道 is the title for the school of martial arts known as Goshin-Do.

The literal translation of these three characters is something like "self-protection way" or "protection of the body way".

To put this in context, the term 護身 is often used for charms or amulets that are meant to protect the wearer from harm.
---
Note: This phrase is pronounceable in Chinese, but it not commonly known in China.
5. Right Living / Right Livelihood / Perfect Livelihood
Samyag Ajiva / Samma Ajiva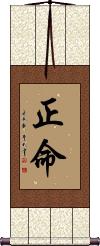 正命 (right living) is one of the Noble Eightfold Paths of Buddhism.

Right Living, along with Right Speech and Right Action constitute the path to Virtue.

Right Living means that a Buddhist should only take a job or pursue a career in a field that does no harm. Buddhists should not work in the arms trade, as pimps or in the field of prostitution, as a butcher or in a shop that kills or sells meat, in a laboratory that does animal research, or any other business that involves scheming or unethical behavior.

Another definition: Avoidance of professions that are harmful to sentient beings, such as slaughterer, hunter, dealer in weaponry or narcotics, etc.
---
This term is exclusively used by devout Buddhists. It is not a common term, and is remains an unknown concept to most Japanese and Chinese people.
---
See Also: Buddhism | Enlightenment | Noble Eightfold Path
Daodejing / Tao Te Ching - Chapter 81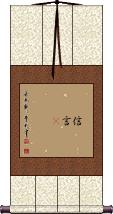 信言不美美言不信知者不博博者不知善者不多多者不善聖人無積既以為人己癒有既以予人矣已癒多故天之道利而不害聖人之道為而不爭 is the Mawangdui version of Daodejing chapter 81.


It can be translated this way:
Credible words are not eloquent;
Eloquent words are not credible.

The wise are not erudite;
The erudite are not wise.

The adept are not all-around;
The all-around are not adept.
The sages do not accumulate things.
Yet the more they have done for others,
The more they have gained themselves;
The more they have given to others,
The more they have gotten themselves.

Thus, the way of tian (heaven) is to benefit without harming;
The way of sages is to do without contending.
Another translation:
Sincere words are not showy;
showy words are not sincere.
Those who know are not "widely learned";
those "widely learned" do not know.
The good do not have a lot;
Those with a lot are not good.
The Sage accumulates nothing.
Having used what he had for others,
he has even more.
Having given what he had to others,
what he has is even greater.
Therefore, the Way of Heaven is to benefit and not cause any harm,
The Way of Man is to act on behalf of others and not to compete with them.
And a third translation:
True words aren't charming,
charming words aren't true.
Good people aren't contentious,
contentious people aren't good.
People who know aren't learned,
learned people don't know.
Wise souls don't hoard;
the more they do for others the more they have,
the more they give the richer they are.
The Way of heaven provides without destroying.
Doing without outdoing
is the Way of the wise.
The following table may be helpful for those studying Chinese or Japanese...
Title
Characters
Romaji

(Romanized Japanese)

Various forms of Romanized Chinese
Do No Harm
Harmless
不害
fu gai / fugai
bù hài / bu4 hai4 / bu hai / buhai
pu hai / puhai
Benevolent and Skilled Doctor
妙手仁心
miào shǒu rén xīn

---

miao4 shou3 ren2 xin1

---

miao shou ren xin

---

miaoshourenxin
miao shou jen hsin

---

miaoshoujenhsin
Benevolent and Skilled Doctor
妙手仁心懸壺濟世

---

妙手仁心悬壶济世
miào shǒu rén xīn xuán hú jì shì

---

miao4 shou3 ren2 xin1 xuan2 hu2 ji4 shi4

---

miao shou ren xin xuan hu ji shi
miao shou jen hsin hsüan hu chi shih
Safety and Well-Being of the Family
家內安全

---

家内安全
ka nai an zen

---

kanaianzen
The Middle Way
中道
chuu dou / chuudou / chu do / chudo
zhōng dào

---

zhong1 dao4

---

zhong dao

---

zhongdao
chung tao

---

chungtao
Goshin-Do
護身道

---

护身道
gou shin dou

---

goushindou

---

go shin do

---

goshindo
hù shēn dào

---

hu4 shen1 dao4

---

hu shen dao

---

hushendao
hu shen tao

---

hushentao
5. Right Living
Right Livelihood
Perfect Livelihood
正命
sei myou / seimyou / sei myo / seimyo
zhèng mìng

---

zheng4 ming4

---

zheng ming

---

zhengming
cheng ming

---

chengming
Daodejing
Tao Te Ching - Chapter 81
信言不美美言不信知者不博博者不知善者不多多者不善聖人無積既以為人己癒有既以予人矣已癒多故天之道利而不害聖人之道為而不爭

---

信言不美美言不信知者不博博者不知善者不多多者不善圣人无积既以为人己愈有既以予人矣已愈多故天之道利而不害圣人之道为而不争
In some entries above you will see that characters have different versions above and below a line.
In these cases, the characters above the line are Traditional Chinese, while the ones below are Simplified Chinese.
Many custom options...




And formats...



Successful Chinese Character and Japanese Kanji calligraphy searches within the last few hours...
All of our calligraphy wall scrolls are handmade.
When the calligrapher finishes creating your artwork, it is taken to my art mounting workshop in Beijing where a wall scroll is made by hand from a combination of silk, rice paper, and wood.
After we create your wall scroll, it takes at least two weeks for air mail delivery from Beijing to you.
Allow a few weeks for delivery. Rush service speeds it up by a week or two for $10!
When you select your calligraphy, you'll be taken to another page where you can choose various custom options.
Check out my lists of Japanese Kanji Calligraphy Wall Scrolls and Old Korean Hanja Calligraphy Wall Scrolls.
Some people may refer to this entry as Harm Kanji, Harm Characters, Harm in Mandarin Chinese, Harm Characters, Harm in Chinese Writing, Harm in Japanese Writing, Harm in Asian Writing, Harm Ideograms, Chinese Harm symbols, Harm Hieroglyphics, Harm Glyphs, Harm in Chinese Letters, Harm Hanzi, Harm in Japanese Kanji, Harm Pictograms, Harm in the Chinese Written-Language, or Harm in the Japanese Written-Language.
5 people have searched for Harm in Chinese or Japanese in the past year.
Harm was last searched for by someone else on Oct 10th, 2021