The name Goodbye in Chinese / Japanese...
Buy a Goodbye calligraphy wall scroll here!
Personalize your custom "Goodbye" project by clicking the button next to your favorite "Goodbye" title below...

再見 is the most common "goodbye" in Mandarin Chinese.

It literally/directly translates, "again see" or more naturally, "See you again." It's a lot like the English, "See you later."

Theoretically, this can be used in Japanese, but in Japanese, it's seen as the Chinese way to say goodbye. It's like English people saying ciao! or ¡adiós!
---
This is a strange title for a wall scroll. I guess it's best if you plan to put this by the door where people will see it when they leave your home or business.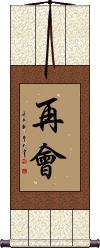 In Chinese, 再會 means to meet again, until we meet again, or goodbye.

In old Japanese, 再會 may be understood as a reunion or meeting again; though, in modern Japanese, you will see it written 再会.

This title can mean the Buddha of the Western paradise.

But it's more a chant that means "May the lord Buddha preserve us!" or "Merciful Buddha!."

阿彌陀佛 is also a translation to Chinese, Japanese, and Korean for "Amitâbha Buddha."

Asian Buddhists will often greet and say goodbye to each other with this phrase/chant/title.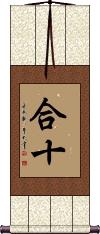 The word namaste comes from Sanskrit and is a common greeting in the Hindi and Nepali languages exchanged by devout Hindu or Buddhist people in Southern Asia (especially India).

合十 is the Chinese form (not well-known in Japan) of this word which is used to describe a Buddhist (or Hindu) greeting with palms closed together prayerfully, generally at chest level. However, this selection of characters describes the act and is not a word spoken during the greeting. Words or a greeting are seldom spoken when two Buddhists meet. The greeting is silent and respectful but composed completely of body language.

Note that the greeting namaste and the act of placing palms together are used both as a hello and goodbye (like the word aloha in Hawaiian).
---
If you are looking for a welcoming hello and goodbye, you may want to consider gassho or a simple welcome.
This in-stock artwork might be what you are looking for, and ships right away...
Gallery Price: $72.00
Your Price: $39.88
Not the results for goodbye that you were looking for?
Below are some entries from our dictionary that may match your goodbye search...
Characters

If shown, 2nd row is Simp. Chinese

Pronunciation
Romanization
Simple Dictionary Definition

再會

---

再会

see styles
zài huì
zai4 hui4

---

tsai hui

---

saie
to meet again; until we meet again; goodbye

---

meet again

再見

---

再见

see styles
zài jiàn
zai4 jian4

---

tsai chien

---

shaichen; shaichien
ツァイチェン; ツァイチエン
goodbye; see you again later

---

(interjection) (kana only) good-bye (chi: zàijiàn); see you

傷別

---

伤别

see styles
shāng bié
shang1 bie2

---

shang pieh

吻別

---

吻别

see styles
wěn bié
wen3 bie2

---

wen pieh

告別

---

告别

see styles
gào bié
gao4 bie2

---

kao pieh

---

kokubetsu
こくべつ

---

(n,vs,vi) farewell; leave-taking

告辭

---

告辞

see styles
gào cí
gao4 ci2

---

kao tz`u
kao tzu

---

See: 告辞

失敬

see styles
shī jìng
shi1 jing4

---

shih ching

---

shikkei / shikke
しっけい

---

(n,vs,adj-na) (1) rudeness; impoliteness; disrespect; impertinence; (noun/participle) (2) (masculine speech) leaving; going (on one's way); saying goodbye; (noun/participle) (3) taking without permission; stealing; pinching; pilfering; (interjection) (4) (masculine speech) my apologies; I must be going now; so long

失礼

see styles
shitsurei(p); shitsurai(ok); shichirai(ok) / shitsure(p); shitsurai(ok); shichirai(ok)
しつれい(P); しつらい(ok); しちらい(ok)

引別

---

引别

see styles
yǐn bié
yin3 bie2

---

yin pieh

揮別

---

挥别

see styles
huī bié
hui1 bie2

---

hui pieh

搖手

---

摇手

see styles
yáo shǒu
yao2 shou3

---

yao shou

---

yō shu

---

trembling hands

津送

see styles
jīn sòng
jin1 song4

---

chin sung

---

shinsō

話別

---

话别

see styles
huà bié
hua4 bie2

---

hua pieh

辭別

---

辞别

see styles
cí bié
ci2 bie2

---

tz`u pieh
tzu pieh

辭行

---

辞行

see styles
cí xíng
ci2 xing2

---

tz`u hsing
tzu hsing

道別

---

道别

see styles
dào bié
dao4 bie2

---

tao pieh

どうも

see styles
doumo / domo
どうも

アデュー

see styles
adeuu / adeu
アデュー

おさらば

see styles
osaraba
おさらば

お別れ会

see styles
owakarekai
おわかれかい

グッバイ

see styles
gubbai
グッバイ

さいなら

see styles
sainara
さいなら

したっけ

see styles
shitakke
したっけ

じゃまた

see styles
shamata
シャマタ

ではまた

see styles
dehamata
ではまた

はいはい

see styles
baibai
バイバイ

左様なら

see styles
sayounara(p); sayounara; sayoonara / sayonara(p); sayonara; sayoonara
さようなら(P); サヨウナラ; サヨーナラ

アディオス

see styles
adiosu
アディオス

いざさらば

see styles
izasaraba
いざさらば

グッドバイ

see styles
guddobai
グッドバイ
Click here for more goodbye results from our dictionary
The following table may be helpful for those studying Chinese or Japanese...
Title
Characters
Romaji

(Romanized Japanese)

Various forms of Romanized Chinese
Goodbye
再見

---

再见
shai chien / shaichien
zài jiàn / zai4 jian4 / zai jian / zaijian
tsai chien / tsaichien
Until We Meet Again
再會

---

再会
saie
zài huì / zai4 hui4 / zai hui / zaihui
tsai hui / tsaihui
Amitabha Buddha
阿彌陀佛

---

阿弥陀佛
amida butsu

---

amidabutsu
ē mí tuó fó

---

e1 mi2 tuo2 fo2

---

e mi tuo fo

---

emituofo
o mi t`o fo

---

omitofo

---

o mi to fo
Namaste - Greeting
合十
gou juu / goujuu / go ju
hé shí / he2 shi2 / he shi / heshi
ho shih / hoshih
In some entries above you will see that characters have different versions above and below a line.
In these cases, the characters above the line are Traditional Chinese, while the ones below are Simplified Chinese.
Many custom options...




And formats...



Successful Chinese Character and Japanese Kanji calligraphy searches within the last few hours...
All of our calligraphy wall scrolls are handmade.
When the calligrapher finishes creating your artwork, it is taken to my art mounting workshop in Beijing where a wall scroll is made by hand from a combination of silk, rice paper, and wood.
After we create your wall scroll, it takes at least two weeks for air mail delivery from Beijing to you.
Allow a few weeks for delivery. Rush service speeds it up by a week or two for $10!
When you select your calligraphy, you'll be taken to another page where you can choose various custom options.
Check out my lists of Japanese Kanji Calligraphy Wall Scrolls and Old Korean Hanja Calligraphy Wall Scrolls.
Some people may refer to this entry as Goodbye Kanji, Goodbye Characters, Goodbye in Mandarin Chinese, Goodbye Characters, Goodbye in Chinese Writing, Goodbye in Japanese Writing, Goodbye in Asian Writing, Goodbye Ideograms, Chinese Goodbye symbols, Goodbye Hieroglyphics, Goodbye Glyphs, Goodbye in Chinese Letters, Goodbye Hanzi, Goodbye in Japanese Kanji, Goodbye Pictograms, Goodbye in the Chinese Written-Language, or Goodbye in the Japanese Written-Language.
31 people have searched for Goodbye in Chinese or Japanese in the past year.
Goodbye was last searched for by someone else on Jun 24th, 2023