Not what you want?
Try searching again using:
1. Other similar-meaning words.
2. Fewer words or just one word.

If all else fails, email me and
tell me what you need.
Chapter in Chinese / Japanese...
Buy a Chapter calligraphy wall scroll here!
Start your custom "Chapter" project by clicking the button next to your favorite "Chapter" title below...

dào kě dào fēi cháng dào míng kě míng fēi cháng míng wú míng tiān dì zhī shǐ yǒu míng wàn wù zhī mǔ gù cháng wú yù yǐ guān qí miào cháng yǒu yù yǐ guān qí zhēng cǐ liǎng zhě tóng chū ér yì míng tóng wèi zhī xuán xuán zhī yòu xuán zhòng miào zhī mén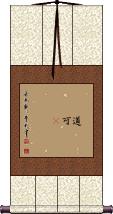 This text is the first chapter of the Daodejing / Tao Te Ching.

The text reads:
道可道、非常道。名可名、非常名。 無名天地之始 有名萬物之母。故常無欲以觀其妙、常有欲以觀其徼。此兩者同出而異名。同謂之玄。玄之又玄、衆妙之門。

This classical Chinese passage comes from the Mawangdui (馬王堆帛書) text.


Dr. Charle Muller translates it this way:
The Way that can be followed is not the eternal Way.
The name that can be named is not the eternal name.
The nameless is the origin of heaven and earth
While naming is the origin of the myriad things.
Therefore, always desireless, you see the mystery
Ever desiring, you see the manifestations.
These two are the same—
When they appear they are named differently.
This sameness is the mystery,
Mystery within mystery;
The door to all marvels.
Dr. Muller's translation of all 81 Daodejing chapters

zhī rén zhě zhī yě zì zhī zhě míng yě shèng rén zhě yǒu lì yě zì shèng zhě qiáng yě zhī zú zhě fù yě qiáng xíng zhě yǒu zhì yě bù zhī qí suǒ zhě jiǔ yě sǐ ér bù wáng zhě shòu yě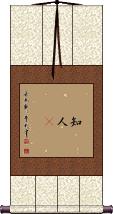 This is referred to as passage or chapter 33 of the Dao De Jing (often Romanized as "Tao Te Ching").

These are the words of the philosopher Laozi (Lao Tzu).
The following is one translation of this passage:
To know others is wisdom;
To know oneself is acuity/intelligence.
To conquer others is power,
To conquer oneself is strength.
To know contentment is to have wealth.
To act resolutely is to have purpose.
To stay one's ground is to be enduring.
To die and yet not be forgotten is to be long-lived.
Another translation:
To understand others is to be knowledgeable;
To understand yourself is to be wise.
To conquer others is to have strength;
To conquer yourself is to be strong.
To know when you have enough is to be rich.
To go forward with strength is to have ambition.
To not lose your place is to be long lasting.
To die but not be forgotten -- that's true long life.
A third translation of the second half:
He who is content is rich;
He who acts with persistence has will;
He who does not lose his roots will endure;
He who dies physically but preserves the Dao
will enjoy a long after-life.
---
Notes:

During our research, the Chinese characters shown here are probably the most accurate to the original text of Laozi. These were taken for the most part from the Mawangdui 1973 and Guodan 1993 manuscripts which pre-date other Daodejing texts by about 1000 years.

Grammar was a little different in Laozi's time. So you should consider this to be the ancient Chinese version. Some have modernized this passage by adding, removing, or swapping articles and changing the grammar (we felt the oldest and most original version would be more desirable). You may find other versions printed in books or online - sometimes these modern texts are simply used to explain to Chinese people what the original text really means.

This language issue can be compared in English by thinking how the King James (known as the Authorized version in Great Britain) Bible from 1611 was written, and comparing it to modern English. Now imagine that the Daodejing was probably written around 403 BCE (2000 years before the King James Version of the Bible). To a Chinese person, the original Daodejing reads like text that is 3 times more detached compared to Shakespeare's English is to our modern-day speech.

Extended notes:

While on this Biblical text comparison, it should be noted, that just like the Bible, all the original texts of the Daodejing were lost or destroyed long ago. Just as with the scripture used to create the Bible, various manuscripts exist, many with variations or copyist errors. Just as the earliest New Testament scripture (incomplete) is from 170 years after Christ, the earliest Daodejing manuscript (incomplete) is from 100-200 years after the death of Laozi.

The reason that the originals were lost probably has a lot to do with the first Qin Emperor. Upon taking power and unifying China, he ordered the burning and destruction of all books (scrolls/rolls) except those pertaining to Chinese medicine and a few other subjects. The surviving Daodejing manuscripts were either hidden on purpose or simply forgotten about. Some were not unearthed until as late as 1993.

We compared a lot of research by various archeologists and historians before deciding on this as the most accurate and correct version. But one must allow that it may not be perfect, or the actual and original as from the hand of Laozi himself.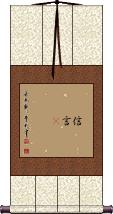 This is the Mawangdui version of Daodejing chapter 81.


It can be translated this way:
Credible words are not eloquent;
Eloquent words are not credible.

The wise are not erudite;
The erudite are not wise.

The adept are not all-around;
The all-around are not adept.
The sages do not accumulate things.
Yet the more they have done for others,
The more they have gained themselves;
The more they have given to others,
The more they have gotten themselves.

Thus, the way of tian (heaven) is to benefit without harming;
The way of sages is to do without contending.
Another translation:
Sincere words are not showy;
showy words are not sincere.
Those who know are not "widely learned";
those "widely learned" do not know.
The good do not have a lot;
Those with a lot are not good.
The Sage accumulates nothing.
Having used what he had for others,
he has even more.
Having given what he had to others,
what he has is even greater.
Therefore, the Way of Heaven is to benefit and not cause any harm,
The Way of Man is to act on behalf of others and not to compete with them.
And a third translation:
True words aren't charming,
charming words aren't true.
Good people aren't contentious,
contentious people aren't good.
People who know aren't learned,
learned people don't know.
Wise souls don't hoard;
the more they do for others the more they have,
the more they give the richer they are.
The Way of heaven provides without destroying.
Doing without outdoing
is the Way of the wise.

shin sei katsu

This literally means "new life" or "new livelihood" in Japanese Kanji.

新生活 is most appropriate if you are starting a new career, or otherwise are starting a new chapter in your life or a new beginning.
---
Note: This is not the most common word selection for a calligraphy wall scroll. But if you're a westerner, you can bend the rules a bit.

shì cù rú yīng ér gù kě yǐ yú zhī fù shēn xī shì cù rú ài zǐ gù kě yú zhī jū sǐ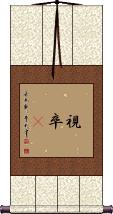 This is an entry from the 10th section within the Earth/Terrain chapter of Sun Tzu's Art of War.

This is often translated as, "Regard your soldiers as your children, and they will follow you into the deepest valleys. Look upon them as your own beloved sons, and they will stand by you even unto death."

ji hi no kokoro

慈悲の心 means benevolent heart, compassionate heart, or merciful heart in Japanese.

慈悲の心 is a Japanese-only phrase, and should be ordered from our Japanese master calligrapher. 慈悲の心 is because the third character is special Hiragana.

Chances are you are into Inuyasha and are seeking the title of chapter 471 which is often translated as "Merciful Heart."
---

yī shǐ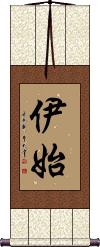 伊始 is a short version of "new beginning" or simply "beginning" in Chinese characters.

You can also translated this as "from this moment on," "starting now" or "henceforth."

In day-to-day speech, this word can apply to starting new job, beginning a new career, entering a new chapter of your life, or taking a new position (in politics, scholarship, etc).

yī yuē cí èr yuē jiǎn sān yuē bù gǎn wéi tiān xià xiān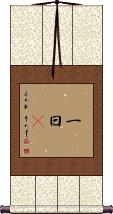 This is an except from the 67th Chapter of Lao Tzu's (Lao Zi's) Te-Tao Ching (Dao De Jing). This is the part where the three treasures are discussed. In English, we'd say these three treasures are compassion, frugality, and humility. Some may translate these as love, moderation, and lack of arrogance. I have also seen them translated as benevolence, modesty, and "Not presuming to be at the forefront in the world." You can mix them up the way you want, as translation is not really a science but rather an art.

I should also explain that the first two treasures are single-character ideas, yet the third treasure was written out in six characters (there are also some auxiliary characters to number the treasures).

If Lao Tzu's words are important to you, then a wall scroll with this passage might make a great addition to your home.

dào tiān dì jiàng fǎ

dou ten chi shou hou

도천지장법

The first chapter of Sun Tzu's Art of War lists five key points to analyzing your situation.

It reads like a 5-part military proverb. Sun Tzu says that to sharpen your skills, you must plan. To plan well, you must know your situation. Therefore, you must consider and discuss the following:

1. Philosophy and Politics: Make sure your way or your policy is agreeable among all of your troops (and the citizens of your kingdom as well). For when your soldiers believe in you and your way, they will follow you to their deaths without hesitation, and will not question your orders.

2. Heaven/Sky: Consider climate / weather. This can also mean to consider whether God is smiling on you. In the modern military, this could be waiting for clear skies so that you can have air support for an amphibious landing.

3. Ground/Earth: Consider the terrain in which the battle will take place. This includes analyzing defensible positions, exit routes, and using varying elevation to your advantage. When you plan an ambush, you must know your terrain, and the best location from which to stage that ambush. This knowledge will also help you avoid being ambushed, as you will know where the likely places in which to expect an ambush from your enemy.

4. Leadership: This applies to you as the general, and also to your lieutenants. A leader should be smart and be able to develop good strategies. Leaders should keep their word, and if they break a promise, they should punish themselves as harshly as they would punish subordinates. Leaders should be benevolent to their troops, with almost a fatherly love for them. Leaders must have the ability to make brave and fast decisions. Leaders must have steadfast principles.

5. [Military] Methods: This can also mean laws, rules, principles, model, or system. You must have an efficient organization in place to manage both your troops and supplies. In the modern military, this would be a combination of how your unit is organized, and your SOP (Standard Operating Procedure).
---
Notes: This is a simplistic translation and explanation. Much more is suggested in the actual text of the Art of War (Bing Fa). It would take a lot of study to master all of these aspects. In fact, these five characters can be compared to the modern military acronyms such as BAMCIS or SMEAC.

CJK notes: I have included the Japanese and Korean pronunciations but in Chinese, Korean and Japanese, this does not make a typical phrase (with subject, verb, and object) it is a list that only someone familiar with Sun Tzu's writings would understand.
Many custom options...




And formats...



The following table may be helpful for those studying Chinese or Japanese...
Title
Characters
Romaji

(Romanized Japanese)

Various forms of Romanized Chinese
Daodejing
Tao Te Ching Chapter 1
道可道非常道名可名非常名無名天地之始有名萬物之母故常無欲以觀其妙常有欲以觀其徼此兩者同出而異名同謂之玄玄之又玄衆妙之門

---

道可道非常道名可名非常名无名天地之始有名万物之母故常无欲以观其妙常有欲以观其徼此两者同出而异名同谓之玄玄之又玄众妙之门
dào kě dào fēi cháng dào míng kě míng fēi cháng míng wú míng tiān dì zhī shǐ yǒu míng wàn wù zhī mǔ gù cháng wú yù yǐ guān qí miào cháng yǒu yù yǐ guān qí zhēng cǐ liǎng zhě tóng chū ér yì míng tóng wèi zhī xuán xuán zhī yòu xuán zhòng miào zhī mén

---

dao4 ke3 dao4 fei1 chang2 dao4 ming2 ke3 ming2 fei1 chang2 ming2 wu2 ming2 tian1 di4 zhi1 shi3 you3 ming2 wan4 wu4 zhi1 mu3 gu4 chang2 wu2 yu4 yi3 guan1 qi2 miao4 chang2 you3 yu4 yi3 guan1 qi2 jiao3 ci3 liang3 zhe3 tong2 chu1 er2 yi4 ming2 tong2 wei4 zhi1 xuan2 xuan2 zhi1 you4 xuan2 zhong4 miao4 zhi1 men2

---

dao ke dao fei chang dao ming ke ming fei chang ming wu ming tian di zhi shi you ming wan wu zhi mu gu chang wu yu yi guan qi miao chang you yu yi guan qi jiao ci liang zhe tong chu er yi ming tong wei zhi xuan xuan zhi you xuan zhong miao zhi men
tao k`o tao fei ch`ang tao ming k`o ming fei ch`ang ming wu ming t`ien ti chih shih yu ming wan wu chih mu ku ch`ang wu yü i kuan ch`i miao ch`ang yu yü i kuan ch`i chiao tz`u liang che t`ung ch`u erh i ming t`ung wei chih hsüan hsüan chih yu hsüan chung miao chih men

---

tao ko tao fei chang tao ming ko ming fei chang ming wu ming tien ti chih shih yu ming wan wu chih mu ku chang wu yü i kuan chi miao chang yu yü i kuan chi chiao tzu liang che tung chu erh i ming tung wei chih hsüan hsüan chih yu hsüan chung miao chih men
Daodejing
Tao Te Ching - Chapter 33
知人者知也自知者明也勝人者有力也自勝者強也知足者富也強行者有志也不失其所者久也死而不亡者壽也

---

知人者知也自知者明也胜人者有力也自胜者强也知足者富也强行者有志也不失其所者久也死而不亡者寿也
zhī rén zhě zhī yě zì zhī zhě míng yě shèng rén zhě yǒu lì yě zì shèng zhě qiáng yě zhī zú zhě fù yě qiáng xíng zhě yǒu zhì yě bù zhī qí suǒ zhě jiǔ yě sǐ ér bù wáng zhě shòu yě

---

zhi1 ren2 zhe3 zhi1 ye3 zi4 zhi1 zhe3 ming2 ye3 sheng4 ren2 zhe3 you3 li4 ye3 zi4 sheng4 zhe3 qiang2 ye3 zhi1 zu2 zhe3 fu4 ye3 qiang2 xing2 zhe3 you3 zhi4 ye3 bu4 zhi1 qi2 suo3 zhe3 jiu3 ye3 si3 er2 bu4 wang2 zhe3 shou4 ye3

---

zhi ren zhe zhi ye zi zhi zhe ming ye sheng ren zhe you li ye zi sheng zhe qiang ye zhi zu zhe fu ye qiang xing zhe you zhi ye bu zhi qi suo zhe jiu ye si er bu wang zhe shou ye
chih jen che chih yeh tzu chih che ming yeh sheng jen che yu li yeh tzu sheng che ch`iang yeh chih tsu che fu yeh ch`iang hsing che yu chih yeh pu chih ch`i so che chiu yeh ssu erh pu wang che shou yeh

---

chih jen che chih yeh tzu chih che ming yeh sheng jen che yu li yeh tzu sheng che chiang yeh chih tsu che fu yeh chiang hsing che yu chih yeh pu chih chi so che chiu yeh ssu erh pu wang che shou yeh
Daodejing
Tao Te Ching Chapter 81
信言不美美言不信知者不博博者不知善者不多多者不善聖人無積既以為人己癒有既以予人矣已癒多故天之道利而不害聖人之道為而不爭

---

信言不美美言不信知者不博博者不知善者不多多者不善圣人无积既以为人己愈有既以予人矣已愈多故天之道利而不害圣人之道为而不争
New Life
新生活
shin sei katsu

---

shinseikatsu
Sun Tzu: Regard Your Soldiers as Children
視卒如嬰兒故可以與之赴深溪視卒如愛子故可與之俱死

---

视卒如婴儿故可以与之赴深溪视卒如爱子故可与之俱死
shì cù rú yīng ér gù kě yǐ yú zhī fù shēn xī shì cù rú ài zǐ gù kě yú zhī jū sǐ

---

shi4 cu4 ru2 ying1 er2 gu4 ke3 yi3 yu2 zhi1 fu4 shen1 xi1 shi4 cu4 ru2 ai4 zi3 gu4 ke3 yu2 zhi1 ju1 si3

---

shi cu ru ying er gu ke yi yu zhi fu shen xi shi cu ru ai zi gu ke yu zhi ju si
shih ts`u ju ying erh ku k`o i yü chih fu shen hsi shih ts`u ju ai tzu ku k`o yü chih chü ssu

---

shih tsu ju ying erh ku ko i yü chih fu shen hsi shih tsu ju ai tzu ku ko yü chih chü ssu
Benevolent Heart
慈悲の心
ji hi no kokoro

---

jihinokokoro
New Beginning
伊始
yī shǐ / yi1 shi3 / yi shi / yishi
i shih / ishih
Daodejing
Tao Te Ching
一曰慈二曰儉三曰不敢為天下先

---

一曰慈二曰俭三曰不敢为天下先
yī yuē cí èr yuē jiǎn sān yuē bù gǎn wéi tiān xià xiān

---

yi1 yue1 ci2 er4 yue1 jian3 san1 yue1 bu4 gan3 wei2 tian1 xia4 xian1

---

yi yue ci er yue jian san yue bu gan wei tian xia xian
i yüeh tz`u erh yüeh chien san yüeh pu kan wei t`ien hsia hsien

---

i yüeh tzu erh yüeh chien san yüeh pu kan wei tien hsia hsien
Art of War: 5 Points of Analysis
道天地將法

---

道天地将法
dou ten chi shou hou

---

doutenchishouhou

---

do ten chi sho ho

---

dotenchishoho
dào tiān dì jiàng fǎ

---

dao4 tian1 di4 jiang4 fa3

---

dao tian di jiang fa

---

daotiandijiangfa
tao t`ien ti chiang fa

---

taotientichiangfa

---

tao tien ti chiang fa
In some entries above you will see that characters have different versions above and below a line.
In these cases, the characters above the line are Traditional Chinese, while the ones below are Simplified Chinese.
Successful Chinese Character and Japanese Kanji calligraphy searches within the last few hours...
All of our calligraphy wall scrolls are handmade.
When the calligrapher finishes creating your artwork, it is taken to my art mounting workshop in Beijing where a wall scroll is made by hand from a combination of silk, rice paper, and wood.
After we create your wall scroll, it takes at least two weeks for air mail delivery from Beijing to you.
Allow a few weeks for delivery. Rush service speeds it up by a week or two for $10!
When you select your calligraphy, you'll be taken to another page where you can choose various custom options.
Check out my lists of Japanese Kanji Calligraphy Wall Scrolls and Old Korean Hanja Calligraphy Wall Scrolls.
Some people may refer to this entry as Chapter Kanji, Chapter Characters, Chapter in Mandarin Chinese, Chapter Characters, Chapter in Chinese Writing, Chapter in Japanese Writing, Chapter in Asian Writing, Chapter Ideograms, Chinese Chapter symbols, Chapter Hieroglyphics, Chapter Glyphs, Chapter in Chinese Letters, Chapter Hanzi, Chapter in Japanese Kanji, Chapter Pictograms, Chapter in the Chinese Written-Language, or Chapter in the Japanese Written-Language.
2 people have searched for Chapter in Chinese or Japanese in the past year.
Chapter was last searched for by someone else on Jul 26th, 2018