Boat in Chinese / Japanese...
Buy a Boat calligraphy wall scroll here!
Personalize your custom "Boat" project by clicking the button next to your favorite "Boat" title below...
---
---
The incompetent boat pilot blames the river for his shortcomings
Mark the boat to find the lost sword / Ignoring the changing circumstances of the world

刻舟求劍 is an originally-Chinese proverb which serves as a warning to people that things are always in a state of change.

Thus, you must take that into account, and not depend on the old ways, or a way that may have worked in the past but is no longer valid.

This idiom/proverb comes from the following story:
A man was traveling in a ferry boat across a river. With him, he carried a valuable and treasured sword. Along the way, the man became overwhelmed and intoxicated by the beautiful view, and accidentally dropped his prized sword into the river. Thinking quickly, he pulled out a knife and marked on the rail of the boat where exactly he has lost his sword.

When the boat arrived on the other side of the river, the man jumped out of the boat and searched for his sword right under where he'd made the mark. Of course, the boat had moved a great distance since he made the mark, and thus, he could not find the sword.

While this man may seem foolhardy, we have to take a great lesson from this parable: Circumstances change, so one should use methods that can handle the change. In modern China, this is used in business to mean that one should not depend on old business models for a changing market.
---
This proverb dates back to the Spring and Autumn period (770–476 BC) of the territory now known as China. It has spread and is somewhat known in Japan and Korea.
Not Only Can Water Float A Boat, It Can Sink It Also
shuǐ néng zài zhōu yì néng fù zhōu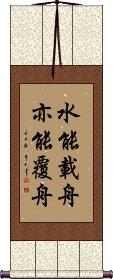 Many things have opposite properties. The water you drink can also drown you. Pork may nourish you and keep you alive but under-cook it and it could kill you. Potassium nitrate is often used as a fertilizer to grow the food that sustains us but it's also been used as an explosive to topple buildings and destroy us.

This concept is easily associated with "yin yang" where an element has two opposite properties that are as different as night and day.

This proverb's meaning can be summed up this way: "Anything that can lead you to success may also contain great risks".

This phrase is known in literary circles by Korean people (scholars or literature). It is therefore also a valid proverb in Korean Hanja, though most Koreans would not be able to make sense of it.

Please note that there is an unwritten rule when the same character appears twice in the same phrase, the calligrapher will alter the appearance so that no two characters are exactly alike in the same piece. This calligraphy has two repeating characters that will be written differently than they appear here.

方舟 is the Chinese, Japanese, and old Korean name for an ark (as in Noah's Ark).

The literal translation is the square boat.

高速 means "high speed" or "in high gear" in Chinese and Japanese Kanji.

In old Korean Hanja, it also means "high speed" but can also be a nickname for "rapid transit".

高速 is the best selection if you want to say "speed" in regards to your race car, race boat, or lifestyle. You need this word, which literally means "high speed", as the Asian word for "speed" alone does not suggest whether you mean fast or slow.
Regardless of the Weather, We Overcome Troubles Together
fēng yǔ wú zǔ tóng zhōu gòng jì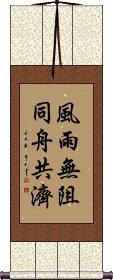 The first four characters are often translated as, "Go ahead as planned regardless of the weather" or, "[Overcome] despite the rain and wind". The last four characters can mean, "Stick together" but literally means "Take the same boat [together]".

This Chinese proverb suggests that you are willing (or should be willing) to overcome any adversity, and accomplish your task at hand. The second part (last four characters) is sometimes left off but this second part strongly suggests that you should overcome that adversity together.

一帆風順 is just what you think it means. It suggests that you are on a trouble-free voyage through life, or literally on a sailing ship or sail boat. It is often used in China as a wish for good luck on a voyage or as you set out on a new quest or career in your life. Some may use this in lieu of "bon voyage".

The literal meaning is roughly, "Once you raise your sail, you will get the wind you need, and it will take you where you want to go". Another way to translate it is "Your sail and the wind follow your will".

一帆風順 is a great gift for a mariner, sailor, adventurer, or someone starting a new career.

Note: Can be understood in Korean Hanja but rarely used.
---
See Also: Bon Voyage | Adventure | Travel
This in-stock artwork might be what you are looking for, and ships right away...
The following table may be helpful for those studying Chinese or Japanese...
Title
Characters
Romaji

(Romanized Japanese)

Various forms of Romanized Chinese
The incompetent boat pilot blames the river for his shortcomings
不會撐船賴河灣

---

不会撑船赖河湾
bù huì chēng chuán lài hé wān

---

bu4 hui4 cheng1 chuan2 lai4 he2 wan1

---

bu hui cheng chuan lai he wan

---

buhuichengchuanlaihewan
pu hui ch`eng ch`uan lai ho wan

---

puhuichengchuanlaihowan

---

pu hui cheng chuan lai ho wan
Mark the boat to find the lost sword
Ignoring the changing circumstances of the world
刻舟求劍

---

刻舟求剑
kokushuukyuuken

---

kokushukyuken
kè zhōu qiú jiàn

---

ke4 zhou1 qiu2 jian4

---

ke zhou qiu jian

---

kezhouqiujian
k`o chou ch`iu chien

---

kochouchiuchien

---

ko chou chiu chien
Not Only Can Water Float A Boat, It Can Sink It Also
水能載舟亦能覆舟

---

水能载舟亦能覆舟
shuǐ néng zài zhōu yì néng fù zhōu

---

shui3 neng2 zai4 zhou1 yi4 neng2 fu4 zhou1

---

shui neng zai zhou yi neng fu zhou
shui neng tsai chou i neng fu chou
Ark
方舟
hakobune
fāng zhōu

---

fang1 zhou1

---

fang zhou

---

fangzhou
fang chou

---

fangchou
Speed
高速
kousoku / kosoku
gāo sù / gao1 su4 / gao su / gaosu
kao su / kaosu
Regardless of the Weather, We Overcome Troubles Together
風雨無阻同舟共濟

---

风雨无阻同舟共济
fēng yǔ wú zǔ tóng zhōu gòng jì

---

feng1 yu3 wu2 zu3 tong2 zhou1 gong4 ji4

---

feng yu wu zu tong zhou gong ji

---

fengyuwuzutongzhougongji
feng yü wu tsu t`ung chou kung chi

---

feng yü wu tsu tung chou kung chi
Smooth Sailing
一帆風順

---

一帆风顺
yī fán fēng shùn

---

yi1 fan2 feng1 shun4

---

yi fan feng shun

---

yifanfengshun
i fan feng shun

---

ifanfengshun
In some entries above you will see that characters have different versions above and below a line.
In these cases, the characters above the line are Traditional Chinese, while the ones below are Simplified Chinese.
Many custom options...




And formats...



Successful Chinese Character and Japanese Kanji calligraphy searches within the last few hours...
All of our calligraphy wall scrolls are handmade.
When the calligrapher finishes creating your artwork, it is taken to my art mounting workshop in Beijing where a wall scroll is made by hand from a combination of silk, rice paper, and wood.
After we create your wall scroll, it takes at least two weeks for air mail delivery from Beijing to you.
Allow a few weeks for delivery. Rush service speeds it up by a week or two for $10!
When you select your calligraphy, you'll be taken to another page where you can choose various custom options.
Check out my lists of Japanese Kanji Calligraphy Wall Scrolls and Old Korean Hanja Calligraphy Wall Scrolls.
Some people may refer to this entry as Boat Kanji, Boat Characters, Boat in Mandarin Chinese, Boat Characters, Boat in Chinese Writing, Boat in Japanese Writing, Boat in Asian Writing, Boat Ideograms, Chinese Boat symbols, Boat Hieroglyphics, Boat Glyphs, Boat in Chinese Letters, Boat Hanzi, Boat in Japanese Kanji, Boat Pictograms, Boat in the Chinese Written-Language, or Boat in the Japanese Written-Language.
5 people have searched for Boat in Chinese or Japanese in the past year.
Boat was last searched for by someone else on Oct 10th, 2021