Art of Fighting in Chinese / Japanese...
Buy an Art of Fighting calligraphy wall scroll here!
Personalize your custom "Art of Fighting" project by clicking the button next to your favorite "Art of Fighting" title below...
See also: Bushido - Code of the Samurai Warrior
Furinkazan
military strategy

風林火山 is the battle strategy and proverb of Japanese feudal lord Takeda Shingen (1521-1573 AD).

This came from the Art of War by Chinese strategist and tactician Sun Tzu (Sunzi).

You can think of this as a sort of abbreviation to remind officers and troops how to conduct battle.

風林火山 is literally a word list: Wind, Forest, Fire, Mountain.

The more expanded meaning is supposed to be...

"Swift as the wind, quiet as the forest, fierce as fire, and immovable as a mountain"

"As fast as the wind, as quiet as the forest, as daring as fire, and immovable as the mountain"

"Move as swift as the wind, stay as silent as a forest, attack as fierce as fire, undefeatable defense like a mountain"

"Move swiftly like the wind, stay silent like the forest, attack fiercely like fire, take tactical position on the mountain"
---
See Also: Art of War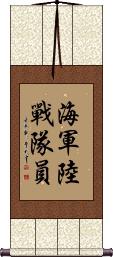 海軍陸戰隊員 is the Chinese way to express "Marine". (as in a member of the Marine Corps). It is not country-specific, so it could be the Royal Marines, U.S. Marines, Chinese Marines, etc.
In Australian English, they would translate this as "Naval Infantryman".

Breaking down each character, this means:
"ocean/sea military/arms shore/land fighting/war/battle corps/team/group person/member". Note that the first two characters presented together but outside of this phrase mean "navy" (sea military).
---
See Also: Warrior | Military | Navy | Art of War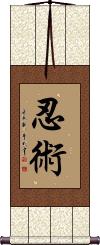 忍術 is the "art of the ninja" in Japanese. Most Japanese people associate ninjas with some degree of romance and reverence to Japan's ancient past. But most will accept that the ninja is an idea or way of life whose time has passed. However, this has not stopped floods of movies about ninjas and dojos offering Ninjutsu training from keeping the idea of the ninja alive in modern times.

My modern Japanese dictionary defines this term as "assassination, stealth and combat techniques", or "fighting art of the ninja".



Note that when writing this as Kanji, Japanese will tend to write the first character in the form shown to the right. Because this is specifically a Japanese title, we only suggest our Japanese master calligrapher for this selection - and you will get the form shown to the right if you do that (please ignore the fact that some of the images you see during the following pages in the options process will be the Chinese/alternate form).
Hapkido
Korean Martial Art of re-directing force

Hapkido or 合氣道 is a mostly-defensive martial art of Korea.

Hapkido has some connection to Aikido of Japan. In fact, they are written with the same characters in both languages. However, it should be noted that the Korean Hanja characters shown here are the traditional Chinese form - but in modern Japan, the middle character was slightly simplified.
Note: You can consider this to be the older Japanese written form of Aikido. Titles on older books and signs about Aikido use this form.

The connection between Japanese Aikido and Korean Hapkido is a bit muddled in history. The issue is probably due to the difficult relationship between the two countries around the time of WWII. Many Koreans became virtual slaves for the Japanese during that period. After WWII, many things in Korea were disassociated from having any Japanese origin. The relationship has greatly mellowed out now.

Looking at the characters, the first means "union" or "harmony".
The second character means "universal energy" or "spirit".
The third means "way" or "method".
One way to translate this into English is "Harmonizing Energy Method". This makes since, as Hapkido has more to do with redirecting energy, rather that fighting with strength against strength.

More Hapkido info

More notes:
1. Sometimes Hapkido is Romanized as "hap ki do", "hapki-do" "hab gi do" or "hapgido".

2. Korean Hanja characters are actually Chinese characters that usually hold the same meaning in both languages. There was a time when these characters were the standard and only written form of Korean. The development of modern Korean Hangul characters is a somewhat recent event in the greater scope of history. There was a time when Chinese characters were the written form of many languages in places known in modern times as North Korea, South Korea, Japan, Vietnam, Singapore, Hong Kong, Taiwan, Mainland China, and a significant portion of Malaysia. Even today, more people in the world can read Chinese characters than English.

3. While these Korean Hanja characters can be pronounced in Chinese, this word is not well-known in China and is not considered part of the Chinese lexicon.
This in-stock artwork might be what you are looking for, and ships right away...
The following table may be helpful for those studying Chinese or Japanese...
Title
Characters
Romaji

(Romanized Japanese)

Various forms of Romanized Chinese
Furinkazan
風林火山

---

风林火山
fuu rin ka zan

---

fuurinkazan

---

fu rin ka zan
fēng lín huǒ shān

---

feng1 lin2 huo3 shan1

---

feng lin huo shan

---

fenglinhuoshan
Marine
海軍陸戰隊員

---

海军陆战队员
hǎi jūn lù zhàn duì yuán

---

hai3 jun1 lu4 zhan4 dui4 yuan2

---

hai jun lu zhan dui yuan

---

haijunluzhanduiyuan
hai chün lu chan tui yüan

---

haichünluchantuiyüan
Ninjutsu
Ninjitsu
忍術

---

忍术
ninjutsu
rěn shù / ren3 shu4 / ren shu / renshu
jen shu / jenshu
Hapkido
合氣道

---

合气道
ai ki do / aikido
hé qì dào

---

he2 qi4 dao4

---

he qi dao

---

heqidao
ho ch`i tao

---

hochitao

---

ho chi tao
In some entries above you will see that characters have different versions above and below a line.
In these cases, the characters above the line are Traditional Chinese, while the ones below are Simplified Chinese.
Many custom options...




And formats...



Successful Chinese Character and Japanese Kanji calligraphy searches within the last few hours...
All of our calligraphy wall scrolls are handmade.
When the calligrapher finishes creating your artwork, it is taken to my art mounting workshop in Beijing where a wall scroll is made by hand from a combination of silk, rice paper, and wood.
After we create your wall scroll, it takes at least two weeks for air mail delivery from Beijing to you.
Allow a few weeks for delivery. Rush service speeds it up by a week or two for $10!
When you select your calligraphy, you'll be taken to another page where you can choose various custom options.
Check out my lists of Japanese Kanji Calligraphy Wall Scrolls and Old Korean Hanja Calligraphy Wall Scrolls.
Some people may refer to this entry as Art of Fighting Kanji, Art of Fighting Characters, Art of Fighting in Mandarin Chinese, Art of Fighting Characters, Art of Fighting in Chinese Writing, Art of Fighting in Japanese Writing, Art of Fighting in Asian Writing, Art of Fighting Ideograms, Chinese Art of Fighting symbols, Art of Fighting Hieroglyphics, Art of Fighting Glyphs, Art of Fighting in Chinese Letters, Art of Fighting Hanzi, Art of Fighting in Japanese Kanji, Art of Fighting Pictograms, Art of Fighting in the Chinese Written-Language, or Art of Fighting in the Japanese Written-Language.
5 people have searched for Art of Fighting in Chinese or Japanese in the past year.
Art of Fighting was last searched for by someone else on Apr 21st, 2022