One Chinese & Japanese Calligraphy Wall Scrolls
If you're searching for "One", it's hard to tell what you migth actually be looking for. The entries below might miss the mark. You can submit a request for a special title via our forum here.
---
---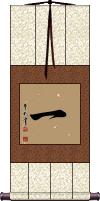 一 is "one" or "1" in Chinese, Japanese Kanji, and old Korean Hanja.

People keep searching for "one" but I'm not sure what you want. This would be a strange selection for a wall scroll, so please don't order it. Post a request on our forum if you want a phrase with "one" in it that you can't find on our site.

The "one" character is really simple, it's just one stroke. Two is two strokes and three is three strokes, from four and above, the characters get more complicated.

In some ways, the "one" character is too simple, it could be a stray mark, or added to a banking document. Therefore, the following banking anti-fraud character for "one" have developed over the last 1500 years in China and Japan:




One Day Seems Like 1000 Years

一日千秋 is a Japanese and Chinese proverb about missing someone.

一日千秋 is often used to express how hard it is to wait for someone's return, or to be away from someone.

Some will translate this as, "one day feels like a very long time", or "waiting for someone (something) is hard".

You might see this romanized as a single word, Ichijitsusenshuu, or as "Ichijitsu Senshuu" from Japanese.
If you break down the characters one-by-one, we get:
一 = one / a
日 = day / sun (can also represent time, or a date)
千 = 1000 / a thousand
秋 = autumn / fall

Together, 千秋 can mean, "autumn comes thousand times" (or 1000 years). It can also be read as 1000 periods of time.
However you literally read this, it relays the idea of heartache as you wait for someone that you miss.

This Chinese, Japanese Kanji, and old Korean Hanja phrase suggests doing a good deed each day, or doing one good turn a day.

It literally reads, "One Day, One Good (Deed)".
One Justice Can Overpower 100 Evils

This ancient "One Justice Can Overpower a Hundred Evils" idiom and proverb is famous in China. But it has been around so long that its origins have long been forgotten.

It could be something that Confucius or one of his disciples said but no one can say for sure.

This proverb can also be translated as "The whole world is one family".

It is used to mean that all humans are related under heaven.

The first two characters can be translated as "the world", "whole country", "descended from heaven", "earth under heaven", "the public" or "the ruling power".

The second two characters can mean "one family", "a household", "one's folks", "a house" or "a home". Usually this is read as "a family".

Note: This proverb can be understood in Japanese, though not commonly used.
The following table may be helpful for those studying Chinese or Japanese...
Title
Characters
Romaji

(Romanized Japanese)

Various forms of Romanized Chinese
One
一
ichi
yī / yi1 / yi
i
Best
Number One
一番
ichi ban / ichiban
One Day Seems Like 1000 Years
一日千秋
ichi jitsu sen shuu

---

ichijitsusenshuu

---

ichi jitsu sen shu
yí rì qiān qiū

---

yi2 ri4 qian1 qiu1

---

yi ri qian qiu

---

yiriqianqiu
i jih ch`ien ch`iu

---

ijihchienchiu

---

i jih chien chiu
One Good Deed Each Day
一日一善
ichi nichi ichi zen

---

ichinichiichizen
yī rì yī shàn

---

yi1 ri4 yi1 shan4

---

yi ri yi shan

---

yiriyishan
i jih i shan

---

ijihishan
One Justice Can Overpower 100 Evils
一正壓百邪

---

一正压百邪
yī zhèng yā bǎi xié

---

yi1 zheng4 ya1 bai3 xie2

---

yi zheng ya bai xie

---

yizhengyabaixie
i cheng ya pai hsieh

---

ichengyapaihsieh
One Family Under Heaven
天下一家
tenka ikka / tenkaikka / tenka ika
tiān xià yī jiā

---

tian1 xia4 yi1 jia1

---

tian xia yi jia

---

tianxiayijia
t`ien hsia i chia

---

tienhsiaichia

---

tien hsia i chia
Progress Day by Day
日漸

---

日渐
rì jiàn / ri4 jian4 / ri jian / rijian
jih chien / jihchien
In some entries above you will see that characters have different versions above and below a line.
In these cases, the characters above the line are Traditional Chinese, while the ones below are Simplified Chinese.
All of our calligraphy wall scrolls are handmade.
When the calligrapher finishes creating your artwork, it is taken to my art mounting workshop in Beijing where a wall scroll is made by hand from a combination of silk, rice paper, and wood.
After we create your wall scroll, it takes at least two weeks for air mail delivery from Beijing to you.
Allow a few weeks for delivery. Rush service speeds it up by a week or two for $10!
When you select your calligraphy, you'll be taken to another page where you can choose various custom options.