Not what you want?
Try searching again using:
1. Other similar-meaning words.
2. Fewer words or just one word.
Xie Xie in Chinese / Japanese...
Buy a Xie Xie calligraphy wall scroll here!
Start your custom "Xie Xie" project by clicking the button next to your favorite "Xie Xie" title below...

xiè xie

shie shie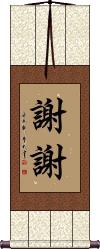 謝謝 / 謝々 is how to say thank you in Chinese. It is pronounced a bit like "shea shea" as in the English word for shea butter. Except you pronounce the X like "sh" but with your tongue firmly at the bottom of your mouth.

Unless you are putting this wall scroll near the exit of your store or restaurant to thank customers for coming, it is a bit of an odd selection. A gift of thanks to another person should be a more personal selection with more meaning than a simple thank you. Although common to write xie xie inside a card or letter of thanks.
---
Technically, this can be pronounced in Japanese but in Japan, it's still the Chinese way to say thank you. It's like an English speaker saying "gracias" (Spanish word for thank you).
Not the results for xie xie that you were looking for?
Below are some entries from our dictionary that may match your xie xie search...
Characters

If shown, 2nd row is Simp. Chinese

Pronunciation
Romanization
Simple Dictionary Definition

謝

---

谢

see styles
xiè

/ xie4

---

hsieh

---

ja / じゃ

shiyachi / しやち

shiya / しや

sha / しゃ

shie / しえ

shii / shi / しぇ

aya / あや

to thank; to apologize; to wither (of flowers, leaves etc); to decline; surname Xie

---

(surname) Ja; (surname) Shiyachi; (surname) Shiya; (surname) Sha; (surname) Shie; (surname) She; (surname) Aya

---

To thank; return (with thanks), decline; fall; apologize; accept with thanks; to disappear

渫

see styles
xiè

/ xie4

---

hsieh
to get rid of; to discharge; to dredge; surname Xie

燮

see styles
xiè

/ xie4

---

hsieh
to blend; to adjust; to harmonize; harmony; surname Xie

解

see styles
jiè // jiě // xiè / jie4 // jie3 // xie4

---

chieh // hsieh

---

kai / かい

acrobatic display (esp. on horseback) (old); variant of 懈[xie4] and 邂[xie4] (old); to transport under guard; to divide; to break up; to split; to separate; to dissolve; to solve; to melt; to remove; to untie; to loosen; to open; to emancipate; to explain; to understand; to know; a solution; a dissection; surname Xie

---

solution (of equation); (surname) Shie; (given name) Satoru; (surname, given name) Kai

---

To unloose, let go, release, untie, disentangle, explain, expound; intp. by mokṣa, mukti, vimokṣa, vimukti, cf. 解脫.

頡

---

颉

see styles
jié // xié

/ jie2 // xie2

---

chieh // hsieh
(of a bird) to fly upwards; (of the neck) stiff; to confiscate; legendary dog-like animal (old); surname Xie

謝赫

---

谢赫

see styles
xiè hè

/ xie4 he4

---

hsieh ho
Xie He (479-502), portrait painter from Qi of Southern dynasties 南齊

涅槃經

---

涅盘经

see styles
niè pán jīng

/ nie4 pan2 jing1

---

nieh p`an ching

/ nieh pan ching

---

Nehan gyō
the Nirvana sutra: every living thing has Buddha nature.

---

Nirvāṇa Sūtra. There are two versions, one the Hīnayāna, the other the Mahāyāna, both of which are translated into Chinese, in several versions, and there are numerous treatises on them. Hīnayāna: 佛般泥洹經 Mahaparinirvāṇa Sūtra, tr. by Po Fazu A.D. 290-306 of the Western Chin dynasty, B.N. 552. 大般涅槃經 tr. by Faxian, B.N. 118. 般泥洹經 translator unknown. These are different translations of the same work. In the Āgamas 阿含there is also a Hīnayāna Nirvāṇa Sūtra. Mahāyāna: 佛說方等般泥洹經 Caturdāraka-samādhi Sūtra, tr. by Dharmarakṣa of the Western Chin A.D. 265-316, B. N. 116. 大般泥洹經 Mahaparinirvāṇa Sūtra, tr. by Faxian, together with Buddhabhadra of the Eastern Chin, A.D. 317-420, B. N. 120, being a similar and incomplete translation of B. N. 113, 114. 四童子三昧經 Caturdāraka-samādhi Sūtra, tr. by Jñānagupta of the Sui dynasty, A. D. 589-618, B.N. 121. The above three differ, though they are the first part of the Nirvāṇa Sūtra of the Mahāyāna. The complete translation is 大般涅槃經 tr. by Dharmarakṣa A.D. 423, B.N. 113; v. a partial translation of fasc. 12 and 39 by Beal, in his Catena of Buddhist Scriptures, pp. 160-188. It is sometimes called 北本 or Northern Book, when compared with its revision, the Southern Book, i.e. 南方大般涅槃經 Mahaparinirvāṇa Sūtra, produced in Jianye, the modem Nanjing, by two Chinese monks, Huiyan and Huiguan, and a literary man, Xie Lingyun. B.N. 114. 大般涅槃經後分 The latter part of the Mahaparinirvāṇa Sūtra tr. by Jñānabhadra together with Huining and others of the Tang dynasty, B.N. 115, a continuation of the last chapter of B.N. 113 and 114.

謝靈運

---

谢灵运

see styles
xiè líng yùn / xie4 ling2 yun4

---

hsieh ling yün

---

Sha Reiun
Xie Lingyun (385-433) poet during Song of the Southern Dynasties 南朝宋

---

Xie Lingyun; Xie Lingyun
Search for Xie Xie in my Japanese & Chinese Dictionary
This in-stock artwork might be what you are looking for, and ships right away...
Gallery Price: $200.00
Your Price: $78.88
The following table may be helpful for those studying Chinese or Japanese...
Title
Characters
Romaji

(Romanized Japanese)

Various forms of Romanized Chinese
Thank You
Xie Xie
謝謝 / 謝々

---

谢谢
shie shie / shieshie
xiè xie / xie4 xie / xie xie / xiexie
hsieh hsieh / hsiehhsieh
In some entries above you will see that characters have different versions above and below a line.
In these cases, the characters above the line are Traditional Chinese, while the ones below are Simplified Chinese.
Successful Chinese Character and Japanese Kanji calligraphy searches within the last few hours...
All of our calligraphy wall scrolls are handmade.
When the calligrapher finishes creating your artwork, it is taken to my art mounting workshop in Beijing where a wall scroll is made by hand from a combination of silk, rice paper, and wood.
After we create your wall scroll, it takes at least two weeks for air mail delivery from Beijing to you.
Allow a few weeks for delivery. Rush service speeds it up by a week or two for $10!
When you select your calligraphy, you'll be taken to another page where you can choose various custom options.
Check out my lists of Japanese Kanji Calligraphy Wall Scrolls and Old Korean Hanja Calligraphy Wall Scrolls.
Some people may refer to this entry as Xie Xie Kanji, Xie Xie Characters, Xie Xie in Mandarin Chinese, Xie Xie Characters, Xie Xie in Chinese Writing, Xie Xie in Japanese Writing, Xie Xie in Asian Writing, Xie Xie Ideograms, Chinese Xie Xie symbols, Xie Xie Hieroglyphics, Xie Xie Glyphs, Xie Xie in Chinese Letters, Xie Xie Hanzi, Xie Xie in Japanese Kanji, Xie Xie Pictograms, Xie Xie in the Chinese Written-Language, or Xie Xie in the Japanese Written-Language.
44 people have searched for Xie Xie in Chinese or Japanese in the past year.
Xie Xie was last searched for by someone else on Mar 24th, 2018