Not what you want?
Try searching again using:
1. Other similar-meaning words.
2. Fewer words or just one word.
Charming in Chinese / Japanese...
Buy a Charming calligraphy wall scroll here!
Start your custom "Charming" project by clicking the button next to your favorite "Charming" title below...

miào

myou

묘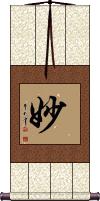 This single character can mean a lot of things (a bit ambiguous). The meanings include: clever; wonderful; strange; unusual; superb; excellent; beautiful; mystic; supernatural; profound; mysterious; good; surpassing; fine, lovely, charming; special; outstanding; incomparable.

mèi lì

miryoku

매력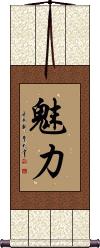 魅力 is the Chinese, Japanese Kanji, and old Korean Hanja for charm, fascination, glamor/glamour, charisma, attraction, appeal.

The literal meaning of these two characters roughly translates as, "charming power."

魅力 is also a Japanese female given name, Miryoku.

gān wèi

kanmi / amami / umami

감미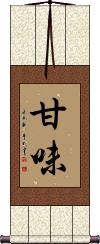 甘味 is sweet or sweetness in Chinese characters, Japanese Kanji and old Korean Hanja. This refers to a sweet taste, sugary taste, or sweet flavor. It can also be a noun meaning sweets, dessert, or cake.

This can also refer to charm or appeal (of a woman or lovely thing).
Not the results for charming that you were looking for?
Below are some entries from our dictionary that may match your charming search...
Characters

If shown, 2nd row is Simp. Chinese

Pronunciation
Romanization
Simple Dictionary Definition

Fatal error: Cannot redeclare mockup() (previously declared in /home/admin/web/orientaloutpost.com/public_html/includes/render5.php:4) in /home/admin/web/orientaloutpost.com/public_html/render5.php on line 537