Custom Dragon Symbol Chinese & Japanese Calligraphy Wall Scroll
See our Chinese Zodiac and Animal Signs webpage which has more information if you were born in the year of the dragon.
First, about Chinese/Japanese/Asian Dragons...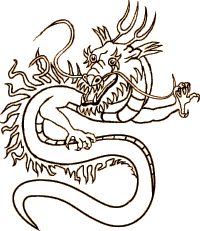 The dragon as known in Asia is not the wild and almost gruesome creature depicted in the stories of medieval Europe.
Instead, the Chinese dragon is full of wisdom, strength, and goodness. It is said the dragon can be found in the unclimbable mountains, or deep in the unfathomed sea. When active, he can be found in the storm clouds flying high above.
Of course, he is also known as the god of water, so the clouds and sea are home to him.

The dragon can grab lightning with his claws and the roar of a hurricane is really the voice of the dragon.

He is the chief of all scaled animals, and is described in ancient writings this way:
The head of a camel, horns of a deer, eyes of a rabbit, ears of a bull, neck of a snake, belly of a frog, scales of a koi fish (carp), claws of a hawk, and palms of a tiger.

These are the nine "resemblances" of a dragon - one of the reasons that 9 is seen as "the number of the dragon".

The official Romanized Chinese for dragon is "long" but in older English books it's sometimes spelled "lung". Both of these spellings don't tell you the true vowel sound which is really like the English word "oh".
More Dragon Info:
In Chinese culture, the dragon represents power and for many generations, only the emperor could dare to wear the symbol of a dragon on their clothing.

If you hang a dragon calligraphy scroll on your wall, it indicates that you are strong and powerful. A great gift for a corporate executive with a chip on his shoulder - lol.

This is probably the most popular Chinese character for tattoos these days. You'll see it on the shoulders of pro-basketball players, and on the hips of pop star divas. Of course, half of them have no idea what this symbol means, and the other half incorrectly think it directly means "warrior" or "power".

Of course, long before it became a tattoo staple, the mythological dragon roamed the earth - at least in the legends and minds of Asian people.

The history of the dragon is hidden deep in myth and history. Drawings and symbols of this mythological animal can be traced back to prehistoric tribal peoples of China. Evidence of the dragon's importance in Chinese culture can be traced to dragon figures and other artifacts unearthed from the Yin Dynasty (3000 years ago).
See our Chinese Dragon Artwork Here

...or select your Chinese dragon calligraphy artwork below...
Buy some related in-stock artwork?
The following table may be helpful for those studying Chinese or Japanese...
Title
Characters
Romaji

(Romanized Japanese)

Various forms of Romanized Chinese
Dragon
龍

---

龙
ryuu / tatsu

---

ryu / tatsu

---

ryu/tatsu
lóng / long2 / long
lung
Dragon
Emperor Symbol
竜
ryuu / tatsu

---

ryu / tatsu

---

ryu/tatsu
lóng / long2 / long
lung
Blue Dragon
Azure Dragon
青龍 / 靑龍

---

青龙
sei ryuu / seiryuu / sei ryu / seiryu
qīng lóng

---

qing1 long2

---

qing long

---

qinglong
ch`ing lung

---

chinglung

---

ching lung
Black Dragon
黑龍

---

黑龙
koku ryuu / kokuryuu / koku ryu / kokuryu
hēi lóng / hei1 long2 / hei long / heilong
hei lung / heilung
Black Dragon
玄龍

---

玄龙
xuān lóng

---

xuan1 long2

---

xuan long

---

xuanlong
hsüan lung

---

hsüanlung
Black Dragon
墨龍

---

墨龙
mò lóng / mo4 long2 / mo long / molong
mo lung / molung
Blue Dragon
蒼龍

---

苍龙
cāng lóng

---

cang1 long2

---

cang long

---

canglong
ts`ang lung

---

tsanglung

---

tsang lung
Water Dragon
Coiled Dragon
蟠龍

---

蟠龙
han ryuu / hanryuu / han ryu / hanryu
pān lóng / pan1 long2 / pan long / panlong
p`an lung / panlung / pan lung
Crouching Tiger Hidden Dragon
臥虎藏龍

---

卧虎藏龙
wò hǔ cáng lóng

---

wo4 hu3 cang2 long2

---

wo hu cang long

---

wohucanglong
wo hu ts`ang lung

---

wohutsanglung

---

wo hu tsang lung
Dragon Fist
龍拳

---

龙拳
lóng quán

---

long2 quan2

---

long quan

---

longquan
lung ch`üan

---

lungchüan

---

lung chüan
In some entries above you will see that characters have different versions above and below a line.
In these cases, the characters above the line are Traditional Chinese, while the ones below are Simplified Chinese.
All of our calligraphy wall scrolls are handmade.
When the calligrapher finishes creating your artwork, it is taken to my art mounting workshop in Beijing where a wall scroll is made by hand from a combination of silk, rice paper, and wood.
After we create your wall scroll, it takes at least two weeks for air mail delivery from Beijing to you.
Allow a few weeks for delivery. Rush service speeds it up by a week or two for $10!
When you select your calligraphy, you'll be taken to another page where you can choose various custom options.
Chinese Dragons
Read a dragon tale, learn about the traits associated with those born in the year of the Dragon. ... The Chinese Dragon, or Lung , symbolizes power and ...
Chinese Dragons - dragon mythology of China
Explore the Chinese dragon myth, legend and history with ' ... (parts) of A Chinese Dragon ... content are copyright 1996-2005(C) Draconian.com Chinese dragon ...
The Circle of the Dragon: History: Eastern Dragon Overview
The Celestial dragon protects the mansions of the gods to the Chinese, and the ... Being half bird and half dragon, they seldom appear in Chinese Mythology.36 ...