Not what you want?
Try searching again using:
1. Other similar-meaning words.
2. Fewer words or just one word.
Wheel of Karma in Chinese / Japanese...
Buy a Wheel of Karma calligraphy wall scroll here!
Start your custom "Wheel of Karma" project by clicking the button next to your favorite "Wheel of Karma" title below...

lún huí

rin ne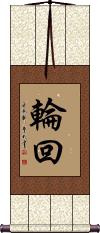 輪回 / 輪廻 is a universal word in Japanese and Chinese that expresses the Buddhist idea of "reincarnation," "transmigration of souls" or "the eternal cycle of birth and death."

In some context, this can also mean "karma," and others will say it represents "samsara."

The first character means wheel, ring, turn, circle, loop or rotate.
The second character can be thought of as a suffix meaning "-times." This second character can also refer to something that revolves, returns, goes back, or a counter for the number of occurrences of some event.
Together the sum supersedes the parts and it means reincarnation. But knowing the seeing the essence of each character may help you understand some of the meaning behind the word.
---

Shown to the right is the more common way to write the second character in Japanese. It's an alternate form of this character in Chinese (so neither way is technically wrong in either language). If you select a Japanese calligrapher, expect that is will look like the Kanji to the right.
---
Not the results for wheel of karma that you were looking for?
Below are some entries from our dictionary that may match your wheel of karma search...
Characters

If shown, 2nd row is Simp. Chinese

Pronunciation
Romanization
Simple Dictionary Definition

業輪

---

业轮

see styles
yè lún

/ ye4 lun2

---

yeh lun

---

gōrin
The wheel of karma which turns men into the six paths of transmigration.

---

輪

---

轮

see styles
lún

/ lun2

---

lun

---

rin / りん

wheel; disk; ring; steamship; to take turns; to rotate; by turn; classifier for big round objects: disk, or recurring events: round, turn

---

(counter) counter for wheels and flowers; (female given name) Run; (female given name) Rin; (female given name) Meguri

---

cakra; wheel, disc, rotation, to revolve; v. 研. The three wheels are 惑業苦illusion, karma, suffering, in constant revolution. The five are earth, water, fire, wind, and space; the earth rests on revolving spheres of water, fire, wind, and space. The nine are seen on the tops of pagodas, cf. 九輪.; The two wheels of a cart compared by the Tiantai school to 定 (or to its Tiantai form 止觀) and 慧 meditation and wisdom; see 止觀 5. Also 食 food and 法 the doctrine, i. e. food physical and spiritual.

---

三輪

---

三轮

see styles
sān lún

/ san1 lun2

---

san lun

---

sanrin / さんりん

three wheels; (p,s,f) Miwa; (place-name, surname) Minowa; (surname) Mitsuwa; (surname) Mitsurin; (surname) Sanwa; (surname) Sanrin

---

The three wheels: (1) The Buddha's (a) 身 body or deeds; (b) 口 mouth, or discourse; (c) 意 mind or ideas. (2) (a) 神通 (or 變) His supernatural powers, or powers of (bodily) self-transformation, associated with 身 body; (b) 記心輪 his discriminating understanding of others, associated with 意 mind; (c) 敎誡輪 or 正敎輪 his (oral) powers of teaching, associated with 口. (3) Similarly (a) 神足輪 ; (b) 說法輪 ; (c) 憶念輪 . (4) 惑, 業, and 苦. The wheel of illusion produces karma, that of karma sets rolling that of suffering, which in turn sets rolling the wheel of illusion. (5) (a) Impermanence; (b) uncleanness; (c) suffering. Cf. 三道.

---

十二因緣

---

十二因缘

see styles
shí èr yīn yuán

/ shi2 er4 yin1 yuan2

---

shih erh yin yüan

---

jūni innen
Dvādaśaṅga pratītyasamutpāda; the twelve nidānas; v. 尼 and 因; also 十二緣起; 因緣有支; 因緣率連; 因緣棘園; 因緣輪; 因緣重城; 因緣觀; 支佛觀. They are the twelve links in the chain of existence: (1) 無明avidyā, ignorance, or unenlightenment; (2) 行 saṃskāra, action, activity, conception, "dispositions," Keith; (3) 識 vijñāna, consciousness; (4) 名色 nāmarūpa, name and form; (5) 六入 ṣaḍāyatana, the six sense organs, i.e. eye, ear, nose, tongue, body, and mind; (6) 觸 sparśa, contact, touch; (7) 受 vedanā, sensation, feeling; (8) 愛 tṛṣṇā, thirst, desire, craving; (9) 取 upādāna, laying hold of, grasping; (10) 有 bhava, being, existing; (11) 生 jāti, birth; (12) 老死 jarāmaraṇa, old age, death. The "classical formula" reads "By reason of ignorance dispositions; by reason of dispositions consciousness", etc. A further application of the twelve nidānas is made in regard to their causaton of rebirth: (1) ignorance, as inherited passion from the beginningless past ; (2) karma, good and evil, of past lives; (3) conception as a form of perception; (4) nāmarūpa, or body and mind evolving (in the womb); (5) the six organs on the verge of birth; (6) childhood whose intelligence is limited to sparśa, contact or touch; (7) receptivity or budding intelligence and discrimination from 6 or 7 years; (8) thirst, desire, or love, age of puberty; (9) the urge of sensuous existence; (10) forming the substance, bhava, of future karma; (11) the completed karma ready for rebirth; (12) old age and death. The two first are associated with the previous life, the other ten with the present. The theory is equally applicable to all realms of reincarnation. The twelve links are also represented in a chart, at the centre of which are the serpent (anger), boar (ignorance, or stupidity), and dove (lust) representing the fundamental sins. Each catches the other by the tail, typifying the train of sins producing the wheel of life. In another circle the twelve links are represented as follows: (1) ignorance, a blind woman; (2) action, a potter at work, or man gathering fruit; (3) consciousness, a restless monkey; (4) name and form, a boat; (5) sense organs, a house; (6) contact, a man and woman sitting together; (7) sensation, a man pierced by an arrow; (8) desire, a man drinking wine; (9) craving, a couple in union; (10) existence through childbirth; (11) birth, a man carrying a corpse; (12) disease, old age, death, an old woman leaning on a stick. v. 十二因緣論 Pratītya-samutpāda śāstra.

---
Search for Wheel of Karma in my Japanese & Chinese Dictionary
This in-stock artwork might be what you are looking for, and ships right away...

Gallery Price: $35.00
Your Price: $19.00
Gallery Price: $200.00
Your Price: $98.88
The following table may be helpful for those studying Chinese or Japanese...
Title
Characters
Romaji

(Romanized Japanese)

Various forms of Romanized Chinese
Wheel of Karma
業輪

---

业轮
gōrin
yè lún / ye4 lun2 / ye lun / yelun
yeh lun / yehlun
Reincarnation
Transmigration of Souls
輪回 / 輪廻

---

轮回
rin ne / rinne
lún huí / lun2 hui2 / lun hui / lunhui
In some entries above you will see that characters have different versions above and below a line.
In these cases, the characters above the line are Traditional Chinese, while the ones below are Simplified Chinese.
Successful Chinese Character and Japanese Kanji calligraphy searches within the last few hours...
All of our calligraphy wall scrolls are handmade.
When the calligrapher finishes creating your artwork, it is taken to my art mounting workshop in Beijing where a wall scroll is made by hand from a combination of silk, rice paper, and wood.
After we create your wall scroll, it takes at least two weeks for air mail delivery from Beijing to you.
Allow a few weeks for delivery. Rush service speeds it up by a week or two for $10!
When you select your calligraphy, you'll be taken to another page where you can choose various custom options.
Check out my lists of Japanese Kanji Calligraphy Wall Scrolls and Old Korean Hanja Calligraphy Wall Scrolls.
Some people may refer to this entry as Wheel of Karma Kanji, Wheel of Karma Characters, Wheel of Karma in Mandarin Chinese, Wheel of Karma Characters, Wheel of Karma in Chinese Writing, Wheel of Karma in Japanese Writing, Wheel of Karma in Asian Writing, Wheel of Karma Ideograms, Chinese Wheel of Karma symbols, Wheel of Karma Hieroglyphics, Wheel of Karma Glyphs, Wheel of Karma in Chinese Letters, Wheel of Karma Hanzi, Wheel of Karma in Japanese Kanji, Wheel of Karma Pictograms, Wheel of Karma in the Chinese Written-Language, or Wheel of Karma in the Japanese Written-Language.