The name Thankfulness in Chinese / Japanese...
Buy a Thankfulness calligraphy wall scroll here!
Personalize your custom "Thankfulness" project by clicking the button next to your favorite "Thankfulness" title below...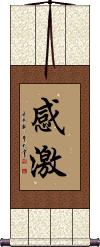 感激 is thankfulness or being grateful for what you have.

It is an attitude of gratitude for learning, loving, and being. Appreciate the little things that happen around you and within you every day. Think positively. Thankfulness brings contentment.
---
Different meaning in Japanese - more like "deep emotion," "impression," "inspiration" - not recommended for a Japanese audience.

感謝 is gratitude; the feeling of being grateful or thankful.

You can think of this as being a formal way of expressing thankfulness in Chinese, Japanese Kanji, and old Korean Hanja.
Respect
Politeness, Gratitude and Propriety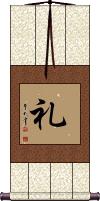 礼 is one of the five tenets of Confucius.

Beyond respect, 礼 can also be translated as propriety, good manners, politeness, rite, worship, or an expression of gratitude.

We show respect by speaking and acting with courtesy. We treat others with dignity and honor the rules of our family, school, and nation. Respect yourself, and others will respect you.



Please note that Japanese use this simplified 礼 version of the original 禮 character for respect. 礼 also happens to be the same simplification used in mainland China. While 禮 is the traditional and original version, 礼 has been used as a shorthand version for many centuries. Click on the big 禮 character to the right if you want the Traditional Chinese and older Japanese versions.
---
This is also a virtue of the Samurai Warrior
See our page with just Code of the Samurai / Bushido here
---
See Also: Confucius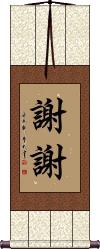 謝謝 is how to say thank you in Chinese. It is pronounced a bit like "shea shea" as in the English word for shea butter. Except you pronounce the X like "sh" but with your tongue firmly at the bottom of your mouth.

Unless you are putting this wall scroll near the exit of your store or restaurant to thank customers for coming, it is a bit of an odd selection. A gift of thanks to another person should be a more personal selection with more meaning than a simple thank you. Although common to write xie xie inside a card or letter of thanks.
---
Technically, this can be pronounced in Japanese but in Japan, it's still the Chinese way to say thank you. It's like an English speaker saying "gracias" (Spanish word for thank you).
These search terms might be related to Thankfulness:
Appreciation and Love for Your Parents

Appreciation of Truth by Meditation

Gratitude / Thanks


Not the results for thankfulness that you were looking for?
Below are some entries from our dictionary that may match your thankfulness search...
Characters

If shown, 2nd row is Simp. Chinese

Pronunciation
Romanization
Simple Dictionary Definition

感謝

---

感谢

see styles
gǎn xiè
gan3 xie4

---

kan hsieh

---

kansha
かんしゃ
(express) thanks; gratitude; grateful; thankful; thanks

---

(n,vs,vt,vi) thanks; gratitude; appreciation; thankfulness

恩

see styles
ēn
en1

---

en

---

megumu
めぐむ

More info & calligraphy:

Grace

favor; grace; kindness

---

favour; favor; obligation; debt of gratitude; (given name) Megumu

---

Grace, favour.

礼

see styles
reiji / reji
れいじ
(1) (See お礼・1) thanks; gratitude; (2) manners; etiquette; (n,ctr) (3) bow (i.e. bending of the body); bowing; (4) reward; gift; (5) ceremony; ritual; (6) (abbreviation) (See 礼金・2) key money; (personal name) Reiji

謝

---

谢

see styles
xiè
xie4

---

hsieh

---

ja
じゃ

More info & calligraphy:

Shea

to thank; to apologize; (of flowers, leaves etc) to wither; to decline

---

(surname) Ja

---

To thank; return (with thanks), decline; fall; apologize; accept with thanks.

義理

---

义理

see styles
yì lǐ
yi4 li3

---

i li

---

yoshimasa
よしまさ

More info & calligraphy:

Giri

doctrine (esp. religious); argumentation (in a speech or essay)

---

(noun - becomes adjective with の) (1) duty; sense of duty; honor; honour; decency; courtesy; debt of gratitude; social obligation; (can be adjective with の) (2) in-law; relation by marriage; (given name) Yoshimasa

---

reason

謝恩

---

谢恩

see styles
xiè ēn
xie4 en1

---

hsieh en

---

shaon
しゃおん

More info & calligraphy:

Shayne

to thank sb for favor (esp. emperor or superior official)

---

(n,vs,vi) (expression of) gratitude

大丈夫

see styles
dà zhàng fu
da4 zhang4 fu5

---

ta chang fu

---

masurao
ますらお
a manly man; a man of character

---

(adjectival noun) (1) safe; secure; sound; problem-free; without fear; all right; alright; OK; okay; (adverb) (2) certainly; surely; undoubtedly; (int,adj-na) (3) (colloquialism) no thanks; I'm good; that's alright; (4) (だいじょうぶ only) (archaism) (See 大丈夫・だいじょうふ) great man; fine figure of a man; (given name) Masurao

---

a great man

志

see styles
zhì
zhi4

---

chih

---

yuki
ゆき

---

(1) will; resolution; intention; ambition; aim; goal; (2) kindness; goodwill; kind offer; (3) gift (as a token of gratitude); (female given name) Yuki

---

Will, resolve, 志意; 心志; also data, records.

托

see styles
tuō
tuo1

---

t`o
to

---

taku

---

To carry on the palm, entrust to.

答

see styles
dá
da2

---

ta

---

tō
こたえ

---

answer; reply; response; solution

---

A bamboo hawser, to draw out, to respond, reply, return thanks.

証

---

证

see styles
zhèng
zheng4

---

cheng

---

shou / sho
しょう

---

(1) mark; sign; (2) symbol; emblem; (3) badge; crest; flag; (4) evidence; proof; (5) (kana only) token (of gratitude, affection, etc.); (1) proof (e.g. of love, of innocence); evidence; testimony; vindication (of innocence); (suffix noun) (2) license; membership card; permit; (1) proof (e.g. of love, of innocence); evidence; testimony; vindication (of innocence); (noun or participle which takes the aux. verb suru) (2) to testify (usu. Christian religious context); (given name) Shou

鳴

---

鸣

see styles
míng
ming2

---

ming

---

mei / me
めい

---

(female given name) Mei

---

Cry, sound, note of a bird, etc.; Oh ! alas ! to wail.

お礼

see styles
orei / ore
おれい

万謝

see styles
bansha
ばんしゃ

会釈

see styles
eshaku
えしゃく

依蒙

see styles
yī méng
yi1 meng2

---

i meng

---

emō

八種

---

八种

see styles
bā zhǒng
ba1 zhong3

---

pa chung

---

yagusa
やぐさ

---

(布) 施 Eight causes of giving―convenience; fear; gratitude; reward-seeking; traditional (or customary); hoping for heaven; name and fame; personal virtue.

労い

see styles
negirai
ねぎらい

厚礼

see styles
kourei / kore
こうれい

厚謝

see styles
kousha / kosha
こうしゃ

報徳

see styles
houtoku / hotoku
ほうとく

報德

---

报德

see styles
bào dé
bao4 de2

---

pao te

報恩

---

报恩

see styles
bào ēn
bao4 en1

---

pao en

---

houon / hoon
ほうおん

---

(noun/participle) repaying a kindness; gratitude

---

To acknowledge, or requite favours.

多虧

---

多亏

see styles
duō kuī
duo1 kui1

---

to k`uei
to kuei

多謝

---

多谢

see styles
duō xiè
duo1 xie4

---

to hsieh

---

tasha
たしゃ

---

(noun/participle) (1) many thanks; hearty thanks; (noun/participle) (2) profuse apology

大恩

see styles
dà ēn
da4 en1

---

ta en

---

daion
だいおん

---

great mercy

奉還

---

奉还

see styles
fèng huán
feng4 huan2

---

feng huan

---

houkan / hokan
ほうかん

---

(noun, transitive verb) restoring to the emperor; (place-name) Houkan

御礼

see styles
onrei / onre
おんれい orei / ore
おれい

微意

see styles
bii / bi
びい

忝涙

see styles
katajikenamida
かたじけなみだ
Click here for more thankfulness results from our dictionary
The following table may be helpful for those studying Chinese or Japanese...
Title
Characters
Romaji

(Romanized Japanese)

Various forms of Romanized Chinese
Thankfulness
感激
kangeki
gǎn jī / gan3 ji1 / gan ji / ganji
kan chi / kanchi
Gratitude
Thanks
感謝
kan sha / kansha
gǎn xiè / gan3 xie4 / gan xie / ganxie
kan hsieh / kanhsieh
Respect
禮

---

礼
rei
lǐ / li3 / li
Thank You
Xie Xie
謝謝 / 謝々

---

谢谢
shie shie / shieshie
xiè xie / xie4 xie / xie xie / xiexie
hsieh hsieh / hsiehhsieh
Thank You
Arigato
ありがとう
arigato
In some entries above you will see that characters have different versions above and below a line.
In these cases, the characters above the line are Traditional Chinese, while the ones below are Simplified Chinese.
Many custom options...




And formats...



Successful Chinese Character and Japanese Kanji calligraphy searches within the last few hours...
All of our calligraphy wall scrolls are handmade.
When the calligrapher finishes creating your artwork, it is taken to my art mounting workshop in Beijing where a wall scroll is made by hand from a combination of silk, rice paper, and wood.
After we create your wall scroll, it takes at least two weeks for air mail delivery from Beijing to you.
Allow a few weeks for delivery. Rush service speeds it up by a week or two for $10!
When you select your calligraphy, you'll be taken to another page where you can choose various custom options.
Check out my lists of Japanese Kanji Calligraphy Wall Scrolls and Old Korean Hanja Calligraphy Wall Scrolls.
Some people may refer to this entry as Thankfulness Kanji, Thankfulness Characters, Thankfulness in Mandarin Chinese, Thankfulness Characters, Thankfulness in Chinese Writing, Thankfulness in Japanese Writing, Thankfulness in Asian Writing, Thankfulness Ideograms, Chinese Thankfulness symbols, Thankfulness Hieroglyphics, Thankfulness Glyphs, Thankfulness in Chinese Letters, Thankfulness Hanzi, Thankfulness in Japanese Kanji, Thankfulness Pictograms, Thankfulness in the Chinese Written-Language, or Thankfulness in the Japanese Written-Language.
75 people have searched for Thankfulness in Chinese or Japanese in the past year.
Thankfulness was last searched for by someone else on Jun 24th, 2023