Spiritual Essence in Chinese / Japanese...
Buy a Spiritual Essence calligraphy wall scroll here!
Personalize your custom "Spiritual Essence" project by clicking the button next to your favorite "Spiritual Essence" title below...
Spirit / Spiritual Essence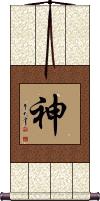 神 is the simplest way to write spirit in Chinese, Japanese Kanji, and old Korean.

This single character alone will conjure up ideas of the spiritual world. 神 can also be translated as "vital awareness" as in the fact that one must know they exist to exist (I think, therefore, I am).

Other translations include:
God, deity, mysterious, divine essence, lively, spiritual being, divinity, supernatural, soul, mind, nerves, and energy. In some extended context, it can mean genius or unusual.

Japanese romanizations vary a lot when this character is combined into other words. However, shin is the original pronunciation taken from Chinese into Japanese. You'll also see it romanized as kami, gami, jin, and a few others, depending on context.
Life Energy / Spiritual Energy
Chi Energy: Essence of Life / Energy Flow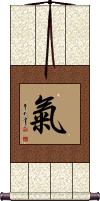 This 氣 energy flow is a fundamental concept of traditional Asian culture.

氣 is romanized as "Qi" or "Chi" in Chinese, "Gi" in Korean, and "Ki" in Japanese.
Chi is believed to be part of everything that exists, as in "life force" or "spiritual energy." It is most often translated as "energy flow" or literally as "air" or "breath." Some people will simply translate this as "spirit," but you must consider the kind of spirit we're talking about. I think this is weighted more toward energy than spirit.

The character itself is a representation of steam (or breath) rising from rice. To clarify, the character for rice looks like this:


Steam was apparently seen as visual evidence of the release of "life energy" when this concept was first developed. The Qi / Chi / Ki character is still used in compound words to mean steam or vapor.
The etymology of this character is a bit complicated. It's suggested that the first form of this character from bronze script (about 2500 years ago) looked like these samples:



However, it was easy to confuse this with the character for the number three. So the rice radical was added by 221 B.C. (the exact time of this change is debated). This first version with the rice radical looks like this:


The idea of Qi / Chi / Ki is really a philosophical concept. It's often used to refer to the "flow" of metaphysical energy that sustains living beings. Yet there is much debate that has continued for thousands of years as to whether Qi / Chi / Ki is pure energy or consists partially or fully of matter.

You can also see the character for Qi / Chi / Ki in common compound words such as Tai Chi / Tai Qi, Aikido, Reiki, and Qi Gong / Chi Kung.

In the modern Japanese Kanji, the rice radical has been changed into two strokes that form an X.



The original and traditional Chinese form is still understood in Japanese, but we can also offer that modern Kanji form in our custom calligraphy. If you want this Japanese Kanji, please click on the character to the right instead of the "Select and Customize" button above.
---
More language notes: This is pronounced like "chee" in Mandarin Chinese, and like "key" in Japanese.
This is also the same way to write this in Korean Hanja where it is Romanized as "gi" and pronounced like "gee" but with a real G-sound, not a J-sound.
Though Vietnamese no longer use Chinese characters in their daily language, this character is still widely known in Vietnam.
---
See Also: Energy | Life Force | Vitality | Life | Birth | Soul
This in-stock artwork might be what you are looking for, and ships right away...
Not the results for spiritual essence that you were looking for?
Below are some entries from our dictionary that may match your spiritual essence search...
Characters

If shown, 2nd row is Simp. Chinese

Pronunciation
Romanization
Simple Dictionary Definition

精神

see styles
jīng shen
jing1 shen5

---

ching shen

---

seishin / seshin
せいしん

More info & calligraphy:

Spirit

vigor; vitality; drive; spiritual

---

(1) mind; spirit; soul; heart; ethos; (2) attitude; mentality; will; intention; (3) spirit (of a matter); essence; fundamental significance; (given name) Seishin

---

Vitality; also the pure and spiritual, the subtle, or recondite.

三身

see styles
sān shēn
san1 shen1

---

san shen

---

sanmi
さんみ

---

trikāya. 三寶身 The threefold body or nature of a Buddha, i.e. the 法, 報, and 化身, or dharmakāya, sambhogakāya, and nirmāṇakāya. The three are defined as 自性, 受用, and 變化, the Buddha-body per se, or in its essential nature; his body of bliss, which he "receives" for his own "use" and enjoyment; and his body of transformation, by which he can appear in any form; i.e. spiritual, or essential; glorified; revealed. While the doctrine of the trikāya is a Mahāyāna concept, it partly results from the Hīnayāna idealization of the earthly Buddha with his thirty-two signs, eighty physical marks, clairvoyance, clairaudience, holiness, purity, wisdom, pity, etc. Mahāyāna, however, proceeded to conceive of Buddha as the Universal, the All, with infinity of forms, yet above all our concepts of unity or diversity. To every Buddha Mahāyāna attributed a three-fold body: that of essential Buddha; that of joy or enjoyment of the fruits of his past saving labours; that of power to transform himself at will to any shape for omnipresent salvation of those who need him. The trinity finds different methods of expression, e.g. Vairocana is entitled 法身, the embodiment of the Law, shining everywhere, enlightening all; Locana is 報身; c.f. 三賓, the embodiment of purity and bliss; Śākyamuni is 化身 or Buddha revealed. In the esoteric sect they are 法 Vairocana, 報 Amitābha, and 化 Śākyamuni. The 三賓 are also 法 dharma, 報 saṅgha, 化 buddha. Nevertheless, the three are considered as a trinity, the three being essentially one, each in the other. (1) 法身 Dharmakāya in its earliest conception was that of the body of the dharma, or truth, as preached by Śākyamuni; later it became his mind or soul in contrast with his material body. In Mādhyamika, the dharmakāya was the only reality, i.e. the void, or the immateria1, the ground of all phenomena; in other words, the 眞如 the tathāgatagarbha, the bhūtatathatā. According to the Huayan (Kegon) School it is the 理or noumenon, while the other two are氣or phenomenal aspects. "For the Vijñānavāda... the body of the law as highest reality is the void intelligence, whose infection (saṃkleҫa) results in the process of birth and death, whilst its purification brings about Nirvāṇa, or its restoration to its primitive transparence" (Keith). The "body of the law is the true reality of everything". Nevertheless, in Mahāyāna every Buddha has his own 法身; e.g. in the dharmakāya aspect we have the designation Amitābha, who in his saṃbhogakāya aspect is styled Amitāyus. (2) 報身Sambhogakāya, a Buddha's reward body, or body of enjoyment of the merits he attained as a bodhisattva; in other words, a Buddha in glory in his heaven. This is the form of Buddha as an object of worship. It is defined in two aspects, (a) 自受用身 for his own bliss, and (b) 他受用身 for the sake of others, revealing himself in his glory to bodhisattvas, enlightening and inspiring them. By wisdom a Buddha's dharmakāya is attained, by bodhisattva-merits his saṃbhogakāya. Not only has every Buddha all the three bodies or aspects, but as all men are of the same essence, or nature, as Buddhas, they are therefore potential Buddhas and are in and of the trikāya. Moreover, trikāya is not divided, for a Buddha in his 化身 is still one with his 法身 and 報身, all three bodies being co-existent. (3) 化身; 應身; 應化身 nirmāṇakāya, a Buddha's transformation, or miraculous body, in which he appears at will and in any form outside his heaven, e.g. as Śākyamuni among men; three bodies [of the Buddha]

法身

see styles
fǎ shēn
fa3 shen1

---

fa shen

---

hotsushin
ほつしん

---

dharmakāya, embodiment of Truth and Law, the "spiritual" or true body; essential Buddhahood; the essence of being; the absolute, the norm of the universe; the first of the trikāya, v.三身. The dharmakāya is divided into 總 unity and 別 diversity; as in the noumenal absolute and phenomenal activities, or potential and dynamic; but there are differences of interpretation, e.g. as between the 法相 and 法性 schools. Cf. 法身體性. There are many categories of the dharmakāya. In the 2 group 二法身 are five kinds: (1) 理 "substance" and 智 wisdom or expression; (2) 法性法身 essential nature and 應化法身 manifestation; the other three couples are similar. In the 3 group 三法身 are (1) the manifested Buddha, i.e. Śākyamuni; (2) the power of his teaching, etc.; (3) the absolute or ultimate reality. There are other categories; dharma-body

無神我

---

无神我

see styles
wú shén wǒ
wu2 shen2 wo3

---

wu shen wo

---

mu jinga

胎藏界

see styles
tāi zàng jiè
tai1 zang4 jie4

---

t`ai tsang chieh
tai tsang chieh

---

taizō kai

生佛一如

see styles
shēng fó yī rú
sheng1 fo2 yi1 ru2

---

sheng fo i ju

---

shōbutsu ichinyo
The following table may be helpful for those studying Chinese or Japanese...
Title
Characters
Romaji

(Romanized Japanese)

Various forms of Romanized Chinese
Spirit
Spiritual Essence
神
shin / kami
shén / shen2 / shen
Life Energy
Spiritual Energy
氣

---

气 / 気
ki
qì / qi4 / qi
ch`i / chi
In some entries above you will see that characters have different versions above and below a line.
In these cases, the characters above the line are Traditional Chinese, while the ones below are Simplified Chinese.
Many custom options...




And formats...



Successful Chinese Character and Japanese Kanji calligraphy searches within the last few hours...
All of our calligraphy wall scrolls are handmade.
When the calligrapher finishes creating your artwork, it is taken to my art mounting workshop in Beijing where a wall scroll is made by hand from a combination of silk, rice paper, and wood.
After we create your wall scroll, it takes at least two weeks for air mail delivery from Beijing to you.
Allow a few weeks for delivery. Rush service speeds it up by a week or two for $10!
When you select your calligraphy, you'll be taken to another page where you can choose various custom options.
Check out my lists of Japanese Kanji Calligraphy Wall Scrolls and Old Korean Hanja Calligraphy Wall Scrolls.
Some people may refer to this entry as Spiritual Essence Kanji, Spiritual Essence Characters, Spiritual Essence in Mandarin Chinese, Spiritual Essence Characters, Spiritual Essence in Chinese Writing, Spiritual Essence in Japanese Writing, Spiritual Essence in Asian Writing, Spiritual Essence Ideograms, Chinese Spiritual Essence symbols, Spiritual Essence Hieroglyphics, Spiritual Essence Glyphs, Spiritual Essence in Chinese Letters, Spiritual Essence Hanzi, Spiritual Essence in Japanese Kanji, Spiritual Essence Pictograms, Spiritual Essence in the Chinese Written-Language, or Spiritual Essence in the Japanese Written-Language.
20 people have searched for Spiritual Essence in Chinese or Japanese in the past year.
Spiritual Essence was last searched for by someone else on Jan 20th, 2023