Not what you want?
Try other similar-meaning words, fewer words, or just one word.


Simply the Best in Chinese / Japanese...
Buy a Simply the Best calligraphy wall scroll here!
Personalize your custom "Simply the Best" project by clicking the button next to your favorite "Simply the Best" title below...
---
---
Simply the Best
Supreme / Highest

最高 means the highest level, supreme, top, the most, or the best.

Depending on the context, it can mean the most expensive or highest quality.
Eternal Friendship / Friends Forever

永遠的朋友 means friends that are eternal or a friendship that will last forever - you will remain the best of friends as long as you live.

The first two characters mean forever, eternal, eternity, perpetuity, immortality, and/or permanence.

The middle character links the words (it's a possessive article).

The last two characters represent friendship, or simply "friends."
In Flowers the Cherry Blossom, In Men the Samurai
hana wa sakuragi hito wa bushi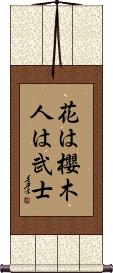 This Japanese proverb simply reads, "[In] Flowers it's Cherry Blossoms, [In] Men it's Warriors."

花は櫻木人は武士 is meant to say that of all the flowers in the world, the cherry blossom is the best. And of all men in the world, the Samurai or Warrior is the best

This proverb has been around for a long time. It's believed to have been composed sometime before the Edo Period in Japan (which started in 1603).

Some will drop one syllable and pronounce this, "hana wa sakura hito wa bushi." That's "sakura" instead of "sakuragi," which is like saying "cherry blossom" instead of "cherry tree."
---
The third character was traditionally written as 櫻. But in modern Japan, that became 桜. You may still see 櫻 used from time to time on older pieces of calligraphy. We can do either one, so just make a special request if you want 櫻.
---
Note: Because this selection contains some special Japanese Hiragana characters, it should be written by a Japanese calligrapher.
Unselfish: Perfectly Impartial

大公無私 is a Chinese proverb that comes from an old story from some time before 476 BC. About a man named Qi Huangyang, who was commissioned by the king to select the best person for a certain job in the Imperial Court.

Qi Huangyang selected his enemy for the job. The king was very confused by the selection, but Qi Huangyang explained that he was asked to find the best person for the job, not necessarily someone that he liked or had a friendship with.

Later, Confucius commented on how unselfish and impartial Qi Huangyang was by saying, "Da Gong Wu Si" which, if you look it up in a Chinese dictionary, is generally translated as "Unselfish" or "Just and Fair."

If you translate each character, you'd have something like
"Big/Deep Justice Without Self."
Direct translations like this leave out a lot of what the Chinese characters really say. Use your imagination, and suddenly you realize that "without self" means "without thinking about yourself in the decision" - together, these two words mean "unselfish." The first two characters serve to drive the point home that we are talking about a concept that is similar to "blind justice."

One of my Chinese-English dictionaries translates this simply as "just and fair." So that is the short and simple version.

Note: This can be pronounced in Korean, but it's not a commonly used term.
---
See Also: Selflessness | Work Unselfishly for the Common Good | Altruism

身心靈 is probably the best way to express the idea of "Body, Mind, and Spirit" in Chinese and old Korean Hanja. We are actually using the word "heart" here because, for thousands of years, the heart was thought to be the place where your thoughts, feelings, and emotions came from. We do something similar in the west when we say "warm-hearted" or "I love you with all of my heart." In this context, heart = mind in Asian language and culture.

The very literal translation of these three characters is "body, heart & spirit," which could also be interpreted as "body, mind & soul."

We have arranged these characters in this order because it simply "feels" like the proper order in the Chinese language. Word lists like this are not so common for calligraphy artwork, so we must be careful to put them in the most natural order. It should be noted that this is not a common title in Asia, nor is it considered an actual phrase (as it lacks a clear subject, verb, and object).
---

In Japanese Kanji, they use an alternate form of the character for soul or spirit. If you want this using the Japanese alternate, please click on the Kanji shown to the right instead of the button above.

Japanese disclaimer: This is not a natural phrase/list in Japanese. While not totally-natural in Chinese, this word list is best if your audience is Chinese.
Better Late Than Never
It's Never Too Late Too Mend
wáng yáng bǔ láo yóu wèi wéi wǎn

Long ago in what is now China, there were many kingdoms throughout the land. This time period is known as "The Warring States Period" by historians because these kingdoms often did not get along with each other.

Sometime around 279 B.C. the Kingdom of Chu was a large but not particularly powerful kingdom. Part of the reason it lacked power was the fact that the King was surrounded by "yes men" who told him only what he wanted to hear. Many of the King's court officials were corrupt and incompetent which did not help the situation.

The King was not blameless himself, as he started spending much of his time being entertained by his many concubines.

One of the King's ministers, Zhuang Xin, saw problems on the horizon for the Kingdom, and warned the King, "Your Majesty, you are surrounded by people who tell you what you want to hear. They tell you things to make you happy and cause you to ignore important state affairs. If this is allowed to continue, the Kingdom of Chu will surely perish, and fall into ruins."

This enraged the King who scolded Zhuang Xin for insulting the country and accused him of trying to create resentment among the people. Zhuang Xin explained, "I dare not curse the Kingdom of Chu but I feel that we face great danger in the future because of the current situation." The King was simply not impressed with Zhuang Xin's words.
Seeing the King's displeasure with him and the King's fondness for his court of corrupt officials, Zhuang Xin asked permission from the King that he may take leave of the Kingdom of Chu, and travel to the State of Zhao to live. The King agreed, and Zhuang Xin left the Kingdom of Chu, perhaps forever.

Five months later, troops from the neighboring Kingdom of Qin invaded Chu, taking a huge tract of land. The King of Chu went into exile, and it appeared that soon, the Kingdom of Chu would no longer exist.

The King of Chu remembered the words of Zhuang Xin and sent some of his men to find him. Immediately, Zhuang Xin returned to meet the King. The first question asked by the King was "What can I do now?"

Zhuang Xin told the King this story:

A shepherd woke one morning to find a sheep missing. Looking at the pen saw a hole in the fence where a wolf had come through to steal one of his sheep. His friends told him that he had best fix the hole at once. But the Shepherd thought since the sheep is already gone, there is no use fixing the hole.
The next morning, another sheep was missing. And the Shepherd realized that he must mend the fence at once. Zhuang Xin then went on to make suggestions about what could be done to reclaim the land lost to the Kingdom of Qin, and reclaim the former glory and integrity of the Kingdom of Chu.

The Chinese idiom shown above came from this reply from Zhuang Xin to the King of Chu almost 2,300 years ago.
It translates roughly into English as...
"Even if you have lost some sheep, it's never too late to mend the fence."

This proverb, 亡羊补牢犹未为晚, is often used in modern China when suggesting in a hopeful way that someone change their ways, or fix something in their life. It might be used to suggest fixing a marriage, quitting smoking, or getting back on track after taking an unfortunate path in life among other things one might fix in their life.

I suppose in the same way that we might say, "Today is the first day of the rest of your life" in our western cultures to suggest that you can always start anew.

Note: This does have Korean pronunciation but is not a well-known proverb in Korean (only Koreans familiar with ancient Chinese history would know it). Best if your audience is Chinese.
Mountain Travels Poem by Dumu
yuǎn shàng hán shān shí jìng xiá bái yún shēng chù yǒu rén jiā tíng chē zuò ài fēng lín wǎn shuàng yè hóng yú èr yuè huā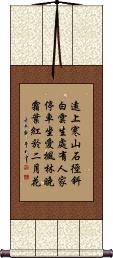 This poem was written almost 1200 years ago during the Tang dynasty.

It depicts traveling up a place known as Cold Mountain, where some hearty people have built their homes. The traveler is overwhelmed by the beauty of the turning leaves of the maple forest that surrounds him just as night overtakes the day, and darkness prevails. His heart implores him to stop, and take in all of the beauty around him.

First, before you get to the full translation, I must tell you that Chinese poetry is a lot different than what we have in the west. Chinese words simply don't rhyme in the same way that English or other western languages do. Chinese poetry depends on rhythm and a certain beat of repeated numbers of characters.

I have done my best to translate this poem keeping a certain feel of the original poet. But some of the original beauty of the poem in its original Chinese will be lost in translation.
---
Far away on Cold Mountain, a stone path leads upwards.
Among white clouds, people's homes reside.
Stopping my carriage I must, as to admire the maple forest at nights fall.
In awe of autumn leaves showing more red than even flowers of early spring.
---
Hopefully, this poem will remind you to stop, and "take it all in" as you travel through life.
The poet's name is "Du Mu" in Chinese that is:


.
The title of the poem, "Mountain Travels" is:



You can have the title, poet's name, and even "Tang Dynasty" written as an inscription on your custom wall scroll if you like.

More about the poet:

Dumu lived from 803-852 AD and was a leading Chinese poet during the later part of the Tang dynasty.
He was born in Chang'an, a city in central China and the former capital of the ancient Chinese empire in 221-206 BC. In present-day China, his birthplace is currently known as Xi'an, the home of the Terracotta Soldiers.

He was awarded his Jinshi degree (an exam administered by the emperor's court which leads to becoming an official of the court) at the age of 25 and went on to hold many official positions over the years. However, he never achieved a high rank, apparently because of some disputes between various factions, and his family's criticism of the government. His last post in the court was his appointment to the office of Secretariat Drafter.

During his life, he wrote scores of narrative poems, as well as a commentary on the Art of War and many letters of advice to high officials.

His poems were often very realistic and often depicted everyday life. He wrote poems about everything, from drinking beer in a tavern to weepy poems about lost love.

The thing that strikes you most is the fact even after 1200 years, not much has changed about the beauty of nature, toils, and troubles of love and beer drinking.
This in-stock artwork might be what you are looking for, and ships right away...
The following table may be helpful for those studying Chinese or Japanese...
Title
Characters
Romaji

(Romanized Japanese)

Various forms of Romanized Chinese
Simply the Best
最高
sai kou / saikou / sai ko
zuì gāo / zui4 gao1 / zui gao / zuigao
tsui kao / tsuikao
Eternal Friendship
Friends Forever
永遠的朋友

---

永远的朋友
yǒng yuǎn de péng yǒu

---

yong3 yuan3 de peng2 you3

---

yong yuan de peng you

---

yongyuandepengyou
yung yüan te p`eng yu

---

yungyüantepengyu

---

yung yüan te peng yu
In Flowers the Cherry Blossom, In Men the Samurai
花は櫻木人は武士

---

花は桜木人は武士
hana wa sakuragi hito wa bushi
Unselfish: Perfectly Impartial
大公無私

---

大公无私
dà gōng wú sī

---

da4 gong1 wu2 si1

---

da gong wu si

---

dagongwusi
ta kung wu ssu

---

takungwussu
Mind Body Spirit
身心靈 / 身心霊

---

身心灵
mi shin rei

---

mishinrei
shēn xīn líng

---

shen1 xin1 ling2

---

shen xin ling

---

shenxinling
shen hsin ling

---

shenhsinling
Better Late Than Never
亡羊補牢猶未為晚

---

亡羊补牢犹未为晚
wáng yáng bǔ láo yóu wèi wéi wǎn

---

wang2 yang2 bu3 lao2 you2 wei4 wei2 wan3

---

wang yang bu lao you wei wei wan
wang yang pu lao yu wei wei wan

---

wangyangpulaoyuweiweiwan
Mountain Travels Poem by Dumu
遠上寒山石徑斜白雲生處有人家停車坐愛楓林晚霜葉紅於二月花

---

远上寒山石径斜白云生处有人家停车坐爱枫林晚霜叶红于二月花
yuǎn shàng hán shān shí jìng xiá bái yún shēng chù yǒu rén jiā tíng chē zuò ài fēng lín wǎn shuàng yè hóng yú èr yuè huā

---

yuan3 shang4 han2 shan1 shi2 jing4 xia2 bai2 yun2 sheng1 chu4 you3 ren2 jia1 ting2 che1 zuo4 ai4 feng1 lin2 wan3 shuang4 ye4 hong2 yu2 er4 yue4 hua1

---

yuan shang han shan shi jing xia bai yun sheng chu you ren jia ting che zuo ai feng lin wan shuang ye hong yu er yue hua
yüan shang han shan shih ching hsia pai yün sheng ch`u yu jen chia t`ing ch`e tso ai feng lin wan shuang yeh hung yü erh yüeh hua

---

yüan shang han shan shih ching hsia pai yün sheng chu yu jen chia ting che tso ai feng lin wan shuang yeh hung yü erh yüeh hua
In some entries above you will see that characters have different versions above and below a line.
In these cases, the characters above the line are Traditional Chinese, while the ones below are Simplified Chinese.
Many custom options...




And formats...



Successful Chinese Character and Japanese Kanji calligraphy searches within the last few hours...
All of our calligraphy wall scrolls are handmade.
When the calligrapher finishes creating your artwork, it is taken to my art mounting workshop in Beijing where a wall scroll is made by hand from a combination of silk, rice paper, and wood.
After we create your wall scroll, it takes at least two weeks for air mail delivery from Beijing to you.
Allow a few weeks for delivery. Rush service speeds it up by a week or two for $10!
When you select your calligraphy, you'll be taken to another page where you can choose various custom options.
Check out my lists of Japanese Kanji Calligraphy Wall Scrolls and Old Korean Hanja Calligraphy Wall Scrolls.
Some people may refer to this entry as Simply the Best Kanji, Simply the Best Characters, Simply the Best in Mandarin Chinese, Simply the Best Characters, Simply the Best in Chinese Writing, Simply the Best in Japanese Writing, Simply the Best in Asian Writing, Simply the Best Ideograms, Chinese Simply the Best symbols, Simply the Best Hieroglyphics, Simply the Best Glyphs, Simply the Best in Chinese Letters, Simply the Best Hanzi, Simply the Best in Japanese Kanji, Simply the Best Pictograms, Simply the Best in the Chinese Written-Language, or Simply the Best in the Japanese Written-Language.