Mysterious in Chinese / Japanese...
Buy a Mysterious calligraphy wall scroll here!
Personalize your custom "Mysterious" project by clicking the button next to your favorite "Mysterious" title below...
---
---

幽玄 is the Chinese, Japanese Kanji, and old Korean Hanja word meaning, dim, deep, mysterious, subtle grace, hidden beauty, mysterious profundity, elegant simplicity, or subtle and profound.

This can also be the Japanese personal name Yuugen or Yugen.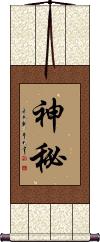 This can be used as a noun or as an adjective to describe something that is mysterious.
Whore / Mysterious Woman
Danger: Means prostitute in Japanese!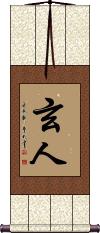 This literally means "Mysterious Person/Woman".

In Japanese, this is associated with a "geisha", which matches this definition of "mysterious woman". However, this is the colloquial way to say "professional geisha" or "expert prostitute" in Japanese. It, therefore, might not be what you want on your wall.
---
Notes: This is a "Japanese only" term, though a Chinese person who sees these characters will think of a geisha or an alluring Japanese female musician.
While not often seen in Korean Hanja, this would mean a "dark woman," as in a woman that you cannot easily see through.
The Mysterious Bond Between People
The invisible force that brings people together forever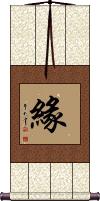 緣 represents the fate that brings and bonds people together.

緣 is a complicated single character. It can mean a lot of different things depending on how you read it.

In Japanese, it can mean fate, destiny, a mysterious force that binds two people together, a relationship between two people, bond, link, connection, family ties, affinity, opportunity, chance (to meet someone and start a relationship). It can also mean "someone to rely on", relative, reminder, memento, or the female given name, Yori.

It's basically the same in Chinese, where it's defined as cause, reason, karma, fate, or predestined affinity.

In the Buddhist context, it's Pratyaya. 緣 / 縁 is the concept of indirect conditions, as opposed to direct causes. It's when something happens (meeting someone) by circumstance or a contributing environment. Instead of a direct cause or act, it is a conditioning cause without direct input or action by the involved people.

Occasionally, this character is used in a facetious way to say hem, seam, or edge of clothing. In this case, it's the seam that brings or holds the clothing together.
---

Note: Japanese will tend to use the variant of this Kanji shown to the right. If you want this version (and are ordering this from the Japanese master calligrapher), click on the Kanji at the right instead of the button above.
Clever / Superb / Wonderful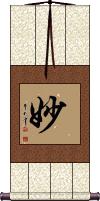 The meanings for 妙 include: clever; wonderful; strange; unusual; superb; excellent; beautiful; mystic; supernatural; profound; mysterious; good; surpassing; fine, lovely, charming; special; outstanding; incomparable.

As you can see, this single character can mean a lot of things (a bit ambiguous).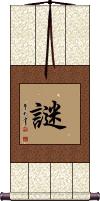 This Chinese, Japanese Kanji, and old Korean Hanja word can mean riddle, puzzle, enigma, or mystery.
Spirit / Spiritual Essence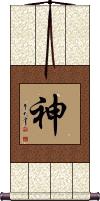 神 is the simplest way to write spirit in Chinese, Japanese Kanji, and old Korean.

This single character alone will conjure up ideas of the spiritual world. 神 can also be translated as "vital awareness" as in the fact that one must know they exist to exist (I think, therefore, I am).

Other translations include:
God, deity, mysterious, divine essence, lively, spiritual being, divinity, supernatural, soul, mind, nerves, and energy. In some extended context it can mean genius or unusual.

Japanese romanizations vary a lot when this character is combined into other words. However, shin is the original pronunciation taken from Chinese into Japanese. You'll also see it romanized as kami, gami, jin, and a few others, depending on context.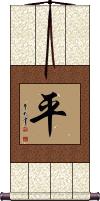 平 is a single-character that means balance in Chinese but it's not too direct or too specific about what kind of balance.

Chinese people often like calligraphy art that is a little vague or mysterious. In this way, you can decide what it means to you, and you'll be right.

平 is also part of a word that means peace in Chinese, Japanese and old Korean.

Some alternate translations of this single character include: balanced, peaceful, calm, equal, even, level, smooth or flat.

Note that in Japanese, this just means "level" or "flat" by itself (not the best choice for balance if your audience is Japanese).

靈氣 is the title of a healing practice that is now found throughout the world but with origins in Japan.

Special note: Outside of the context of the healing practice of Reiki, this means "aura" or "spiritual essence that surrounds all living things". A Japanese person not familiar with the practice will take the "aura" meaning.

Reiki is a technique for stress reduction and relaxation that also heals. It can be compared to massage but is based on the idea that an unseen "life force energy" flows through us and is what causes us to be alive. If your life force energy is low, you'll be more likely to get sick or feel stress. If your life force energy is abundant and flowing well, you become more capable of being happy and healthy.

There is a lot of information available if you want to Google this term - my job is to offer the calligraphy, while you can decide if it is right for you.
Note: We are showing the ancient (traditional) form of the Reiki Kanji. I have seen Reiki written with both the slightly simplified version and this more classic form. If you want the form of Reiki with the two strokes in the shape of an X on the second character and the modern first character, simply click on the Kanji characters to the right.

Note: 靈氣 is also a Chinese word but in Chinese, these characters create a word that refers to a smart person or someone with high aspirations. It is not read as a healing method in Chinese.
In Korean Hanja, this can be read as "mysterious atmosphere" by a Korean who is not familiar with the practice of Reiki (still has a cool meaning in Korean).
The following table may be helpful for those studying Chinese or Japanese...
Title
Characters
Romaji

(Romanized Japanese)

Various forms of Romanized Chinese
Mysterious
幽玄
yū gen / yūgen
yōu xuán / you1 xuan2 / you xuan / youxuan
yu hsüan / yuhsüan
Mysterious
Mystery
神秘
shinpi
shén mì / shen2 mi4 / shen mi / shenmi
Whore
Mysterious Woman
玄人
kurouto / kuroto
xuán rén / xuan2 ren2 / xuan ren / xuanren
hsüan jen / hsüanjen
Enigma
Mysterious
神奧

---

神奥
shén ào / shen2 ao4 / shen ao / shenao
The Mysterious Bond Between People
緣 / 縁

---

缘
en
yuán / yuan2 / yuan
yüan
Clever
Superb
Wonderful
妙
myou / myo
miào / miao4 / miao
Enigma
Puzzle
Riddle
謎

---

谜
nazo
mí / mèi / mi2 / mei4 / mi / mei / mi/mei
mi mei / mimei
Spirit
Spiritual Essence
神
shin / kami
shén / shen2 / shen
Black Dragon
玄龍

---

玄龙
xuān lóng

---

xuan1 long2

---

xuan long

---

xuanlong
hsüan lung

---

hsüanlung
Balance
Peace
平
hira
píng / ping2 / ping
p`ing / ping
Reiki
靈氣

---

灵气 霊気
reiki
líng qì / ling2 qi4 / ling qi / lingqi
ling ch`i / lingchi / ling chi
In some entries above you will see that characters have different versions above and below a line.
In these cases, the characters above the line are Traditional Chinese, while the ones below are Simplified Chinese.
Many custom options...




And formats...



Successful Chinese Character and Japanese Kanji calligraphy searches within the last few hours...
All of our calligraphy wall scrolls are handmade.
When the calligrapher finishes creating your artwork, it is taken to my art mounting workshop in Beijing where a wall scroll is made by hand from a combination of silk, rice paper, and wood.
After we create your wall scroll, it takes at least two weeks for air mail delivery from Beijing to you.
Allow a few weeks for delivery. Rush service speeds it up by a week or two for $10!
When you select your calligraphy, you'll be taken to another page where you can choose various custom options.
Check out my lists of Japanese Kanji Calligraphy Wall Scrolls and Old Korean Hanja Calligraphy Wall Scrolls.
Some people may refer to this entry as Mysterious Kanji, Mysterious Characters, Mysterious in Mandarin Chinese, Mysterious Characters, Mysterious in Chinese Writing, Mysterious in Japanese Writing, Mysterious in Asian Writing, Mysterious Ideograms, Chinese Mysterious symbols, Mysterious Hieroglyphics, Mysterious Glyphs, Mysterious in Chinese Letters, Mysterious Hanzi, Mysterious in Japanese Kanji, Mysterious Pictograms, Mysterious in the Chinese Written-Language, or Mysterious in the Japanese Written-Language.
243 people have searched for Mysterious in Chinese or Japanese in the past year.
Mysterious was last searched for by someone else on Aug 11th, 2022