Jesus Lord in Chinese / Japanese...
Buy a Jesus Lord calligraphy wall scroll here!
Personalize your custom "Jesus Lord" project by clicking the button next to your favorite "Jesus Lord" title below...
---
---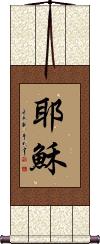 耶穌 is simply the name "Jesus" transliterated into Chinese. 耶穌 hold a pronunciation in Mandarin that is closer to the real and original Hebrew Yeshua, instead of the incorrect way we have always pronounced Jesus in English with a hard "J" sound. While this name sounds like the real "Jesus" in Chinese, Christians in China are more likely to say "Christ" (Jidu) which holds more meaning than just sound.

If you are Latino and have been given the name "Jesus", this is also how to write your name in Chinese.
God of Zion / God of Abraham

上帝 is how Chinese Christians and Jews refer to God, AKA The Judeo-Christian God.

Yes, there are Chinese Jews whose ancestry dates back to Jewish traders on the silk road. They are known as the Kaifeng Jews. Most have left China for Israel now.

There are also plenty of Christians in China of both the Protestant and Catholic variety. However, the churches are basically run by the government, and the Chinese Catholic church does not recognize the Pope.

Oddly, in my experience, I found the Chinese Protestant church to be much less political compared to Baptist and other Protestant churches that I have visited in America.

上帝 is also the typically-used title for God in Japanese.

While you may find this term in old Korean dictionaries, it is an obscure, and rarely-used title for God in modern Korean.
---
See Also: Christianity | Jesus Christ

基督教 is the Chinese, Japanese and Korean word for "Christianity".

Just as in English, this word is often used to mean "Protestant" but includes Catholics in the true definition.

It is the word used to refer to the whole "Christian religion" or "Christian Faith" and therefore, it can be translated as "Christianity". However, used as an adjective in regards to a person, it would translate as "Christian". But more like saying "His religion is Christianity" rather than a noun form.

If you break it apart, the characters mean Base/Foundation Leading/Supervising Religion/Teaching. It makes more sense in Japanese, Chinese, and Korean. The first two characters together are translated as "Christ". So you can also say this means "Christ's Religion" or "Christ's Teachings" when directly translated, or in reverse, "The Religion of Christ" or "The Teaching of Christ".

Notes: The last character has a slight difference in one stroke - however, in calligraphic form, this will not be apparent. This entry can easily be read by any Korean person who knows Hanja characters (Chinese characters used in Korean).
---
See Also: Jesus Christ | God of Abraham

耶稣啊 is the name Yeshua in Chinese (Mandarin).

耶穌啊 is an approximation of the original Hebrew name for "Jesus" transliterated into Chinese.

Note: Christians in China are more likely to say "Christ" (Jidu) which holds more meaning than just sound.

耶穌啊 is very similar to the way Jesus (耶穌) is often written in Chinese, with the addition of 啊 which gives it the final "a" sound.

This how to write "Christ" in Chinese characters, Korean Hanja, and Japanese Kanji. 基督 is the word used in the Chinese Union Bible (the only readily-available translation of the Bible into Chinese that I know of - published about 100 years ago). For Chinese Christians, this is the most common way to refer to Jesus Christ.

基督 is also the way that "Christ" is written in Japanese. But since the Japanese language is very flexible about the sounds that can be assigned to various Kanji, these characters have been assigned a pronunciation that sounds a lot like "Christ" or actually closer to the original "Christos". In Japanese (if you don't know how the Romaji shown above in the gray box works) it sounds like "key ree sue toe" using English words/sounds. Say those four words really fast and you'll get it.
It should be noted that only Japanese Christians will be familiar with this word.

基督 is best defined, read and understood with the characters together but if you take this word for Christ apart, the first character means "fundamentals" or "foundation". The second character can mean "leader" or "boss".
I've noticed you are searching for "jesus lord". If you are interested, I can have your favorite verse from the Torah or Bible translated into Chinese and written on a wall scroll for you. Please contact me siting the verse or verses you want. Here is an example: Joshua 24:15.
If you are looking for a Jewish or Christian title, phrase, or word, I have a great selection here: Christian Words in Chinese
This in-stock artwork might be what you are looking for, and ships right away...
The following table may be helpful for those studying Chinese or Japanese...
Title
Characters
Romaji

(Romanized Japanese)

Various forms of Romanized Chinese
Jesus is Lord
イエスは主である
Iesu wa omodearu

---

Iesuwaomodearu
Jesus is Lord
耶穌是主

---

耶稣是主
yē sū shì zhǔ

---

ye1 su1 shi4 zhu3

---

ye su shi zhu

---

yesushizhu
yeh su shih chu

---

yehsushihchu
Jesus
耶穌

---

耶稣
yē sū / ye1 su1 / ye su / yesu
yeh su / yehsu
Jesus Christ
耶穌基督

---

耶稣基督
yē sū jī dū

---

ye1 su1 ji1 du1

---

ye su ji du

---

yesujidu
yeh su chi tu

---

yehsuchitu
God of Zion
God of Abraham
上帝
joutei / jotei
shàng dì / shang4 di4 / shang di / shangdi
shang ti / shangti
Christianity
Christian
基督教
kirisutokyou

---

kirisutokyo
jī dū jiào

---

ji1 du1 jiao4

---

ji du jiao

---

jidujiao
chi tu chiao

---

chituchiao
Yeshua
耶穌啊

---

耶稣啊
yē sū a / ye1 su1 a / ye su a / yesua
yeh su a / yehsua
Christ
基督
kirisuto
jī dū / ji1 du1 / ji du / jidu
chi tu / chitu
In some entries above you will see that characters have different versions above and below a line.
In these cases, the characters above the line are Traditional Chinese, while the ones below are Simplified Chinese.
Many custom options...




And formats...



Successful Chinese Character and Japanese Kanji calligraphy searches within the last few hours...
All of our calligraphy wall scrolls are handmade.
When the calligrapher finishes creating your artwork, it is taken to my art mounting workshop in Beijing where a wall scroll is made by hand from a combination of silk, rice paper, and wood.
After we create your wall scroll, it takes at least two weeks for air mail delivery from Beijing to you.
Allow a few weeks for delivery. Rush service speeds it up by a week or two for $10!
When you select your calligraphy, you'll be taken to another page where you can choose various custom options.
Check out my lists of Japanese Kanji Calligraphy Wall Scrolls and Old Korean Hanja Calligraphy Wall Scrolls.
Some people may refer to this entry as Jesus Lord Kanji, Jesus Lord Characters, Jesus Lord in Mandarin Chinese, Jesus Lord Characters, Jesus Lord in Chinese Writing, Jesus Lord in Japanese Writing, Jesus Lord in Asian Writing, Jesus Lord Ideograms, Chinese Jesus Lord symbols, Jesus Lord Hieroglyphics, Jesus Lord Glyphs, Jesus Lord in Chinese Letters, Jesus Lord Hanzi, Jesus Lord in Japanese Kanji, Jesus Lord Pictograms, Jesus Lord in the Chinese Written-Language, or Jesus Lord in the Japanese Written-Language.
5 people have searched for Jesus Lord in Chinese or Japanese in the past year.
Jesus Lord was last searched for by someone else on Oct 10th, 2021