Did you mean: Ian Memory Off ?
Not what you want?
Try other similar-meaning words, fewer words, or just one word.


In Memory Of in Chinese / Japanese...
Buy an In Memory Of calligraphy wall scroll here!
Personalize your custom "In Memory Of" project by clicking the button next to your favorite "In Memory Of" title below...
---
---
7. Right Mindfulness / Right Memory / Perfect Mindfulness
Samyak Smriti / Samyak Smrti / Samma Sati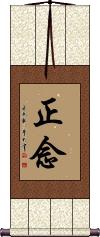 正念 is one of the Noble Eightfold Paths of Buddhism. Right Mindfulness, along with Right Effort and Right Concentration constitute the path to Concentration or Perfect Thought.

Right Mindfulness is about remaining focused on one's body, feelings, mind and mental qualities. It's also about being ardent, aware, and mindful, and supposes that you've already put aside worldly desire and aversion.

Monk Bhikkhu Bodhi described this as: The mind is deliberately kept at the level of bare attention, a detached observation of what is happening within us and around us in the present moment. In the practice of right mindfulness the mind is trained to remain in the present, open, quiet, and alert, contemplating the present event.

Another definition: Ongoing mindfulness of body, feelings, thinking, and objects of thought.
---
This term is exclusively used by devout Buddhists. It is not a common term, and is remains an unknown concept to most Japanese and Chinese people.
---
See Also: Buddhism | Enlightenment | Noble Eightfold Path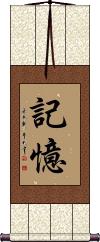 記憶 is a Japanese Kanji, old Korean Hanja, and Chinese word that means "to remember".

This can also be translated as memory, to recall, recollection, or remembrance.
Monkey
Year of the Monkey / Zodiac Sign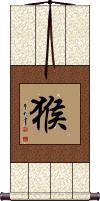 猴 is the character for monkey in Chinese.
猴 means ape in Japanese due to a error made long ago as Japan absorbed Chinese characters.

If you were born in the year of the monkey, you . . .

Are smart, brave, active and competitive.
Like new things.
Have a good memory.
Are quick to respond
Have an easy time winning people's trust.
Are however, not very patient.
---
See also our Chinese Zodiac page.

Note: This character does have the meaning of monkey in Korean Hanja but is not used very often.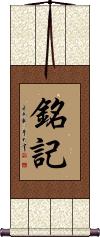 銘記 means to keep in mind, to take note of, or simply to remember, in Chinese characters and Japanese Kanji.

The first character means to engrave, to inscribe, or to carve an inscription.

The second character means to remember, to note, mark, sign, to record, history, chronicle, or annals.

When used in the context of a person, this means to engrave on the heart, or to inscribe a memory in one's mind. In short, it's the idea of deeply remembering something, some event, or someone forever.
All Tenets of the Noble Eightfold Path
zhèng jiàn zhèng sī wéi zhèng yǔ zhèng yè zhèng mìng zhèng jīng jìn zhèng niàn zhèng dìng
shouken shoushiyui shougo shougo shoumyou shoushoujin shounen shoujou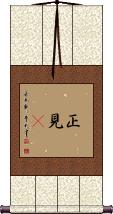 These are the eight tenets of the Buddhist Noble Eightfold Path written altogether.

Here's this list of tenets in English:
1. Right View / Right Understanding / Right Perspective / Perfect View
2. Right Resolve / Right Thought / Right Intention / Perfect Resolve
3. Right Speech / Right Talk / Perfect Speech
4. Right Action / Perfect Conduct
5. Right Living / Right Livelihood / Perfect Livelihood
6. Right Effort / Right Endeavor / Perfect Effort
7. Right Mindfulness / Right Memory / Perfect Mindfulness
8. Right Concentration / Perfect Concentration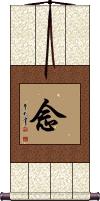 念 is the simplest way to write "mindfulness" in Chinese, Japanese Kanji, and old Korean Hanja.

念 can be defined these ways: To read; to study (a degree course); to read aloud; to miss somebody (keeping them in your mind); idea; remembrance; sense; thought; feeling; desire; concern; attention; recollection; memory; to think on/about; reflect; repeat, intone; a moment.

Obviously, the context in which the character is used determines which definition or meaning is perceived. As a single character, it's open and perhaps ambiguous. Thus, it can be read with any or all of these meanings.

念 is used in a Buddhist context (often written as 正念 or "right mindfulness") with similar meanings of thought and contemplation.

In Japanese, this character is sometimes used as a name "Nen".
---
See Also: Buddhism | Enlightenment
Past experience is the teacher for the future.
Past events not forgotten serve as teachers for later events.
qián shì bú wàng hòu shí zhī shī

The most literal translation to English of this ancient Chinese proverb is:
"Past events not forgotten serve as teachers for later events".

However, it's been translated several ways:
Don't forget past events, they can guide you in future.
Benefit from past experience.
Past experience, if not forgotten, is a guide for the future.
Past calamity is my teacher.
A good memory for the past is a teacher for the future.
The remembrance of the past is the teacher of the future.
If one remembers the lessons of the past; They will serve as a guide to avoid mistakes in the future.

The origin:
This proverb comes from the 5th century B.C. just before the Warring States Period in the territory now known as China.
The head of the State of Jin, Zhi Bo, seized power in a coup. He did this with help from the armies of the State of Han and Wei. Instead of being grateful for the help from Han and Wei, he treacherously took the land of Han and Wei. Never satisfied, Zhi Bo employed the armies of Han and Wei to attack and seize the State of Zhao.

The king of Zhao took advice from his minister Zhang Mengtan and secretly contacted the Han and Wei armies to reverse their plans and attack the army of Zhi Bo instead. The plan was successful, and the State of Zhao was not only saved but was set to become a powerful kingdom in the region.

Zhang Mengtan immediately submitted his resignation to a confused king of Zhao. When asked why, Zhang Mengtan said, "I've done my duty to save my kingdom but looking back at past experience, I know sovereign kings are never satisfied with the power or land at hand. They will join others and fight for more power and more land. I must learn from past experiences, as those experiences are the teachers of future events".
The king could not dispute the logic in that statement and accepted Zhang Mengtan's resignation.

For generations, the State of Zhao continued to fight for power and land until finally being defeated and decimated by the State of Qin (which lead to the birth of the Qin Dynasty in 221 B.C.).
The following table may be helpful for those studying Chinese or Japanese...
Title
Characters
Romaji

(Romanized Japanese)

Various forms of Romanized Chinese
7. Right Mindfulness
Right Memory
Perfect Mindfulness
正念
sei nen / seinen
zhèng niàn

---

zheng4 nian4

---

zheng nian

---

zhengnian
cheng nien

---

chengnien
Remember
記憶
kioku
jì yì / ji4 yi4 / ji yi / jiyi
chi i / chii
Monkey
猴
hóu / hou2 / hou
Remember
銘記
mei ki / meiki
míng jì / ming2 ji4 / ming ji / mingji
ming chi / mingchi
All Tenets of the Noble Eightfold Path
正見正思唯正語正業正命正精進正念正定

---

正见正思唯正语正业正命正精进正念正定
shouken shoushiyui shougo shougo shoumyou shoushoujin shounen shoujou

---

shoken shoshiyui shogo shogo shomyo shoshojin shonen shojo

---

shokenshoshiyuishogoshogoshomyoshoshojinshonenshojo
zhèng jiàn zhèng sī wéi zhèng yǔ zhèng yè zhèng mìng zhèng jīng jìn zhèng niàn zhèng dìng

---

zheng4 jian4 zheng4 si1 wei2 zheng4 yu3 zheng4 ye4 zheng4 ming4 zheng4 jing1 jin4 zheng4 nian4 zheng4 ding4

---

zheng jian zheng si wei zheng yu zheng ye zheng ming zheng jing jin zheng nian zheng ding
cheng chien cheng ssu wei cheng yü cheng yeh cheng ming cheng ching chin cheng nien cheng ting
Mindfulness
念
nen
niàn / nian4 / nian
nien
Past experience is the teacher for the future.
前事不忘后事之師

---

前事不忘后事之师
qián shì bú wàng hòu shí zhī shī

---

qian2 shi4 bu2 wang4 hou4 shi2 zhi1 shi1

---

qian shi bu wang hou shi zhi shi
ch`ien shih pu wang hou shih chih shih

---

chien shih pu wang hou shih chih shih
In some entries above you will see that characters have different versions above and below a line.
In these cases, the characters above the line are Traditional Chinese, while the ones below are Simplified Chinese.
Many custom options...




And formats...



Successful Chinese Character and Japanese Kanji calligraphy searches within the last few hours...
All of our calligraphy wall scrolls are handmade.
When the calligrapher finishes creating your artwork, it is taken to my art mounting workshop in Beijing where a wall scroll is made by hand from a combination of silk, rice paper, and wood.
After we create your wall scroll, it takes at least two weeks for air mail delivery from Beijing to you.
Allow a few weeks for delivery. Rush service speeds it up by a week or two for $10!
When you select your calligraphy, you'll be taken to another page where you can choose various custom options.
Check out my lists of Japanese Kanji Calligraphy Wall Scrolls and Old Korean Hanja Calligraphy Wall Scrolls.
Some people may refer to this entry as In Memory Of Kanji, In Memory Of Characters, In Memory Of in Mandarin Chinese, In Memory Of Characters, In Memory Of in Chinese Writing, In Memory Of in Japanese Writing, In Memory Of in Asian Writing, In Memory Of Ideograms, Chinese In Memory Of symbols, In Memory Of Hieroglyphics, In Memory Of Glyphs, In Memory Of in Chinese Letters, In Memory Of Hanzi, In Memory Of in Japanese Kanji, In Memory Of Pictograms, In Memory Of in the Chinese Written-Language, or In Memory Of in the Japanese Written-Language.
5 people have searched for In Memory Of in Chinese or Japanese in the past year.
In Memory Of was last searched for by someone else on Oct 10th, 2021