Not what you want?
Try other similar-meaning words, fewer words, or just one word.


Idea Thought Meaning in Chinese / Japanese...
Buy an Idea Thought Meaning calligraphy wall scroll here!
Personalize your custom "Idea Thought Meaning" project by clicking the button next to your favorite "Idea Thought Meaning" title below...
---
---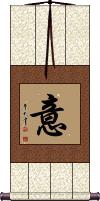 意 is the Chinese, Japanese Kanji, and old Korean Hanja for an idea, intention, meaning, thought, wish, desire, intention, feelings, and thoughts.

In Buddhism, this is the last of the six means of perception (the others are sight, hearing, smell, taste, and touch, and this one represents the mind). It does not literally mean "mind," but rather something more like mental powers, intellect, intelligence, faculty of thought, or understanding in the Buddhist context.

意見 means idea, thought, opinion, or view in Japanese.

This word also has a similar meaning in Chinese, just often used in China.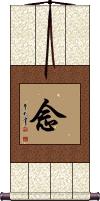 念 is the simplest way to write "mindfulness" in Chinese, Japanese Kanji, and old Korean Hanja.

念 can be defined these ways: To read; to study (a degree course); to read aloud; to miss somebody (keeping them in your mind); idea; remembrance; sense; thought; feeling; desire; concern; attention; recollection; memory; to think on/about; reflect; repeat, intone; a moment.

Obviously, the context in which the character is used determines which definition or meaning is perceived. As a single character, it's open and perhaps ambiguous. Thus, it can be read with any or all of these meanings.

念 is used in a Buddhist context (often written as 正念 or "right mindfulness") with similar meanings of thought and contemplation.

In Japanese, this character is sometimes used as the name "Nen."
---
See Also: Buddhism | Enlightenment
Reincarnation / Transmigration of Souls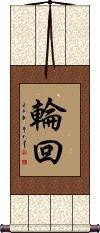 輪回 is a universal word in Japanese and Chinese that expresses the Buddhist idea of "reincarnation," "transmigration of souls," or "the eternal cycle of birth and death."

In some contexts, this can also mean "karma," and others will say it represents "samsara."

The first character means wheel, ring, turn, circle, loop, or rotate.
The second character can be thought of as a suffix meaning "-times." This second character can also refer to something that revolves, returns, goes back, or is a counter of the number of occurrences of some event.
Together the sum supersedes the parts, and it means reincarnation. But knowing the essence of each character may help you understand some of the meaning behind the word.
---

Shown to the right is the more common way to write the second character in Japanese. it's an alternate form of this character in Chinese (so neither way is technically wrong in either language). If you select a Japanese calligrapher, expect that is will look like the Kanji to the right.
---

靈感 is the Chinese word closest to hitting the mark for the English word inspiration.

In a more extended context, I have even seen this translated as "brain wave."

The first character means alert, departed soul, efficacious, quick, effective, or intelligent.
The second character means to feel, to move, to touch, or to affect.
The combined meaning of these two characters changes a bit, but I think it's nice to know the individual meanings to give you a better understanding of where a word comes from.

You could describe this word as "the thought that pops into your head just before you patent the greatest widget ever invented that everyone in the world will want."
At least, that's the idea.

This term can also mean "intelligent thought" if you translate it directly from each character. If you are looking for inspiration or need to be inspired, this is the word for you.
---

When the first character was absorbed into Japanese from Chinese, an alternate form became the standard in Japan. The Kanji shown to the right is the form currently used in Japan. This is still considered an alternate form in China to this day. it's readable by both Chinese and Japanese people but if your audience is Japanese, I recommend the Kanji shown to the right - just click on that Kanji to order that version.

茶緣 is a special title for the tea lover. This kind of means "tea fate," but it's more spiritual and hard to define. Perhaps the tea brought you in to drink it. Perhaps the tea will bring you and another tea-lover together. Perhaps you were already there, and the tea came to you. Perhaps it's the ah-ha moment you will have when drinking the tea.

I've been told not to explain this further, as it will either dilute or confuse the purposefully-ambiguous idea embedded in this enigma.

I happen to be the owner of a piece of calligraphy written by either the son or nephew of the last emperor of China, which is the title he wrote. It was given to me at a Beijing tea house in 2001. 茶緣 is where I learned to love tea after literally spending weeks tasting and studying everything I could about Chinese tea. I did not understand the significance of the authorship or the meaning of the title at all. Some 10 years later, I realized the gift was so profound and had such providence. Only now do I realize the value of a gift that it is too late to give proper thanks for. It was also years later that I ended up in this business and could have the artwork properly mounted as a wall scroll. It has been borrowed for many exhibitions and shows and always amazes native Chinese and Taiwanese who read the signature. This piece of calligraphy I once thought was just a bit of ink on a thin and wrinkled piece of paper, is now one of my most valued possessions. And fate has taught me to be more thankful for seemingly simple gifts.
This in-stock artwork might be what you are looking for, and ships right away...
Not the results for idea thought meaning that you were looking for?
Below are some entries from our dictionary that may match your idea thought meaning search...
Characters

If shown, 2nd row is Simp. Chinese

Pronunciation
Romanization
Simple Dictionary Definition

意

see styles
yì
yi4

---

i

---

kokoro
こころ
idea; meaning; thought; to think; wish; desire; intention; to expect; to anticipate

---

(1) feelings; thoughts; (2) meaning; (personal name) Kokoro

---

Manas, the sixth of the ṣaḍāyatanas or six means of perception, i.e. sight, hearing, smell, taste, touch, and mind. Manas means "mind (in its widest sense as applied to all the mental powers), intellect, intelligence, understanding, perception, sense, conscience, will". M.W. It is "the intellectual function of consciousness", Keith. In Chinese it connotes thought, idea, intention, meaning, will; but in Buddhist terminology its distinctive meaning is mind, or the faculty of thought.
The following table may be helpful for those studying Chinese or Japanese...
Title
Characters
Romaji

(Romanized Japanese)

Various forms of Romanized Chinese
Idea
Thought
Meaning
意
kokoro
yì / yi4 / yi
i
Idea
Thought
意見
i ken / iken
yì jiàn / yi4 jian4 / yi jian / yijian
i chien / ichien
Mindfulness
念
nen
niàn / nian4 / nian
nien
Reincarnation
Transmigration of Souls
輪回 / 輪廻

---

轮回
rin ne / rinne
lún huí / lun2 hui2 / lun hui / lunhui
Inspiration
靈感

---

灵感
reikan
líng gǎn / ling2 gan3 / ling gan / linggan
ling kan / lingkan
Tea Fate
茶緣

---

茶缘
chá yuán / cha2 yuan2 / cha yuan / chayuan
ch`a yüan / chayüan / cha yüan
In some entries above you will see that characters have different versions above and below a line.
In these cases, the characters above the line are Traditional Chinese, while the ones below are Simplified Chinese.
Many custom options...




And formats...



Successful Chinese Character and Japanese Kanji calligraphy searches within the last few hours...
All of our calligraphy wall scrolls are handmade.
When the calligrapher finishes creating your artwork, it is taken to my art mounting workshop in Beijing where a wall scroll is made by hand from a combination of silk, rice paper, and wood.
After we create your wall scroll, it takes at least two weeks for air mail delivery from Beijing to you.
Allow a few weeks for delivery. Rush service speeds it up by a week or two for $10!
When you select your calligraphy, you'll be taken to another page where you can choose various custom options.
Check out my lists of Japanese Kanji Calligraphy Wall Scrolls and Old Korean Hanja Calligraphy Wall Scrolls.
Some people may refer to this entry as Idea Thought Meaning Kanji, Idea Thought Meaning Characters, Idea Thought Meaning in Mandarin Chinese, Idea Thought Meaning Characters, Idea Thought Meaning in Chinese Writing, Idea Thought Meaning in Japanese Writing, Idea Thought Meaning in Asian Writing, Idea Thought Meaning Ideograms, Chinese Idea Thought Meaning symbols, Idea Thought Meaning Hieroglyphics, Idea Thought Meaning Glyphs, Idea Thought Meaning in Chinese Letters, Idea Thought Meaning Hanzi, Idea Thought Meaning in Japanese Kanji, Idea Thought Meaning Pictograms, Idea Thought Meaning in the Chinese Written-Language, or Idea Thought Meaning in the Japanese Written-Language.