Goal in Chinese / Japanese...
Buy a Goal calligraphy wall scroll here!
Personalize your custom "Goal" project by clicking the button next to your favorite "Goal" title below...
---
---

目的 means purpose, aim, goal, target, objective, or intention.

If you need a reminder about seeking purpose in life, your job, or following your goal, hanging this on your wall might help.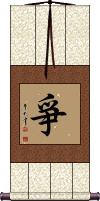 爭 is the way to express the idea of fighting for a goal.

This can also mean to struggle or to argue. 爭 is okay for a Chinese audience, and while it is a word in Korean, this character is seldom seen alone in Korean grammar.

This Chinese proverb figuratively means, "to advance dauntlessly in wave upon wave".

It suggests that you should or can carry on, and have the strength to keep going.

While this proverb is a little bit militaristic, it suggests that in spite of a fallen comrade (or perhaps a loved one), you should keep going and work towards the goal they intended.
Courage to do what is right

見義勇為 means courage to do what is right in Chinese.

This could also be translated as, "Never hesitate to do what is right".

This comes from Confucian thought:
It's best for your courage to head in an honorable direction. For example, you should take to action when the goal is to attain a just result as without honorable intent, a person's gutsy fervor can easily lead them astray.

One who flaunts courage but disregards justice is bound to do wrong; someone who possesses both courage and morality, is destined to become a hero.
---
Some text above paraphrased from The World of Chinese - The Character of 勇
---
See Also: Work Unselfishly for the Common Good | Justice | Bravery
Unity / United / Solidarity / Cooperation
Join Forces / Rally Together

團結 / 糰結 means to join forces, unity, united, union, combination, cooperation or solidarity.

Regarding solidarity, this was part of the Chinese title used for the Solidarity Workers Union in Poland. In some circumstances, this can mean "hold a rally".

While there's not a perfect match to the English word "unity" in Chinese, this word is pretty close. It contains the idea of joining forces, and working as one. It could even mean to rally together to achieve a goal, or defeat a common enemy.
---

There are several variations of these characters such as 团结, 団結, 團結, 糰結, etc. Modern Japanese will write it 団結. Just the first Kanji varies. Click on the image of that modern Japanese first Kanji to the right if you want this version instead of the traditional one.
Read 10,000 Books, Travel 10,000 Miles
dú wàn juǎn shū, xíng wàn lǐ lù

This is a lifelong suggestion for expanding your horizons by gaining knowledge, experience, and seeing the world.

Of course, this was written long ago when it was hard to travel 10,000 miles (at least 1000 years before the invention of the airplane).
With air travel and the business I'm in, I often achieve that lifetime goal on a monthly basis.
However, I am a little behind in the book count.

Note: An ancient Chinese mile (里 or lǐ) referred to in this proverb is about a third of a British/American mile. However, at that time, this was a great distance to travel.
Fear not long roads; Fear only short ambition
bú pà lù yuǎn zhǐ pà zhì duǎn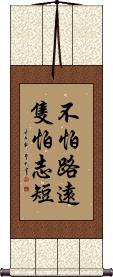 This Chinese proverb literally translates as, "Fear not a long roads; fear only short ambition", or "Don't fear that the road is long, only fear that your will/ambition/aspiration is short".

Figuratively, this means: However difficult the goal is, one can achieve it as long as one is determined to do so.

Others may translate the meaning as, "Don't let a lack of willpower stop you from pressing onwards in your journey".
Sacrifice / Devotion / Dedication
(complete bodily devotion)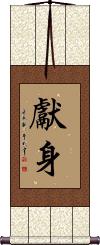 獻身 is used to describe being so devoted to something that you will make sacrifices for that goal/thing/person.

You can also translate this word as any of the following:
Give one's life for...
Sacrifice one's life for...
To dedicate oneself to...
Self-devotion
Dedication

Commit ones energy to...
Devote to...
Self-sacrifice
Giving your whole body to...

This can be a dedication to or for someone but more often is used in reference to a dedication or making sacrifices for your country, public service, or a cause. For instance, an Olympic athlete makes great sacrifices to train in his/her sport for their country and compatriots.
---


While the form shown to the upper-left is considered an ancient Japanese version, in modern Japan, they use the simplified version of the first Kanji (shown to the right). Click on the Kanji at the right instead of the button above if you want this modern Japanese version.

If you are looking for a more religious meaning of devotion, see Faith.
---
See Also: Confidence | Dedication

射手 means archer, shooter, or marksman in Chinese, Japanese Kanji, and old Korean Hanja.

Depending on context, it can also mean "goal getter" in Chinese. This would also be the word for bowman.

射手 is kind of modern in Asia, meaning that it's only been in use for a few hundred years. However, the more ancient version of archer is often not even recognized by the current generation of Chinese and Japanese people.

The first character means "shoot" or "fire" (in the context of a gun or bow). It's also a suffix for radioactive things (in the context of chemistry) - radioactive things "fire off" electrons. In Japanese, that first Kanji is a short name and suffix for archery.

The second character means "hand" but hand can also mean a person, in the same way, that "farmhand" is a person in English.
The following table may be helpful for those studying Chinese or Japanese...
Title
Characters
Romaji

(Romanized Japanese)

Various forms of Romanized Chinese
Purpose
Aim
Goal
目的
mokuteki
mù dì / mu4 di4 / mu di / mudi
mu ti / muti
Fight for a Goal
爭

---

争
zhēng / zheng1 / zheng
cheng
Carry On, Undaunted
前赴後繼

---

前赴后继
qián fù hòu jì

---

qian2 fu4 hou4 ji4

---

qian fu hou ji

---

qianfuhouji
ch`ien fu hou chi

---

chienfuhouchi

---

chien fu hou chi
Courage to do what is right
見義勇為

---

见义勇为
jiàn yì yǒng wéi

---

jian4 yi4 yong3 wei2

---

jian yi yong wei

---

jianyiyongwei
chien i yung wei

---

chieniyungwei
Unity
United
Solidarity
Cooperation
團結 / 糰結

---

团结 / 団结
dan ketsu / danketsu
tuán jié / tuan2 jie2 / tuan jie / tuanjie
t`uan chieh / tuanchieh / tuan chieh
Read 10,000 Books, Travel 10,000 Miles
讀萬卷書行萬里路

---

读万卷书行万里路
dú wàn juǎn shū, xíng wàn lǐ lù

---

du2 wan4 juan3 shu1 xing2 wan4 li3 lu4

---

du wan juan shu xing wan li lu

---

duwanjuanshuxingwanlilu
tu wan chüan shu hsing wan li lu
Fear not long roads; Fear only short ambition
不怕路遠隻怕志短

---

不怕路远只怕志短
bú pà lù yuǎn zhǐ pà zhì duǎn

---

bu2 pa4 lu4 yuan3 zhi3 pa4 zhi4 duan3

---

bu pa lu yuan zhi pa zhi duan

---

bupaluyuanzhipazhiduan
pu p`a lu yüan chih p`a chih tuan

---

pu pa lu yüan chih pa chih tuan
Sacrifice
Devotion
Dedication
獻身

---

献身
ken shin / kenshin
xiàn shēn

---

xian4 shen1

---

xian shen

---

xianshen
hsien shen

---

hsienshen
Archer
射手
i te / sha shu

---

ite / shashu
shè shǒu / she4 shou3 / she shou / sheshou
In some entries above you will see that characters have different versions above and below a line.
In these cases, the characters above the line are Traditional Chinese, while the ones below are Simplified Chinese.
Many custom options...




And formats...



Successful Chinese Character and Japanese Kanji calligraphy searches within the last few hours...
All of our calligraphy wall scrolls are handmade.
When the calligrapher finishes creating your artwork, it is taken to my art mounting workshop in Beijing where a wall scroll is made by hand from a combination of silk, rice paper, and wood.
After we create your wall scroll, it takes at least two weeks for air mail delivery from Beijing to you.
Allow a few weeks for delivery. Rush service speeds it up by a week or two for $10!
When you select your calligraphy, you'll be taken to another page where you can choose various custom options.
Check out my lists of Japanese Kanji Calligraphy Wall Scrolls and Old Korean Hanja Calligraphy Wall Scrolls.
Some people may refer to this entry as Goal Kanji, Goal Characters, Goal in Mandarin Chinese, Goal Characters, Goal in Chinese Writing, Goal in Japanese Writing, Goal in Asian Writing, Goal Ideograms, Chinese Goal symbols, Goal Hieroglyphics, Goal Glyphs, Goal in Chinese Letters, Goal Hanzi, Goal in Japanese Kanji, Goal Pictograms, Goal in the Chinese Written-Language, or Goal in the Japanese Written-Language.
6 people have searched for Goal in Chinese or Japanese in the past year.
Goal was last searched for by someone else on Oct 10th, 2021