Not what you want?
Try searching again using:
1. Other similar-meaning words.
2. Fewer words or just one word.
Bond in Chinese / Japanese...
Buy a Bond calligraphy wall scroll here!
Start your custom "Bond" project by clicking the button next to your favorite "Bond" title below...
Quick links to words on this page...

bàn

kizuna

반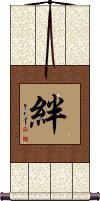 This Kanji represents a bond, as in the bond between mother and daughter, father and son, family ties, or a family bond.

This is the kind of character that says, no matter what happens (difficult times), we have this bond that cannot be broken.

If you go to the Japanese dictionary, the definition is: bonds (between people); (emotional) ties; relationship; connection; link; tether; fetters.
---

Read this before ordering...
This Kanji is best if your audience is Japanese. While this is also a Chinese character, it has a completely different meaning in Chinese (it means to hinder or stumble in Chinese). It's a very rare character in Korean Hanja but does mean bond in Korean (used in Korean words for certain kinds of glue and sticking plaster).

yuán

en

연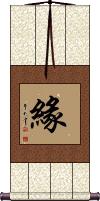 緣 / 縁 is a complicated single character. It can mean a lot of different things depending on how you read it.

In Japanese, it can mean fate; destiny; a mysterious force that binds two people together; a relationship between two people; bond; link; connection; family ties; affinity; opportunity; chance (to meet someone and start a relationship). It can also mean "someone to rely on," relative, reminder, memento, or the female given name, Yori.

It's basically the same in Chinese, where it's defined as cause, reason, karma, fate, or predestined affinity.

In Buddhist context, it's Pratyaya. 緣 / 縁 is the concept of indirect conditions, as opposed to direct causes. It's when something happens (meeting someone) by circumstance, or a contributing environment. Instead of a direct cause or act, it is a conditioning cause without direct input or action by the involved people.

Occasionally, this character is used in a facetious way to say hem, seam, or edge of clothing. In this case, it's the seam that brings or holds the clothing together.
---

Note: Japanese will tend to use the variant of this Kanji shown to the right. If you want this version (and are ordering this from the Japanese master calligrapher), click on the Kanji at the right instead of the button above.

mǔ zǐ

bo shi

모자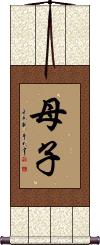 This simply means "mother and son," or the essence of the relationship and bond between mother and son.

This is really a single word that expresses this idea (showing how important or significant this bond is).

This is not the most common choice for a wall scroll, it is acceptable if you feel this term is important to you.
---
See Also: Mother and Daughter

shǒu zú qíng

手足情 is the love between siblings. When you love, protect, care for, and have a deep bond that only brothers or sisters can.

The actual translation is "Hand and Foot" but it is said the relationship between brothers or sisters is like that of hands and feet. They belong together, and complete the body. Even though this says "hand and foot," it will always be read with the brotherly and sisterly love meaning in Chinese.

Note: During the past 20 years, the "One child policy" in China is slowly making this term obsolete.

bàn lǚ

hanryo

업

伴侶 is the kind of partnership in which a good marriage is founded. This Chinese word could also be translated as mates or companionship. 伴侶 can also be used as a noun to refer to a partner or companion.

This does not have to include a marriage but at least refers to a partnership with a deep relationship or bond.
---
Note that this is not the same as a business partner. Different words are used for various types business partnerships (post your request on our Asian calligraphy forum if you need something in that regard).
---
See Also: Friendship

ai ha subete o kanzen ni musubu obi de aru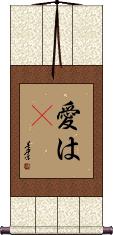 This Japanese phrase suggests that we (or a couple) are bound together by love.

I searched the web and found all of these English translation variations for this phrase:

Have love; The only way in which you may be completely joined together.

Love is the sash that perfectly binds us together.

Love is what binds us together

Love, which binds all things together in perfect unity.

This same Japanese phrase is used as part of Colossians 3:14 in at least one version of the Japanese Bible.

A few Biblical versions include:

...Charity, which is the bond of perfectness. (KJV)

...Love, which binds them all together in perfect unity. (NIV)
---
Note: Because this selection contains some special Japanese Hiragana characters, it should be written by a Japanese calligrapher.

Search for Bond in my Japanese & Chinese Dictionary

The following table may be helpful for those studying Chinese or Japanese...




Successful Chinese Character and Japanese Kanji calligraphy searches within the last few hours...

All of our calligraphy wall scrolls are handmade.

When the calligrapher finishes creating your artwork, it is taken to my art mounting workshop in Beijing where a wall scroll is made by hand from a combination of silk, rice paper, and wood.
After we create your wall scroll, it takes at least two weeks for air mail delivery from Beijing to you.

Allow a few weeks for delivery. Rush service speeds it up by a week or two for $10!

When you select your calligraphy, you'll be taken to another page where you can choose various custom options.





Check out my lists of Japanese Kanji Calligraphy Wall Scrolls and Old Korean Hanja Calligraphy Wall Scrolls.

Some people may refer to this entry as Bond Kanji, Bond Characters, Bond in Mandarin Chinese, Bond Characters, Bond in Chinese Writing, Bond in Japanese Writing, Bond in Asian Writing, Bond Ideograms, Chinese Bond symbols, Bond Hieroglyphics, Bond Glyphs, Bond in Chinese Letters, Bond Hanzi, Bond in Japanese Kanji, Bond Pictograms, Bond in the Chinese Written-Language, or Bond in the Japanese Written-Language.





var istablet=0;