Not what you want?
Try searching again using:
1. Other similar-meaning words.
2. Fewer words or just one word.
Wine in Chinese / Japanese...
Buy a Wine calligraphy wall scroll here!
Start your custom "Wine" project by clicking the button next to your favorite "Wine" title below...

pú tao jiǔ

bu dou shu / bu dou sake

포도주

葡萄酒 is the Chinese, Japanese Kanji, and old Korean Hanja for wine.

Very specifically, this is for grape wine (an important distinction in Asia where most wine was rice-based until western influences came into play).

The first word, 葡萄 literally means grape (or grapevine), and 酒 means alcohol (generic term for alcohol, sake, wine, liquor).

jiǔ

sake / shu

주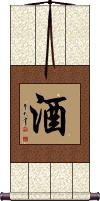 酒 is the Chinese character, Korean Hanja, and Japanese Kanji that means alcohol.

This can refer to wine (esp. rice wine), liquor, spirits, sake, or to alcoholic beverages in general.

In the west, we tend to say "sake" to mean Japanese rice wine, however, this character is a little ambiguous in Japanese. It literally just means alcohol, and is often pronounced "shu" in Japanese. Specifically, in Japanese, you might want to ask for "seishu" or 清酒 to get the sake that you are used to in the west. Seishu literally means "clear alcohol."

jiǔ hòu tǔ zhēn yán

주후토진언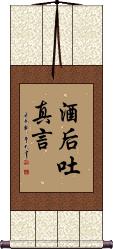 This is a nice Asian proverb if you know a vintner or wine seller - or wine lover - although the actual meaning might not be exactly what you think or hope.

The literal meaning is that someone drinking wine is more likely to let the truth slip out. It can also be translated as, "People speak their true feelings after drinking alcohol."

It's long-believed in many parts of Asia that one can not consciously hold up a facade of lies when getting drunk, and therefore the truth will come out with a few drinks.

I've had the experience where a Korean man would not trust me until I got drunk with him (I was trying to gain access to the black market in North Korea which is tough to do as an untrusted outsider) - so I think this idea is still well-practiced in many Asian countries.

VS

Please note that there are two common ways to write the second character of this phrase. The way it's written will be left up to the mood of the calligrapher, unless you let us know that you have a certain preference.
---

jiǔ chí ròu lín

shu chi niku rin

주지육림

酒池肉林 is a Chinese idiom that is also somewhat known in Japanese and Korean.

酒池肉林 literally means, "lakes of wine and forests of meat."

Figuratively, it refers to debauchery, sumptuous entertainment, a sumptuous feast, or any kind of ridiculously-lavish spread of food and wine.
Not the results for wine that you were looking for?
Below are some entries from our dictionary that may match your wine search...
Characters

If shown, 2nd row is Simp. Chinese

Pronunciation
Romanization
Simple Dictionary Definition

Fatal error: Cannot redeclare mockup() (previously declared in /home/admin/web/orientaloutpost.com/public_html/includes/render5.php:4) in /home/admin/web/orientaloutpost.com/public_html/render5.php on line 537