The name Taoist Daoist in Chinese / Japanese...
Buy a Taoist Daoist calligraphy wall scroll here!
Personalize your custom "Taoist Daoist" project by clicking the button next to your favorite "Taoist Daoist" title below...
---
---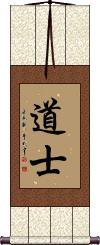 道士 is a Japanese Kanji, Korean Hanja, and Chinese title that means Daoist or Taoist.

This can refer to a Taoist priest or a person of high morals. This can also be applied to Buddhists and Śākyamuni (especially in Japanese). It suggests a person (or soldier) who follows the way or the right path. Thus a person who follows a path of virtue.
Wu Wei / Without Action
Daoist / Taoist Tenet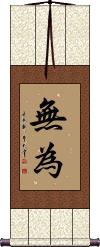 無為 or "Wu Wei" is a Daoist (Taoist) tenet that speaks to the idea of letting nature take its course.

Some will say it's about knowing when to take action and when not to. In reality, it's more about not going against the flow. What will happen is controlled by the Dao (Tao), for which one who follows the Dao will not resist or struggle against.

There is a lot more to this concept, but chances are, if you are looking for this entry, you already know the expanded concept.

Warning: Outside of the Daoist context, this means idleness or inactivity (especially in Japanese, where not everyone knows this as a Daoist concept).
The Way of Five Pecks of Rice
Daoism / Taoism
Literally: The Way or Road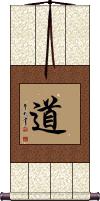 道 is the character "dao" which is sometimes written as "tao" but pronounced like "dow" in Mandarin.

道 is the base of what is known as "Taoism." If you translate this literally, it can mean "the way" or "the path."

Dao is believed to be that which flows through all things and keeps them in balance. It incorporates the ideas of yin and yang (e.g. there would be no love without hate, no light without dark, no male without female.)

The beginning of Taoism can be traced to a mystical man named
Lao Zi (604-531 BC), who followed, and added to the teachings of Confucius.

More about Taoism / Daoism here.

Note that this is pronounced "dou" and sometimes "michi" when written alone in Japanese but pronounced "do" in word compounds such as Karate-do and Bushido. It's also "do" in Korean.

Alternate translations and meanings: road, way, path; truth, principle province.

Important Japanese note: In Japanese, this will generally be read with the road, way, or path meaning. Taoism is not as popular or well-known in Japan so Daoist/Taoist philosophy is not the first thing a Japanese person will think of when they read this character.
---
See our Taoism Page
This in-stock artwork might be what you are looking for, and ships right away...
Not the results for taoist daoist that you were looking for?
Below are some entries from our dictionary that may match your taoist daoist search...
Characters

If shown, 2nd row is Simp. Chinese

Pronunciation
Romanization
Simple Dictionary Definition

道士

see styles
dào shì
dao4 shi4

---

tao shih

---

michishi
みちし
Daoist priest

---

(1) Taoist; (2) person of high morals; (3) Buddhist monk; (4) immortal mountain wizard; Taoist immortal; (personal name) Michishi

---

A Taoist (hermit), also applied to Buddhists, and to Śākyamuni.

五斗米道

see styles
wǔ dǒu mǐ dào
wu3 dou3 mi3 dao4

---

wu tou mi tao

---

gotobeidou / gotobedo
ごとべいどう
Way of the Five Pecks of Rice (Taoist movement); Way of the Celestial Master

---

(hist) (See 天師道) Way of the Five Pecks of Rice (ancient Chinese Daoist movement later known as The Way of the Celestial Masters)

導引

---

导引

see styles
dǎo yǐn
dao3 yin3

---

tao yin

---

douin / doin
どういん

---

(1) guidance; showing the way; (2) (See あん摩・あんま・1) massage; (3) tao yin; Taoist Neigong; Taoist exercises

---

To lead.

神仙

see styles
shén xiān
shen2 xian1

---

shen hsien

---

shinsen
しんせん

---

(1) immortal mountain wizard (in Taoism); Taoist immortal; supernatural being; (2) (in Japan) 11th note of the ancient chromatic scale (approx. C)

---

神僊 The genī, immortals, ṛṣi, of whom the five kinds are 天, 神, 人, 地, and 鬼仙, i.e. deva, spirit, human, earth (or cave), and preta immortals.

道家

see styles
dào jiā
dao4 jia1

---

tao chia

---

michiya
みちや

---

Taoist; (surname) Michiya

---

A Daoist

道長

---

道长

see styles
dào zhǎng
dao4 zhang3

---

tao chang

---

michinaga
みちなが

---

head of a martial arts organization (organisation); (surname) Michinaga
The following table may be helpful for those studying Chinese or Japanese...
Title
Characters
Romaji

(Romanized Japanese)

Various forms of Romanized Chinese
Taoist
Daoist
道士
dou shi / doushi / do shi
dào shì / dao4 shi4 / dao shi / daoshi
tao shih / taoshih
Three Souls
三魂
san tamashi

---

santamashi
sān hún / san1 hun2 / san hun / sanhun
Eight Immortals
八仙
hassen / hasen
bā xiān / ba1 xian1 / ba xian / baxian
pa hsien / pahsien
Wu Wei
Without Action
無為

---

无为
mui
wú wéi / wu2 wei2 / wu wei / wuwei
The Way of Five Pecks of Rice
五斗米道
gotobeidou / gotobeido
wǔ dǒu mǐ dào

---

wu3 dou3 mi3 dao4

---

wu dou mi dao

---

wudoumidao
wu tou mi tao

---

wutoumitao
Daoism
Taoism
道
michi / -do
dào / dao4 / dao
tao
In some entries above you will see that characters have different versions above and below a line.
In these cases, the characters above the line are Traditional Chinese, while the ones below are Simplified Chinese.
Many custom options...




And formats...



Successful Chinese Character and Japanese Kanji calligraphy searches within the last few hours...
All of our calligraphy wall scrolls are handmade.
When the calligrapher finishes creating your artwork, it is taken to my art mounting workshop in Beijing where a wall scroll is made by hand from a combination of silk, rice paper, and wood.
After we create your wall scroll, it takes at least two weeks for air mail delivery from Beijing to you.
Allow a few weeks for delivery. Rush service speeds it up by a week or two for $10!
When you select your calligraphy, you'll be taken to another page where you can choose various custom options.
Check out my lists of Japanese Kanji Calligraphy Wall Scrolls and Old Korean Hanja Calligraphy Wall Scrolls.
Some people may refer to this entry as Taoist Daoist Kanji, Taoist Daoist Characters, Taoist Daoist in Mandarin Chinese, Taoist Daoist Characters, Taoist Daoist in Chinese Writing, Taoist Daoist in Japanese Writing, Taoist Daoist in Asian Writing, Taoist Daoist Ideograms, Chinese Taoist Daoist symbols, Taoist Daoist Hieroglyphics, Taoist Daoist Glyphs, Taoist Daoist in Chinese Letters, Taoist Daoist Hanzi, Taoist Daoist in Japanese Kanji, Taoist Daoist Pictograms, Taoist Daoist in the Chinese Written-Language, or Taoist Daoist in the Japanese Written-Language.
25 people have searched for Taoist Daoist in Chinese or Japanese in the past year.
Taoist Daoist was last searched for by someone else on Jun 24th, 2023