Serpent in Chinese / Japanese...
Buy a Serpent calligraphy wall scroll here!
Personalize your custom "Serpent" project by clicking the button next to your favorite "Serpent" title below...
Snake / Serpent
Year of the Snake / Zodiac Sign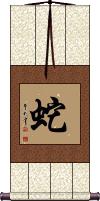 蛇 is the character for snake or serpent in Chinese, old Korean, and Japanese.

If you were born in the year of the snake, you . . .


Are calm.
Are an inspiration to others.
Have a stubborn nature like a mule (you do not like to concede).
---
See also our Chinese Zodiac page.
Ophiuchus Zodiac Symbol / Sign

蛇夫座 is the Chinese way to write Ophiuchus (the serpent bearer) of western astrology.

Please note this version is only used in Chinese (not Japanese).
---
See Also: Chinese Zodiac

毒蛇 is the Chinese, Japanese Kanji, and old Korean Hanja for viper.

While 毒蛇 usually means viper, it may be used by some to refer to any poisonous snake or poisonous serpent.
The Five Animals
Dragon Snake Tiger Leopard Crane
ryuu hebi tora hyou tsuru

龍蛇虎豹鶴 is a list of the Chinese characters for the five animals of Shaolin Kung Fu in a comfortable order (meaning that they are in the proper order and will "feel right" to a Chinese person who views this arrangement).
Not the results for serpent that you were looking for?
Below are some entries from our dictionary that may match your serpent search...
Characters

If shown, 2nd row is Simp. Chinese

Pronunciation
Romanization
Simple Dictionary Definition

蛇

see styles
shé
she2

---

she

---

hebi
へび
snake; serpent; CL:條|条[tiao2]

---

(1) (じゃ is more associated with serpent and large snakes) snake; (2) serpent; large snake; (surname) Hebi

---

sarpa, a serpent, snake.

龍

---

龙

see styles
lóng
long2

---

lung

---

riyou / riyo
りよう

More info & calligraphy:

Dragon

dragon; CL:條|条[tiao2]; imperial

---

(out-dated kanji) (1) dragon (esp. a Chinese dragon); (2) naga; semi-divine human-cobra chimera in Hindu and Buddhist mythology; (personal name) Riyou

---

A dragon, dragon-like, imperial; tr. for nāga, which means snake, serpent; also elephant, elephantine, serpent-like, etc., cf. 那.

佛口蛇心

see styles
fó kǒu shé xīn
fo2 kou3 she2 xin1

---

fo k`ou she hsin
fo kou she hsin

---

bukku nishitenjashin

---

A Buddha's mouth but a serpent's heart; buddha's mouth and a serpent's heart

八岐大蛇

see styles
bā qí dà shé
ba1 qi2 da4 she2

---

pa ch`i ta she
pa chi ta she

---

yamatanoorochi
やまたのおろち

---

eight-headed, eight-tailed serpent (in Japanese mythology)

烏洛迦旃檀

---

乌洛迦旃檀

see styles
wū luò jiā zhān tán
wu1 luo4 jia1 zhan1 tan2

---

wu lo chia chan t`an
wu lo chia chan tan

---

uraka sendan

ヘビ

see styles
hebi
ヘビ

More info & calligraphy:

Hebi

(1) snake; (2) serpent; large snake

毒蛇

see styles
dú shé
du2 she2

---

tu she

---

dokuja; dokuhebi
どくじゃ; どくへび

More info & calligraphy:

Viper

viper

---

poisonous snake; poisonous serpent

---

A poisonous snake.; Poisonous snakes, the four elements of the body— earth, water, fire, wind (or air)— which harm a man by their variation, i. e. increase and decrease. Also, gold.

巳

see styles
sì
si4

---

ssu

---

mi
み

---

(1) the Snake (sixth sign of the Chinese zodiac); the Serpent; (2) (obsolete) (See 巳の刻) hour of the Snake (around 10am, 9-11am, or 10am-12 noon); (3) (obsolete) south-southeast; (4) (obsolete) fourth month of the lunar calendar; (female given name) Mi

---

snake

蜃

see styles
shèn
shen4

---

shen

---

shin

---

Mirage; sea-serpent; frog; shellfish

冠鷲

see styles
kanmuriwashi; kanmuriwashi
かんむりわし; カンムリワシ

初巳

see styles
hatsumi
はつみ

大蛇

see styles
daija
だいじゃ

戾龍

---

戾龙

see styles
lì lóng
li4 long2

---

li lung

蛇蝎

see styles
dakatsu
だかつ

蛇蠍

see styles
dakatsu
だかつ

蛇鵰

---

蛇雕

see styles
shé diāo
she2 diao1

---

she tiao

那伽

see styles
nà qié
na4 qie2

---

na ch`ieh
na chieh

---

naka
なか

---

nāga. Snake, dragon, elephant. It is tr. by 龍 dragon and by 象 elephant. (1) As dragon it represents the chief of the scaly reptiles; it can disappear or be manifest, increase or decrease, lengthen or shrink; in spring it mounts in the sky and in winter enters the earth. The dragon is of many kinds. Dragons are regarded as beneficent, bringing the rains and guarding the heavens (again Draco); they control rivers and lakes, and hibernate in the deep. nāga and mahānāga are titles of a Buddha, (also of those freed from reincarnation) because of his powers, or because like the dragon he soars above earthly desires and ties. One of his former reincarnations was a powerful poisonous dragon which, out of pity, permitted itself to be skinned alive and its flesh eaten by worms. (2) A race of serpent-worshippers; (Skt. nāga)

十二獸

---

十二兽

see styles
shí èr shòu
shi2 er4 shou4

---

shih erh shou

---

jūnishū

妙音天

see styles
miào yīn tiān
miao4 yin1 tian1

---

miao yin t`ien
miao yin tien

---

Myōon Ten

巳の刻

see styles
minokoku
みのこく

海蛇座

see styles
umihebiza
うみへびざ

烏洛迦

---

乌洛迦

see styles
wū luò jiā
wu1 luo4 jia1

---

wu lo chia

---

uraka

蛇心檀

see styles
shé xīn tán
she2 xin1 tan2

---

she hsin t`an
she hsin tan

---

dashindan

蛇遣座

see styles
hebitsukaiza
へびつかいざ

迦樓羅

---

迦楼罗

see styles
jiā lóu luó
jia1 lou2 luo2

---

chia lou lo

---

karura

十二因緣

---

十二因缘

see styles
shí èr yīn yuán
shi2 er4 yin1 yuan2

---

shih erh yin yüan

---

jūni innen

薩裒煞地

---

萨裒煞地

see styles
sà póu shà dì
sa4 pou2 sha4 di4

---

sa p`ou sha ti
sa pou sha ti

---

satsubusachi

蛇遣い座

see styles
hebitsukaiza
へびつかいざ

うみへび座

see styles
umihebiza
うみへびざ

ウロボロス

see styles
uroborosu
ウロボロス
Click here for more serpent results from our dictionary
The following table may be helpful for those studying Chinese or Japanese...
Title
Characters
Romaji

(Romanized Japanese)

Various forms of Romanized Chinese
Snake
Serpent
蛇
hebi
shé / she2 / she
Fire Snake
火蛇
hi hebi / hihebi
huǒ shé / huo3 she2 / huo she / huoshe
Ophiuchus Zodiac Symbol
Sign
蛇夫座
shé fū zuò

---

she2 fu1 zuo4

---

she fu zuo

---

shefuzuo
she fu tso

---

shefutso
Viper
毒蛇
doku hebi / dokuhebi
dú shé / du2 she2 / du she / dushe
tu she / tushe
The Five Animals
龍蛇虎豹鶴

---

龙蛇虎豹鹤
ryuu hebi tora hyou tsuru

---

ryuuhebitorahyoutsuru

---

ryu hebi tora hyo tsuru
lóng shé hǔ bào hè

---

long2 she2 hu3 bao4 he4

---

long she hu bao he

---

longshehubaohe
lung she hu pao ho

---

lungshehupaoho
In some entries above you will see that characters have different versions above and below a line.
In these cases, the characters above the line are Traditional Chinese, while the ones below are Simplified Chinese.
Many custom options...




And formats...



Successful Chinese Character and Japanese Kanji calligraphy searches within the last few hours...
All of our calligraphy wall scrolls are handmade.
When the calligrapher finishes creating your artwork, it is taken to my art mounting workshop in Beijing where a wall scroll is made by hand from a combination of silk, rice paper, and wood.
After we create your wall scroll, it takes at least two weeks for air mail delivery from Beijing to you.
Allow a few weeks for delivery. Rush service speeds it up by a week or two for $10!
When you select your calligraphy, you'll be taken to another page where you can choose various custom options.
Check out my lists of Japanese Kanji Calligraphy Wall Scrolls and Old Korean Hanja Calligraphy Wall Scrolls.
Some people may refer to this entry as Serpent Kanji, Serpent Characters, Serpent in Mandarin Chinese, Serpent Characters, Serpent in Chinese Writing, Serpent in Japanese Writing, Serpent in Asian Writing, Serpent Ideograms, Chinese Serpent symbols, Serpent Hieroglyphics, Serpent Glyphs, Serpent in Chinese Letters, Serpent Hanzi, Serpent in Japanese Kanji, Serpent Pictograms, Serpent in the Chinese Written-Language, or Serpent in the Japanese Written-Language.
20 people have searched for Serpent in Chinese or Japanese in the past year.
Serpent was last searched for by someone else on Aug 19th, 2022