Okinawa in Chinese / Japanese...
Buy an Okinawa calligraphy wall scroll here!
Personalize your custom "Okinawa" project by clicking the button next to your favorite "Okinawa" title below...
---
---

少林流 is the Japanese martial arts title "Shorin-ryu".

Though the first part of the title comes from the Shaolin (small forest) monks of China.
In Japan, this refers to the Okinawa School of Karate.
---

Note that often in Japanese, the first Kanji of this title was changed to the version shown to the right. If you prefer this version, please click on the Kanji to the right instead of the button above.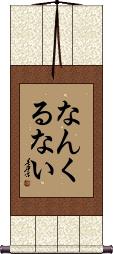 なんくるない or nankurunai is an Okinawan word, written in Japanese that means "Don't worry, be happy".

沖縄/Okinawa and/or the 琉球/Ryūkyū Islands have a more laid back "island style" approach to life. So the nankurunai idea is a perfect match for that lifestyle.
---
Note: Because this title is entirely Japanese Hiragana, it should be written by a Japanese calligrapher.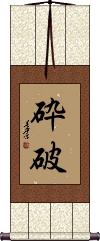 砕破 is the title "Saifa" written in Japanese Kanji. This literally means "smash and tear". Like most styles of martial arts, Saifa has origins in China. It was Higashionna that brought Saifa to Okinawa.

Saifa is generally associated with Gōjū-ryū as a title for a kata.
---
Notes: While Saifa is often written as 砕破, it can also be written 碎破 (just a variation on the first Kanji). Sometimes written in Japanese Katakana as サイハ.
Shorin Ji Ryu
Shaolin Temple Style
Kenpo / Kempo / Quan Fa / Chuan Fa

This form of martial arts can be translated in several ways. Some will call it "fist principles" or "the way of the fist", or even "law of the fist". The first character literally means fist. The second can mean law, method, way, principle or Buddhist teaching.

Kempo is really a potluck of martial arts. Often a combination of Chinese martial arts such as Shaolin Kung Fu with Japanese martial arts such as Karate, Jujutsu (Jujitsu), Aikido, and others. You may see the term "Kempo Karate" which basically means Karate with other disciplines added. In this way, Kempo becomes an adjective rather than a title or school of martial arts.

These facts will long be argued by various masters and students of Kempo. Even the argument as to whether it should be spelled "kenpo" or "Kempo" ensues at dojos around the world (the correct Romaji should actually be "kenpou" if you precisely follow the rules).

The benefit of Kempo is that the techniques are easier to learn and master compared to pure Kung Fu (wu shu). Students are often taught basic Karate moves, kicks, and punches before augmenting the basic skills with complex Kung Fu techniques. This allows students of Kempo achieve a level where they can defend themselves or fight in a relatively short amount of time (a few years rather than a decade or more).

Because the definition of this word is so fluid, I should make some notes here:

1. Purists in Okinawa will claim that "Okinawa Kenpo" or "Ryukyu Hon Kenpo" is the original and true version of this martial art from the old kingdom. There is actually little or no connection between Okinawa Kenpo and the way the word is used elsewhere.

2. In Chinese, where these characters are pronounced "quan fa" (sometimes Romanized as "chuan fa" because the Chinese-pinyin "q" actually sounds like an English "ch" sound), these characters do not hold the connotation of being a mixed martial art. It is simply defined as "the law of the fist".

3. In my Japanese dictionary, it oddly defines Kenpo as "Chinese art of self-defense". I personally don't feel this is the most common way that people perceive the word but just something you should know.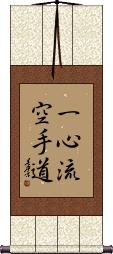 一心流空手道 is the full title for Isshin-Ryu Karate-Do.

The literal meaning is "one heart method empty hand way".

There are also other ways you can translate this, but if you are looking for this title, you already know that.

This would make a great wall scroll for your dojo or private studio, if you study this form of Japanese (technically from Okinawa) Karate.

Because this is a specifically-Japanese title, I strongly recommend that you select our Japanese Master Calligrapher to create this artwork for you.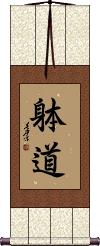 Taidō (The Way of the Body) is a style of Karate practiced in Japan and popular around the world.

Taidō or 躰道 traces a lineage from Genseiryū (玄制流) which came from Shuri-te (首里手), one of the original martial arts schools of ancient Okinawa.

The first character 躰 is a variant of the original Chinese character 體. In modern Japan, they tend to use 体, a more simple form of the character. 体 is also the modern Simplified Chinese form of 體.
The 躰 character is correct for this 躰道 martial arts title. But it can be confusing with so many variants out there, not to mention other homophonic Japanese words that also romanize as Taidō or Taidou.

To have a bit more fun with this 躰 character, it has a 身 radical on the left, which sets it apart. The meaning doubles up on the "body" as 身 (shin) is a character that also means body in Japanese and Chinese. On the right is 本 which often means root, stem, origin, source, or fundamental (but can also mean "book" in some contexts). This has deviated from the original 體 which was 骨 (bone) + 豊 (vessel). Hence, body was your "bone vessel" in ancient Asia.

The meaning of 躰, as well as 體 and 体, is usually translated as body. When related to the physical body, it can also refer to the torso, trunk, build, physique, or constitution of a person. As an extension of this, it can also refer to someone's health (good body = good health).
However, depending on context, it can encompass other meanings such as: form; style; system; to experience; aspect; corpus, corporeal; the substance, the essentials.

The second character, 道, is recognized and well-known as the "Way" and is the same "do" as in Karate-do or Aikido.
The following table may be helpful for those studying Chinese or Japanese...
Title
Characters
Romaji

(Romanized Japanese)

Various forms of Romanized Chinese
Okinawa
沖縄 / 沖繩

---

沖縄 / 冲绳
okinawa
chōng shéng

---

chong1 sheng2

---

chong sheng

---

chongsheng
ch`ung sheng

---

chungsheng

---

chung sheng
Okinawa Karate
沖縄空手
oki nawa kara te

---

okinawakarate
chōng shéng kōng shǒu

---

chong1 sheng2 kong1 shou3

---

chong sheng kong shou

---

chongshengkongshou
ch`ung sheng k`ung shou

---

chungshengkungshou

---

chung sheng kung shou
Okinawan Kobudo
沖縄古武道
oki nawa ko bu dou

---

okinawakobudou

---

oki nawa ko bu do
Ryukyu
琉球
ryuukyuu / ryukyu
liú qiú / liu2 qiu2 / liu qiu / liuqiu
liu ch`iu / liuchiu / liu chiu
Shorin-Ryu
少林流
shou rin ryuu

---

shourinryuu

---

sho rin ryu
Don't Worry, Be Happy
なんくるない
nan ku ru nai

---

nankurunai
Saifa
砕破
sai fa / saifa
Shorin Ji Ryu
少林寺流
shou rin ji ryuu

---

shourinjiryuu

---

sho rin ji ryu
Kenpo
Kempo
Quan Fa
Chuan Fa
拳法
kenpou / kenpo
quán fǎ / quan2 fa3 / quan fa / quanfa
ch`üan fa / chüanfa / chüan fa
Isshin Ryu Karate Do
一心流空手道
i sshin ryuu kara te dou

---

isshinryuukaratedou

---

i shin ryu kara te do
Taido
躰道
tai dou / taidou / tai do
In some entries above you will see that characters have different versions above and below a line.
In these cases, the characters above the line are Traditional Chinese, while the ones below are Simplified Chinese.
Many custom options...




And formats...



Successful Chinese Character and Japanese Kanji calligraphy searches within the last few hours...
All of our calligraphy wall scrolls are handmade.
When the calligrapher finishes creating your artwork, it is taken to my art mounting workshop in Beijing where a wall scroll is made by hand from a combination of silk, rice paper, and wood.
After we create your wall scroll, it takes at least two weeks for air mail delivery from Beijing to you.
Allow a few weeks for delivery. Rush service speeds it up by a week or two for $10!
When you select your calligraphy, you'll be taken to another page where you can choose various custom options.
Check out my lists of Japanese Kanji Calligraphy Wall Scrolls and Old Korean Hanja Calligraphy Wall Scrolls.
Some people may refer to this entry as Okinawa Kanji, Okinawa Characters, Okinawa in Mandarin Chinese, Okinawa Characters, Okinawa in Chinese Writing, Okinawa in Japanese Writing, Okinawa in Asian Writing, Okinawa Ideograms, Chinese Okinawa symbols, Okinawa Hieroglyphics, Okinawa Glyphs, Okinawa in Chinese Letters, Okinawa Hanzi, Okinawa in Japanese Kanji, Okinawa Pictograms, Okinawa in the Chinese Written-Language, or Okinawa in the Japanese Written-Language.
78 people have searched for Okinawa in Chinese or Japanese in the past year.
Okinawa was last searched for by someone else on Aug 4th, 2022