Please note: The Chinese New Years Holiday is upon us.
Custom calligraphy orders placed now will be shipped in
Early March
. However, in-stock artwork orders are being shipped promptly (as they are located in the USA).
Not what you want?
Try searching again using:
1. Other similar-meaning words.
2. Fewer words or just one word.
Nature in Chinese / Japanese...
Buy a Nature calligraphy wall scroll here!
Start your custom "Nature" project by clicking the button next to your favorite "Nature" title below...

zì rán

shi zen

자연

自然 is the simple way to express nature in Chinese, Japanese Kanji, and old Korean Hanja.

This can also be translated as "the natural world."

In Japanese and Korean, this term is sometimes used to refer to spontaneity or a spontaneous act.

dà zì rán

dai shi zen

대자연

大自然 is the simple way to express "mother nature" in Chinese, Japanese Kanji, and old Korean Hanja.

This can also be translated as "the great nature" or "all of nature."

shēng tài píng héng

This title is about the way and balance of nature.

The first two characters mean nature or the way of life.
The second two characters mean balance or balanced.

Note: We have two versions of this title on our website. 生態平衡 is the one we recommend, as it is a little more natural (no pun intended).

shizenkai no kinkou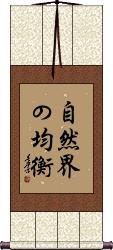 This is a verbose way to say "nature in balance" in Japanese

The first three Kanji have the meaning of "the natural world" or "the natural kingdom" (kind of like animal kingdom but including plants, and all things biological).
The third character is a Hiragana that acts to connect the two ideas here.
The last two Kanji mean equilibrium or balance.

ka chou fuu getsu

花鳥風月 is the Japanese Kanji proverb for "Beauties of Nature."

The dictionary definition is, "the traditional themes of natural beauty in Japanese aesthetics."

The Kanji each represents an element of nature that constitute beauty in traditional Japanese art and culture.

The Kanji breakdown:
花 = ka = flower (also pronounced "hana")
鳥 = chou = bird (also pronounced "tori").
風 = fuu = wind (also pronounced "kaze").
月 = getsu = moon (also pronounced "tsuki")

zhēn rú

shinnyo

진여

This comes from the Sanskrit and Pali word often romanized as "tathata" or "tathatā." Originally written, "तथता."

It's a Buddhist term that is often translated as "thusness" or "suchness" but this does not explain it.
A better explanation may be, "the ultimate nature of all things." However, this gives it too strong of a feeling. This concept is sometimes described as being in awe of the simple nature of something - like a blade of grass blowing in the wind, or ripples on water. It is what it is supposed to be, these things are following their nature. Amazing in their mundane simplicity.

Every sect of Buddhism will have a slightly different flavor, or explanation, so don't get fixated on one definition.
---
Notes: Sometimes Buddhists use the word dharmatā, a synonym to tathatā.

In Japan, this can also be the female given name Mayuki, or the surname Majo.

rén xìng

인성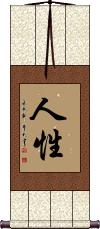 This title is the essence of what it means to act and be human.

These two characters refer to the way we are as people.

人性 is also sometimes translated as human personality, human instinct, humanity, or humanism.

The first character literally means human or people.

The second character means nature. It can also mean property, quality, attribute, or essence. It can even be a modifier like "-ity" or "-ness," which is why this word is also translated as "humanity."

rén shù

jinjo

인서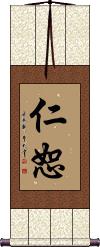 These two characters create a word in Chinese and Japanese that means something like benevolence with magnanimity or kindness with a forgiving nature.

If this describes you, then you are the type of person that I would like to call my friend.

This may not be the most common word in daily use but it's old enough that it transcended cultures from China to Japan in the 5th century when Japan lacked a written language, and absorbed Chinese characters and words into their language.
Note: 仁恕 is not commonly used in Korean.
Search for Nature in my Japanese & Chinese Dictionary
The following table may be helpful for those studying Chinese or Japanese...
Title
Characters
Romaji

(Romanized Japanese)

Various forms of Romanized Chinese
Nature
自然
shi zen / shizen
zì rán / zi4 ran2 / zi ran / ziran
tzu jan / tzujan
Mother Nature
大自然
dai shi zen

---

daishizen
dà zì rán

---

da4 zi4 ran2

---

da zi ran

---

daziran
ta tzu jan

---

tatzujan
Nature in Balance
Balanced Nature
自然平衡
zì rán píng héng

---

zi4 ran2 ping2 heng2

---

zi ran ping heng

---

ziranpingheng
tzu jan p`ing heng

---

tzujanpingheng

---

tzu jan ping heng
Nature in Balance
Balanced Nature
自然の調和
shizen no cho wa

---

shizennochowa
Nature in Balance
Balanced Nature
生態平衡

---

生态平衡
shēng tài píng héng

---

sheng1 tai4 ping2 heng2

---

sheng tai ping heng

---

shengtaipingheng
sheng t`ai p`ing heng

---

shengtaipingheng

---

sheng tai ping heng
Nature in Balance
Balanced Nature
自然界の均衡
shizenkai no kinkou

---

shizenkainokinkou

---

shizenkai no kinko

---

shizenkainokinko
Beauty of Nature
花鳥風月
ka chou fuu getsu

---

kachoufuugetsu

---

ka cho fu getsu

---

kachofugetsu
Tathata
Ultimate Nature of All Things
真如
shinnyo
zhēn rú / zhen1 ru2 / zhen ru / zhenru
chen ju / chenju
Human Nature
人性
rén xìng / ren2 xing4 / ren xing / renxing
jen hsing / jenhsing
The Nature of Martial Arts
自然武道
shi zen bu do

---

shizenbudo
zì rán wǔ dào

---

zi4 ran2 wu3 dao4

---

zi ran wu dao

---

ziranwudao
tzu jan wu tao

---

tzujanwutao
Kindness and Forgiving Nature
仁恕
jinjo
rén shù / ren2 shu4 / ren shu / renshu
jen shu / jenshu
In some entries above you will see that characters have different versions above and below a line.
In these cases, the characters above the line are Traditional Chinese, while the ones below are Simplified Chinese.
Successful Chinese Character and Japanese Kanji calligraphy searches within the last few hours...
All of our calligraphy wall scrolls are handmade.
When the calligrapher finishes creating your artwork, it is taken to my art mounting workshop in Beijing where a wall scroll is made by hand from a combination of silk, rice paper, and wood.
After we create your wall scroll, it takes at least two weeks for air mail delivery from Beijing to you.
Allow a few weeks for delivery. Rush service speeds it up by a week or two for $10!
When you select your calligraphy, you'll be taken to another page where you can choose various custom options.
Check out my lists of Japanese Kanji Calligraphy Wall Scrolls and Old Korean Hanja Calligraphy Wall Scrolls.
Some people may refer to this entry as Nature Kanji, Nature Characters, Nature in Mandarin Chinese, Nature Characters, Nature in Chinese Writing, Nature in Japanese Writing, Nature in Asian Writing, Nature Ideograms, Chinese Nature symbols, Nature Hieroglyphics, Nature Glyphs, Nature in Chinese Letters, Nature Hanzi, Nature in Japanese Kanji, Nature Pictograms, Nature in the Chinese Written-Language, or Nature in the Japanese Written-Language.
161 people have searched for Nature in Chinese or Japanese in the past year.
Nature was last searched for by someone else on Oct 18th, 2017