The name Birth Life in Chinese / Japanese...
Buy a Birth Life calligraphy wall scroll here!
Personalize your custom "Birth Life" project by clicking the button next to your favorite "Birth Life" title below...
---
---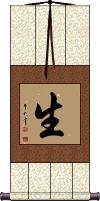 生 is a Chinese word that means "to be born" and "to give birth."

Also, it's often used to refer to life itself, and sometimes "to grow."

生 is used in a lot of compound words such as "yi sheng," which means "doctor" (literally "healer of life"), "sheng ri" which means "birthday" (literally "birth-day"), and "xue sheng" which means student (literally "studying life" or "learner [about] life"). Few Chinese people will think of the literal meaning when this uses words like doctor and student - but it is interesting to note.

生 has the same root meaning in Korean Hanja and Japanese. However, in Japanese, there are many possible pronunciations, and this can be used to mean "raw" or "unprocessed" (as in draft beer). Therefore, not be the best if your audience is Japanese.
---
See Also: Vitality
Birth Old-Age Sickness Death
Born to Suffer

生老病死 means "to be born, to grow old, to get sick and to die" or "birth, aging, sickness, and death."

This is an old somewhat-morbid Chinese proverb that is also used in Korean and Japanese. It figuratively means the fate of humankind (i.e. mortality) or suggests that we are all born to suffer.

In the Buddhist context, there are the "four inevitables in human life" or "four afflictions that are the lot of every human" known as "四苦" (literally "four afflictions"). Sometimes this proverb is written with that affliction character, 苦, at the end like 生老病死苦.

復活 is the Chinese, Japanese and Korean word for resurrection or rebirth.

復活 literally means "return to life."

It is the term used in most Asian Bibles to refer to the resurrection of Christ. In Japanese, it is sometimes used to mean a Christian Revival. In some contexts, it can mean resuscitation.
---
See Also: Christianity | Jesus Christ | God of Abraham

This Chinese, Korean and Japanese word means "life force" or simply "life."

The first character means "life" or "birth." The second means "life" or "fate." Together they create the meaning of "life force," though some will translate this as "existence" and sometimes "vitality."
---
Life Energy / Spiritual Energy
Chi Energy: Essence of Life / Energy Flow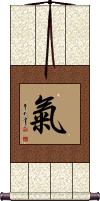 This 氣 energy flow is a fundamental concept of traditional Asian culture.

氣 is romanized as "Qi" or "Chi" in Chinese, "Gi" in Korean, and "Ki" in Japanese.
Chi is believed to be part of everything that exists, as in "life force" or "spiritual energy." It is most often translated as "energy flow" or literally as "air" or "breath." Some people will simply translate this as "spirit," but you must consider the kind of spirit we're talking about. I think this is weighted more toward energy than spirit.

The character itself is a representation of steam (or breath) rising from rice. To clarify, the character for rice looks like this:


Steam was apparently seen as visual evidence of the release of "life energy" when this concept was first developed. The Qi / Chi / Ki character is still used in compound words to mean steam or vapor.
The etymology of this character is a bit complicated. It's suggested that the first form of this character from bronze script (about 2500 years ago) looked like these samples:



However, it was easy to confuse this with the character for the number three. So the rice radical was added by 221 B.C. (the exact time of this change is debated). This first version with the rice radical looks like this:


The idea of Qi / Chi / Ki is really a philosophical concept. It's often used to refer to the "flow" of metaphysical energy that sustains living beings. Yet there is much debate that has continued for thousands of years as to whether Qi / Chi / Ki is pure energy or consists partially or fully of matter.

You can also see the character for Qi / Chi / Ki in common compound words such as Tai Chi / Tai Qi, Aikido, Reiki, and Qi Gong / Chi Kung.

In the modern Japanese Kanji, the rice radical has been changed into two strokes that form an X.



The original and traditional Chinese form is still understood in Japanese, but we can also offer that modern Kanji form in our custom calligraphy. If you want this Japanese Kanji, please click on the character to the right instead of the "Select and Customize" button above.
---
More language notes: This is pronounced like "chee" in Mandarin Chinese, and like "key" in Japanese.
This is also the same way to write this in Korean Hanja where it is Romanized as "gi" and pronounced like "gee" but with a real G-sound, not a J-sound.
Though Vietnamese no longer use Chinese characters in their daily language, this character is still widely known in Vietnam.
---
See Also: Energy | Life Force | Vitality | Life | Birth | Soul

新生 literally means "new life" or "new birth" in Chinese, Japanese Kanji, and old Korean Hanja.

Depending on the context, this word can also mean newborn, new student, rebirth, new birth, or nascent.
In Japanese, this can be the given name Wakaki.
---
Note: This is not the most common word selection for a calligraphy wall scroll. But if you're a westerner, you can bend the rules a bit.
yē sū shì wǒ de shēng mìng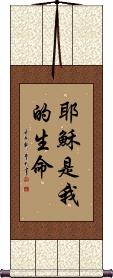 耶穌是我的生命 means Jesus is my life in Chinese.

The first two characters are a transliteration of the name Jesus into Mandarin Chinese.
The third character means, is.

The fourth and fifth mean my or mine.

The last two characters mean life, as in lifespan, or from birth to death.

This is not a common phrase for Chinese Christians, but this is the best way to translate this idea from English to Mandarin Chinese.
Reincarnation / Life in Flux

學生 is how to write "student" in Chinese, pre-WWII Japanese Kanji, and old Korean Hanja.

If you are a "student of life," this might be an interesting wall scroll to hang in your reading room.

The first character means "study" or "learning."
The second character means "life" or "birth." Don't read too much into that second character unless you decide that this means "the birth of studies" or "the life of learning." Everyone in China, Japan (and those who can read Hanja in Korea) will just read this word with the meaning of "student."

If you put the character for "little" in front of this word, it becomes "elementary school student." Prefixed with "middle," it becomes "middle school student." Prefixed with "big," it becomes "university student" (though when these two characters for student are seen alone, it often suggests "university student"). The term "high school student" is written differently.
---

There is a very common simplified version of the first character for this word. You will see this form in modern Japan and mainland China, Singapore, and other places. If you want this simplified version, please click on the character shown to the right instead of the "select and customize" button above.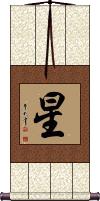 星 is how "star" is written in Chinese, Japanese, and old Korean.

Thousands of years ago, when this character was first developed, there was the belief that you could see remnants of stars in everything. In fact, some early Chinese men of science suggested that all living things came from "stardust" or cosmic debris. This could explain why the upper portion of this character means "sun" (a star itself) and the lower portion means "birth" or "life."

Oddly enough, modern-day scientists suggest that we are all made up of cosmic dust. Seems they were getting it right in China at a time when the western world thought the Earth was flat and the Church was claiming that the sun and all cosmic bodies revolved around the Earth.
This in-stock artwork might be what you are looking for, and ships right away...
The following table may be helpful for those studying Chinese or Japanese...
Title
Characters
Romaji

(Romanized Japanese)

Various forms of Romanized Chinese
Birth
Life
生
shou / iku / sho / iku
shēng / sheng1 / sheng
Birth Old-Age Sickness Death
生老病死
shou rou byou shi

---

shouroubyoushi

---

sho ro byo shi
shēng lǎo bìng sǐ

---

sheng1 lao3 bing4 si3

---

sheng lao bing si

---

shenglaobingsi
sheng lao ping ssu

---

shenglaopingssu
Resurrection
Re-Birth
復活

---

复活
hukkatsu / hukatsu
fù huó / fu4 huo2 / fu huo / fuhuo
Life Force
生命
seimei / inochi
shēng mìng

---

sheng1 ming4

---

sheng ming

---

shengming
Life Energy
Spiritual Energy
氣

---

气 / 気
ki
qì / qi4 / qi
ch`i / chi
New Life
新生
waka ki / wakaki
xīn shēng

---

xin1 sheng1

---

xin sheng

---

xinsheng
hsin sheng

---

hsinsheng
Jesus is My Life
耶穌是我的生命

---

耶稣是我的生命
yē sū shì wǒ de shēng mìng

---

ye1 su1 shi4 wo3 de sheng1 ming4

---

ye su shi wo de sheng ming

---

yesushiwodeshengming
yeh su shih wo te sheng ming

---

yehsushihwoteshengming
Reincarnation
Life in Flux
輪廻転生
rinne tenshou

---

rinnetenshou

---

rinne tensho
Student
學生

---

学生
gakusei
xué shēng

---

xue2 sheng1

---

xue sheng

---

xuesheng
hsüeh sheng

---

hsüehsheng
Star
星
hoshi
xīng / xing1 / xing
hsing
In some entries above you will see that characters have different versions above and below a line.
In these cases, the characters above the line are Traditional Chinese, while the ones below are Simplified Chinese.
Many custom options...




And formats...



Successful Chinese Character and Japanese Kanji calligraphy searches within the last few hours...
All of our calligraphy wall scrolls are handmade.
When the calligrapher finishes creating your artwork, it is taken to my art mounting workshop in Beijing where a wall scroll is made by hand from a combination of silk, rice paper, and wood.
After we create your wall scroll, it takes at least two weeks for air mail delivery from Beijing to you.
Allow a few weeks for delivery. Rush service speeds it up by a week or two for $10!
When you select your calligraphy, you'll be taken to another page where you can choose various custom options.
Check out my lists of Japanese Kanji Calligraphy Wall Scrolls and Old Korean Hanja Calligraphy Wall Scrolls.
Some people may refer to this entry as Birth Life Kanji, Birth Life Characters, Birth Life in Mandarin Chinese, Birth Life Characters, Birth Life in Chinese Writing, Birth Life in Japanese Writing, Birth Life in Asian Writing, Birth Life Ideograms, Chinese Birth Life symbols, Birth Life Hieroglyphics, Birth Life Glyphs, Birth Life in Chinese Letters, Birth Life Hanzi, Birth Life in Japanese Kanji, Birth Life Pictograms, Birth Life in the Chinese Written-Language, or Birth Life in the Japanese Written-Language.
25 people have searched for Birth Life in Chinese or Japanese in the past year.
Birth Life was last searched for by someone else on May 7th, 2023