The name Judo in Chinese / Japanese...
Buy a Judo calligraphy wall scroll here!
Personalize your custom "Judo" project by clicking the button next to your favorite "Judo" title below...
---
---

柔道 is the martial art invented in Japan and known as "Judo" around the world.

Translated directly, it means "Gentle Way" or "Flexible Way"

More about Judo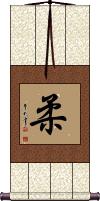 This 柔 Kanji literally means flexible, pliable, gentle, or yielding.

柔 is also the first Kanji of the Japanese martial arts titles of Judo and Jujutsu (Jujitsu). In those cases, it's pronounced "ju" in Japanese. However, alone, the classic pronunciation is "yawara." Some translate this Kanji (in the context of martial arts) as "The Heart of Judo."

Please note that this just means pliable, gentle, and yielding in Chinese and old Korean Hanja. They do know what Judo and Jujitsu are but if this character is seen alone in China or Korea, people generally will not think of the martial arts context.

獅子柔道 is the title for Lion Judo.

This should be considered just a Japanese title, though it is pronounceable and makes sense in Chinese and Korean - so I have included the romanization for those languages above.

講道館 is a title that refers to a certain kind or school of Judo martial arts.

Here's how the characters break down in meaning for this one:
1. Mutual Assistance or Association. Can also refer to a lecture, speech, or explaining something (as in teaching).
2. Way / Path (the Tao/Dao as in Taoism/Daoism)
3. Schoolroom / Building / Establishment / Mansion / Small Castle / Hall (of learning)

Altogether, you get something like, "The Path of Mutual Learning Hall."

More about Kodokan from the Institute of Kodokan.
Mutual Welfare and Benefit
Jita-Kyoei

自他共栄 can be translated in a few different ways. Here are some possibilities:
Benefit mutually and prosper together.
Mutual welfare and benefit.
A learning concept of mutual benefit and welfare (that applies to all fields of society).
Mutual prosperity.

The first two characters are easy to explain. They are "self" and "others." Together, these two characters create a word that means "mutual" (literally "me and them").

The third character can have different meanings depending on context. Here, it means "in common" or "to share."

The fourth character suggests the idea of "prosperity," "flourishing," or becoming "glorious."

It should be noted that these Kanji are used almost exclusively in the context of Judo martial arts. 自他共榮 is not a common or recognized Japanese proverb outside of Judo.

You may see this romanized as Jita-Kyoei or Jitakyoei.
---
In modern Japanese Kanji, the last character looks like

instead of

. If you want the older/traditional version, please let us know when you place your order.

精力善用 means "maximum efficiency" and is often associated with Judo.

It is often matched with "Jita Kyoei" (mutual benefit) to complete the philosophy of Kodokan Judo.

精力 = sei ryoku = energy, vigor, and/or vitality.

善用 = zen yo = to be good at using (something), or to put (something) to good use.
Rank Holder
The one who has achieved rank in martial arts

有段者 is a Japanese term for someone who holds rank in karate, judo, etc.
This term theoretically applies to anyone with rank (above a white belt). However, some schools or dojos may reserve this title for a holder of a black belt.

I'd suggest that you only order this phrase if you have honestly reached this level.

This title does kind of make sense in Chinese but only to those Chinese who practice "kong shou dao" (karate) or when used in the context of martial arts.
Sensei / Master / Teacher / Mister

先生 is sensei, which is associated in the west with a master or instructor of karate, aikido, judo, and other Japanese martial arts.

In reality, this is a term of respect for almost any professional or skilled person (doctor, lawyer, teacher, etc.). Sometimes, it is used for musicians and artists who have achieved a certain level of fame, skill, or accomplishment.

It should be noted that this is also a courtesy title in Chinese but more like calling someone "mister" or "gentleman." It doesn't have the "master" or "teacher" meaning in Chinese - see our Chinese "Master / Sifu / Shi Fu" entry if your audience is Chinese.

In Korean Hanja, this means teacher, instructor, schoolmaster, or schoolmistress.
This entry is for educational purposes. 先生 is kind of a strange thing to put on a wall scroll. It's a title that is used more orally to show respect rather than something written in calligraphy. If you feel it is appropriate in your circumstances, we will create a piece of sensei Japanese calligraphy artwork for you.

柔術 has been somewhat incorrectly spelled and pronounced "Jujitsu" for some time in the English-speaking world. The correct Japanese Romaji is Jujutsu or Juujutsu.

A little background on the word: By combining the Kanji pronounced "Ju" (which means flexible, pliable, gentle, yielding) with the Kanji pronounced "Jutsu" (which means art or technique), we get a meaning that can be translated as "flexible technique," "gentle art" or "yielding technique."
柔術 does make sense in Chinese as well, although pronounced "rou shu" in China.

The Jujutsu system has a history in Japan that started well before the 1600s. Some see this style as a variation of the "Empty Hand Method" (Karate-do). Even the samurai of old used some Jujutsu methods in defending themselves with their unarmed hands against weapons that could pierce their heavy armor.

There are convoluted relationships between various schools and systems of martial arts, but it's generally accepted that Jujutsu led to the development of Judo and a few other variations.
The following table may be helpful for those studying Chinese or Japanese...
Title
Characters
Romaji

(Romanized Japanese)

Various forms of Romanized Chinese
Judo
柔道
juu dou / juudou / ju do
róu dào / rou2 dao4 / rou dao / roudao
jou tao / joutao
Kodokan Judo
講道館柔道

---

讲道馆柔道
kou dou kan juu dou

---

koudoukanjuudou

---

ko do kan ju do
Heart of Judo
柔
yawara
róu / rou2 / rou
jou
Lion Judo
獅子柔道

---

狮子柔道
shi shi juu dou

---

shishijuudou

---

shi shi ju do
shī zi róu dào

---

shi1 zi5 rou2 dao4

---

shi zi rou dao

---

shiziroudao
shih tzu jou tao

---

shihtzujoutao
Kodokan
講道館

---

讲道馆
kou dou kan

---

koudoukan

---

ko do kan
Mutual Welfare and Benefit
自他共榮

---

自他共荣 / 自他共栄
ji ta kyou ei

---

jitakyouei

---

ji ta kyo ei
Seiryoku Zenyo
精力善用
sei ryoku zen yo

---

seiryokuzenyo
Rank Holder
有段者
yuu dan sha

---

yuudansha

---

yu dan sha
yǒu duàn zhě

---

you3 duan4 zhe3

---

you duan zhe

---

youduanzhe
yu tuan che

---

yutuanche
Sensei
Master
Teacher
Mister
先生
sen sei / sensei
xiān shēng

---

xian1 sheng1

---

xian sheng

---

xiansheng
hsien sheng

---

hsiensheng
Jujitsu
Jujutsu
柔術

---

柔术
juu jutsu / juujutsu / ju jutsu
róu shù / rou2 shu4 / rou shu / roushu
jou shu / joushu
In some entries above you will see that characters have different versions above and below a line.
In these cases, the characters above the line are Traditional Chinese, while the ones below are Simplified Chinese.
Many custom options...




And formats...



Successful Chinese Character and Japanese Kanji calligraphy searches within the last few hours...
All of our calligraphy wall scrolls are handmade.
When the calligrapher finishes creating your artwork, it is taken to my art mounting workshop in Beijing where a wall scroll is made by hand from a combination of silk, rice paper, and wood.
After we create your wall scroll, it takes at least two weeks for air mail delivery from Beijing to you.
Allow a few weeks for delivery. Rush service speeds it up by a week or two for $10!
When you select your calligraphy, you'll be taken to another page where you can choose various custom options.
Check out my lists of Japanese Kanji Calligraphy Wall Scrolls and Old Korean Hanja Calligraphy Wall Scrolls.
Some people may refer to this entry as Judo Kanji, Judo Characters, Judo in Mandarin Chinese, Judo Characters, Judo in Chinese Writing, Judo in Japanese Writing, Judo in Asian Writing, Judo Ideograms, Chinese Judo symbols, Judo Hieroglyphics, Judo Glyphs, Judo in Chinese Letters, Judo Hanzi, Judo in Japanese Kanji, Judo Pictograms, Judo in the Chinese Written-Language, or Judo in the Japanese Written-Language.
149 people have searched for Judo in Chinese or Japanese in the past year.
Judo was last searched for by someone else on Oct 1st, 2023