Special note: Preparations for the National Holiday of China are happening now.
Security is tight, and we are not allowed to enter the city of Beijing until Oct 6th (My staff does not have the proper papers, and the international post office is in Beijing).
This will cause a delay for custom orders placed between Sept 12 to Oct 1st.
Not what you want?
Try other similar-meaning words, fewer words, or just one word.

Enter your email below, and get an automatic notice when results for Flight are added or updated...
Flight in Chinese / Japanese...
Buy a Flight calligraphy wall scroll here!
Personalize your custom "Flight" project by clicking the button next to your favorite "Flight" title below...

fēi

hi / fei

비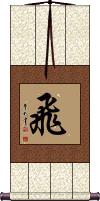 飛 is the single character for flight, flying, or to fly.

It can be a single character in Chinese and Korean Hanja. However, in Japanese, it's often understood as a female given name Fei, or used to mean a rook (shoji). 飛 is best if your audience is Chinese.

péng chéng wàn lǐ

붕정만리

鵬程萬里 is an ancient Chinese proverb used in modern times to wish someone a long and successful career.

It's really about the 10,000 Flight of the Peng (Peng, also known as Roc is a mythical fish that can turn into a bird and take flight).
Breaking down each character:
1. Peng or Roc (a kind of bird).
2. Journey (in this case, a flight).
3. 10,000 (Ten Thousand).
4. Li is a unit of distance often referred to as a "Chinese Mile," though the real distance is about half a kilometer.

Direct Translation: "Peng's Journey [of] 10,000 Li."
Literal meaning: "The 10,000-Li Flying Range Of The Roc."
Perceived meaning: "To have a bright future" or "To go far."
This proverb/idiom comes from the book of Zhuangzi. It tells the tale of a huge fish which could turn into a gigantic bird. This bird was called "peng" and was many miles long. This legendary size allowed the Peng to fly from the Northern Sea to the Southern Sea in a single bound.

Wishing someone "a Peng's Journey of 10,000 Li," will imply that they will be able to travel far without stopping, and will have great success, a long career, and a prosperous future.

shén zhōu

神舟 is the name of the Chinese spacecraft "Shenzhou." The name means "divine craft" or "saintly vessel."

The name is a play on words in Chinese, as there is an alternate name for China that is pronounced "Shenzhou" but means "Divine land" or "Land of the Gods" (just the second character is different).

The first flight of a Shenzhou spacecraft was in 1999, with more missions following. The next is planned for 2008, and will include China's first "spacewalk." The tenth Shenzhou mission is planned for 2015, when China has promised its people that a Chinese astronaut will walk on the moon (or at least orbit the moon - there are two ways to interpret the announcement made in 2005).

For those of you concerned, this word is pronounced more like "Shen Joe" (with a slightly soft "J") than the Romanization would suggest.
---
2016 Update: I wrote the above in 2006. Imagine that, 10 years later, none of the promises came true.
Not the results for flight that you were looking for?
Below are some entries from our dictionary that may match your flight search...
Characters

If shown, 2nd row is Simp. Chinese

Pronunciation
Romanization
Simple Dictionary Definition

飛揚

---

飞扬

see styles
fēi yáng

/ fei1 yang2

---

fei yang

---

hiyou / hiyo / ひよう

More info & calligraphy:
Flying / Flight / Rising Upward

to rise; to fly upward

---

(noun/participle) flying; flight; (personal name) Hiyou

段

see styles
duàn

/ duan4

---

tuan

---

dan / だん

paragraph; section; segment; stage (of a process); classifier for stories, periods of time, lengths of thread etc

---

(1) step; stair; (flight of) steps; (row of) stitches; columns (of print); (n,ctr) (2) grade; rank; level; (counter) (3) counter for breaks in written language (or speech, etc.); (4) (See 級・きゅう・2) dan; senior rank in martial arts, go, shogi, etc.; (place-name, surname) Dan

---

A piece; a section, paragraph. piṇda, a ball, lump, especially of palatable food, sustenance.

翪

see styles
zōng

/ zong1

---

tsung
uneven flight of a bird

翾

see styles
xuān

/ xuan1

---

hsüan
flirtatious; short flight

龖

see styles
dá

/ da2

---

ta
a vista of a dragon in flight

亡命

see styles
wáng mìng

/ wang2 ming4

---

wang ming

---

boumei / bome / ぼうめい

to flee; to go into exile (from prison)

---

(noun/participle) flight from one's country; seeking asylum; defection; emigration (for political reasons); (going into) exile; becoming a (political) refugee

伏長

see styles

fusenaga / ふせなが

going (e.g. of a flight of stairs); length

便名

see styles

binmei / binme / びんめい

flight number

偏航

see styles
piān háng

/ pian1 hang2

---

p`ien hang

/ pien hang

to diverge (from bearing, flight path etc); off course; to yaw

停航

see styles
tíng háng

/ ting2 hang2

---

t`ing hang

/ ting hang

to stop running (of flight of shipping service); to suspend service (flight, sailing); to interrupt schedule

出奔

see styles
chū bēn

/ chu1 ben1

---

ch`u pen

/ chu pen

---

shuppon / しゅっぽん

to flee; to escape into exile

---

(noun/participle) flight; elopement; running away; absconding

前泊

see styles

zenpaku / ぜんぱく

(noun/participle) (See 後泊・こうはく) spending one night ahead (e.g. at a hotel near the airport the night before catching a flight); spending the night before; (surname) Maehaku

大尉

see styles
dà wèi

/ da4 wei4

---

ta wei

---

taii(p);daii / tai(p);dai / たいい(P);だいい

captain (army rank); senior captain

---

(pron. だいい in ref. to the old Japanese navy) captain (Army, U.S. Marine Corps, USAF); lieutenant (Navy); flight lieutenant (RAF, RAAF, RNZAF, etc.)

奔る

see styles

hashiru / はしる

(v5r,vi) (1) to run; (2) to travel (movement of vehicles); to drive; (3) to hurry to; (4) to retreat (from battle); to take flight; (5) to run away from home; (6) to elope; (7) to tend heavily toward; (8) to flash; to streak; to shoot through (e.g. pain)

宇航

see styles
yǔ háng

/ yu3 hang2

---

yü hang
space flight

帰航

see styles

kikou / kiko / きこう

(n,vs,adj-no) homeward voyage or flight

復航

see styles

fukkou / fukko / ふっこう

(noun/participle) return flight or voyage

改簽

---

改签

see styles
gǎi qiān

/ gai3 qian1

---

kai ch`ien

/ kai chien

to change one's reservation; to transfer to a different flight, airline, bus or train

敗走

---

败走

see styles
bài zǒu

/ bai4 zou3

---

pai tsou

---

haisou / haiso / はいそう

to run away (in defeat)

---

(noun/participle) flight; rout; debacle

架次

see styles
jià cì

/ jia4 ci4

---

chia tz`u

/ chia tzu

sortie; flight

機内

see styles

kinai / きない

(adj-no,n) inside a plane; in-flight

機組

---

机组

see styles
jī zǔ

/ ji1 zu3

---

chi tsu
flight crew (on a plane); unit (apparatus)

欠便

see styles

ketsubin / けつびん

flight cancellation

欠航

see styles

kekkou / kekko / けっこう

(noun/participle) cancellation (of a flight or sea voyage)

班期

see styles
bān qī

/ ban1 qi1

---

pan ch`i

/ pan chi

schedule (for flight, voyage etc)

班機

---

班机

see styles
bān jī

/ ban1 ji1

---

pan chi
airliner; (regular) flight; CL:趟[tang4],次[ci4],班[ban1]

班次

see styles
bān cì

/ ban1 ci4

---

pan tz`u

/ pan tzu

---

hanji / はんじ

grade; class number (in school); flight or run number; flight or run (seen as an item); shift (work period)

---

ranking; precedence

直航

see styles
zhí háng

/ zhi2 hang2

---

chih hang

---

chokkou / chokko / ちょっこう

direct flight; to fly directly

---

(noun/participle) direct voyage; direct service

直飛

---

直飞

see styles
zhí fēi

/ zhi2 fei1

---

chih fei
to fly directly; direct flight

石段

see styles

ishidan / いしだん

(flight of) stone steps; stone stairway
Many custom options...




And formats...



This in-stock artwork might be what you are looking for, and ships right away...
Gallery Price: $70.00
Your Price: $38.88
Gallery Price: $70.00
Your Price: $38.88
Gallery Price: $70.00
Your Price: $38.88
Gallery Price: $120.00
Your Price: $48.88
Gallery Price: $70.00
Your Price: $38.88
Gallery Price: $70.00
Your Price: $38.88
The following table may be helpful for those studying Chinese or Japanese...
Title
Characters
Romaji

(Romanized Japanese)

Various forms of Romanized Chinese
Flying
Flight
飛

---

飞
hi / fei
fēi / fei1 / fei
Flying
Flight
Rising Upward
飛揚

---

飞扬
hi you / hiyou / hi yo / hiyo
fēi yáng / fei1 yang2 / fei yang / feiyang
A Bright Future
鵬程萬里

---

鹏程万里
péng chéng wàn lǐ

---

peng2 cheng2 wan4 li3

---

peng cheng wan li

---

pengchengwanli
p`eng ch`eng wan li

---

pengchengwanli

---

peng cheng wan li
Shenzhou Spacecraft
神舟
shén zhōu

---

shen2 zhou1

---

shen zhou

---

shenzhou
shen chou

---

shenchou
In some entries above you will see that characters have different versions above and below a line.
In these cases, the characters above the line are Traditional Chinese, while the ones below are Simplified Chinese.
Successful Chinese Character and Japanese Kanji calligraphy searches within the last few hours...
All of our calligraphy wall scrolls are handmade.
When the calligrapher finishes creating your artwork, it is taken to my art mounting workshop in Beijing where a wall scroll is made by hand from a combination of silk, rice paper, and wood.
After we create your wall scroll, it takes at least two weeks for air mail delivery from Beijing to you.
Allow a few weeks for delivery. Rush service speeds it up by a week or two for $10!
When you select your calligraphy, you'll be taken to another page where you can choose various custom options.
Check out my lists of Japanese Kanji Calligraphy Wall Scrolls and Old Korean Hanja Calligraphy Wall Scrolls.
Some people may refer to this entry as Flight Kanji, Flight Characters, Flight in Mandarin Chinese, Flight Characters, Flight in Chinese Writing, Flight in Japanese Writing, Flight in Asian Writing, Flight Ideograms, Chinese Flight symbols, Flight Hieroglyphics, Flight Glyphs, Flight in Chinese Letters, Flight Hanzi, Flight in Japanese Kanji, Flight Pictograms, Flight in the Chinese Written-Language, or Flight in the Japanese Written-Language.
28 people have searched for Flight in Chinese or Japanese in the past year.
Flight was last searched for by someone else on Jun 9th, 2017