The name Commitment in Chinese / Japanese...
Buy a Commitment calligraphy wall scroll here!
Personalize your custom "Commitment" project by clicking the button next to your favorite "Commitment" title below...
---
---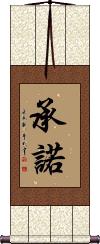 承諾 embodies the idea of commitment but also means to make a big effort or to undertake a great task.

Commitment is caring deeply about something or someone. It is deciding carefully what you want to do and then giving it 100%, holding nothing back. You give your all to a friendship, a task, or something you believe in. You finish what you start. You keep your promises.

In Chinese, this word directly means to undertake something or to make a promise to do something.

Outside of the commitment idea, this particular word can also mean approval, acceptance, consent, assent, acquiescence, or agreement, depending on context (especially in Japanese and Korean). Therefore, this word is probably best if your audience is Chinese.
---
See Also: Partnership | Hard Work | Dedication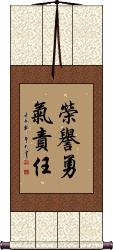 榮譽勇氣責任 is a word list that reads, "榮譽 勇氣 責任" or "honor courage commitment."

If you are looking for this, it is likely that you are in the military (probably Navy or Marines).
---
We worked on this for a long time to find the right combination of words in Chinese. However, it should still be noted that word lists are not very natural in Chinese. Most of the time, there would be a subject, verb, and object for a phrase with this many words.
Devotion to your Profession / Career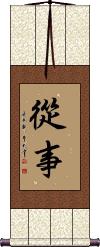 從事/従事 is often used to describe the devotion someone has to their profession - However, it can just mean career, depending on context.

We don't highly recommend this selection for a wall scroll.

In more simple terms, this word also means undertake / to deal with / to handle / to do. It does not have to refer to a career issue, as it could be used to encourage someone that is beginning their university studies etc.

This kind of makes sense in Japanese, however, there is a slight deviation in the way they write the first Kanji in Japanese.
---

Please note that Japanese use an alternate version of the first character. Click on the character to the right if you want the Japanese version of this two-character Devotion-to-your-Profession calligraphy.

伴侶 is a Chinese, Japanese, and old Korean word that expresses the kind of partnership in which a good marriage is founded.

伴侶 could also be translated as mates or companionship or as a noun to refer to a partner or companion.

This does not have to include marriage but at least refers to a partnership with a deep relationship or bond.
---
Note that this is not the same as a business partner. Different words are used for various types business partnerships.
---
See Also: Friendship
Sacrifice / Devotion / Dedication
(complete bodily devotion)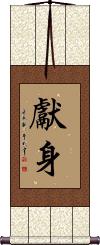 獻身 is used to describe being so devoted to something that you will make sacrifices for that goal/thing/person.

You can also translate this word as any of the following:
Give one's life for...
Sacrifice one's life for...
To dedicate oneself to...
Self-devotion
Dedication

Commit one's energy to...
Devote to...
Self-sacrifice
Giving your whole body to...

This can be a dedication to or for someone but is often used as a dedication or making sacrifices for your country, public service, or a cause. For instance, an Olympic athlete makes great sacrifices to train in his/her sport for their country and compatriots.
---


While the form shown to the upper-left is considered an ancient Japanese version, in modern Japan, they use the simplified version of the first Kanji (shown to the right). Click on the Kanji at the right instead of the button above if you want this modern Japanese version.

If you are looking for a more religious meaning of devotion, see Faith.
---
See Also: Confidence | Dedication
Devotion / Dedication / Attentive / Focused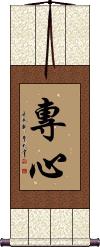 專心 makes a word that means "paying attention with your heart."

It's often translated as "dedication," as in "be absorbed in" or "concentrate one's efforts." It's also used to mean "with the single mind," "whole-heartedly," "paying attention," "undivided attention," "concentration (-ed)," "engrossed," "devotionally (listening/watching)," and/or "attentive."

The first character means "for a particular person, occasion, or purpose," "focused on one single thing," "concentrated," and sometimes, "special."

The second character means "heart" or "mind" by itself.

My favorite translation, which comes from the Oxford Advanced Chinese/English Dictionary, is, "wholehearted devotion."

If it seems like the meaning of this word is quite open, you are correct. The context in which the word is used matters a lot. It can mean different things depending on how you use it. This makes it kind of nice as you can decide what this means to you (within some limits). This is always positive in meaning, so even if a Chinese person reads it differently than you, it will still have a good meaning.
---

In Japanese, they tend to use a variation of the second character which has one less stroke. If you want your calligraphy written this Japanese form, please click on the Kanji shown to the right instead of the button above. Note: Japanese and Chinese people will recognize either form.
---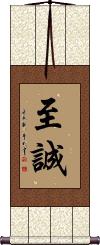 至誠 is the idea that you enter into something with the utmost sincerity and fidelity. Ideas such as devotion, honesty, and "one's true heart" are also contained in this word.

至誠 is a universal word as the Chinese, Japanese Kanji, and Korean Hanja are all identical.
Passionate Love / Ardent Love and Devotion

熱愛 means love passionately, ardent love, devotion, adoration.

The literal meaning is "hot love," as the first character means heat, fervent, hot, and warm. Sometimes it can mean fever, restlessness, or zeal. The second character is, of course, love. If you adore and are devoted to someone with all your love, this is the title for you.
These search terms might be related to Commitment:
Active Duty

Active Duty Military

Call of Duty

Dedication

Devotion / Dedication / Attentive / Focused

Devotion / Diligence / Vigorous / Energetic

Devotion / Enthusiasm

Devotion to Your Profession / Career

Duty / Responsibility / Obligation

Duty to Defend and Protect Country

Extreme Faithfulness

Faithful / Honorable / Trustworthy / Fidelity / Loyalty

Faithfulness

Great Responsibility

Love and Devotion

Love Loyalty Respect

Loyalty

Loyalty / Devotion

Loyalty / Faithful / Devoted

Loyalty to Duty or Master

Passionate Love / Ardent Love and Devotion

Pledge of Lifelong Love

Promise

Religious Devotion / Faith in God / Religious Faith

Respect and Loyalty

Responsibility

Sacrifice / Devotion / Dedication

Sincerity and Devotion

Sincerity and Faithfulness

Ultimate Loyalty to Your Country


The following table may be helpful for those studying Chinese or Japanese...
Title
Characters
Romaji

(Romanized Japanese)

Various forms of Romanized Chinese
Commitment
承諾

---

承诺
shoudaku / shodaku
chéng nuò

---

cheng2 nuo4

---

cheng nuo

---

chengnuo
ch`eng no

---

chengno

---

cheng no
Honor Courage Commitment
名譽, 勇気, 決意

---

名誉, 勇気, 決意
meiyo yuuki ketsui

---

meiyoyuukiketsui

---

meiyo yuki ketsui
Honor Courage Commitment
榮譽勇氣責任

---

荣誉勇气责任
róng yù yǒng qì zé rèn

---

rong2 yu4 yong3 qi4 ze2 ren4

---

rong yu yong qi ze ren

---

rongyuyongqizeren
jung yü yung ch`i tse jen

---

jungyüyungchitsejen

---

jung yü yung chi tse jen
Devotion to your Profession
Career
從事 / 従事

---

从事
jyuu ji / jyuuji / jyu ji
cóng shì / cong2 shi4 / cong shi / congshi
ts`ung shih / tsungshih / tsung shih
Partnership: Marriage
伴侶

---

伴侣
hanryo
bàn lǚ / ban4 lv3 / ban lv / banlv
pan lü / panlü
Sacrifice
Devotion
Dedication
獻身

---

献身
ken shin / kenshin
xiàn shēn

---

xian4 shen1

---

xian shen

---

xianshen
hsien shen

---

hsienshen
Devotion
Dedication
Attentive
Focused
專心 / 専心 / 耑心

---

专心
sen shin / senshin
zhuān xīn

---

zhuan1 xin1

---

zhuan xin

---

zhuanxin
chuan hsin

---

chuanhsin
Sincerity and Devotion
至誠

---

至诚
shisei
zhì chéng

---

zhi4 cheng2

---

zhi cheng

---

zhicheng
chih ch`eng

---

chihcheng

---

chih cheng
Passionate Love
Ardent Love and Devotion
熱愛

---

热爱
netsu ai / netsuai
rè ài / re4 ai4 / re ai / reai
je ai / jeai
In some entries above you will see that characters have different versions above and below a line.
In these cases, the characters above the line are Traditional Chinese, while the ones below are Simplified Chinese.
Many custom options...




And formats...



Successful Chinese Character and Japanese Kanji calligraphy searches within the last few hours...
All of our calligraphy wall scrolls are handmade.
When the calligrapher finishes creating your artwork, it is taken to my art mounting workshop in Beijing where a wall scroll is made by hand from a combination of silk, rice paper, and wood.
After we create your wall scroll, it takes at least two weeks for air mail delivery from Beijing to you.
Allow a few weeks for delivery. Rush service speeds it up by a week or two for $10!
When you select your calligraphy, you'll be taken to another page where you can choose various custom options.
Check out my lists of Japanese Kanji Calligraphy Wall Scrolls and Old Korean Hanja Calligraphy Wall Scrolls.
Some people may refer to this entry as Commitment Kanji, Commitment Characters, Commitment in Mandarin Chinese, Commitment Characters, Commitment in Chinese Writing, Commitment in Japanese Writing, Commitment in Asian Writing, Commitment Ideograms, Chinese Commitment symbols, Commitment Hieroglyphics, Commitment Glyphs, Commitment in Chinese Letters, Commitment Hanzi, Commitment in Japanese Kanji, Commitment Pictograms, Commitment in the Chinese Written-Language, or Commitment in the Japanese Written-Language.
123 people have searched for Commitment in Chinese or Japanese in the past year.
Commitment was last searched for by someone else on Sep 24th, 2023