Did you mean: Danton ?
Canton in Chinese / Japanese...
Buy a Canton calligraphy wall scroll here!
Personalize your custom "Canton" project by clicking the button next to your favorite "Canton" title below...
Switched to secondary search mode due to lack of results using primary.
These secondary results may not be very accurate. Try a different but similar meaning word or phrase for better results. Or...
Look up Canton in my Japanese Kanji & Chinese Character Dictionary
My dictionary is a different system then the calligraphy search you just tried.
If you want a special phrase, word, title, name, or proverb, feel free to contact me, and I will translate your custom calligraphy idea for you.
---
---
Black Flag Gate / Hek Ki Boen

李小龍 is the real full name of Bruce Lee.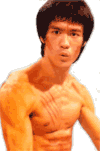 Many people have no idea that Bruce Lee had a "real" Chinese name. In Mandarin and Cantonese, he is known as "Lǐ XiǎoLóng" and "Léi SíuLùng" respectively.

He kept his family name pronunciation (Li = Lee). 李 is a common family name that also means "plum".

His given name 小龍 (Xiao-Long) literally means "little dragon". 李小龍 is why you often see the character for dragon associated with Bruce Lee on various posters etc.

For a pronunciation lesson, the "X" in Romanized Mandarin is pronounced like a "sh" sound but with your tongue at the bottom of your mouth. The vowel sound in "Long" is like the English "oh", not like the "ah" sound in the English word "long".

If you are a big Bruce Lee fan, you should know this information, and you should have this wall scroll hanging in your room or martial arts studio.

Note: Japanese use these same exact Chinese characters / Kanji to write Bruce Lee's real name (with different pronunciation - which is a bit like how the name "Bruce Lee" sounds in English).
---
See Also: Kung Fu | Marital Arts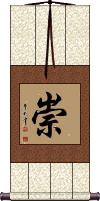 崇 is the surname "Chong" or "Zhong" in Mandarin Chinese, "Sung" in Cantonese and Korean, and Su in Japanese.

崇 is used in other Chinese words and other Asian languages with the following meanings:
high; sublime; lofty; to esteem; to worship; eminent; honorable; honourable; reverence; adore/adoration.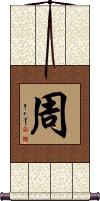 周 originally represents the Zhou Dynasty (1046-256 BC) of ancient China.

It has become a surname in China that romanizes as Zhou from Mandarin, Chou in Taiwan, and often written as Chow from Cantonese.

The actual meaning is circle, circumference, lap, cycle, all, thorough, or perimeter. It is used in Japanese Kanji and old Korean Hanja with that meaning - though it can also be used as a name in those languages as well.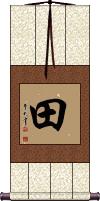 This Chinese, Korean, and Japanese character means field or farm.

Most of the time, this refers to a rice field.

However, this is very commonly used as a surname that romanizes from Mandarin as Tian, and from Cantonese and Taiwanese, it's romanized as Tien.

In Japanese, it can be the surname Yanakida, Tatsuru, or Tazaki. There are other romanizations used for Japanese surnames for this character. When just a field, it is pronounced "den" in Japanese.
Five Families / Tsoi Li Hoi Fut Hung

蔡李何佛雄 is the five families as associated with San Soo Kung Fu.

The characters are always the same, but there are several ways these are romanized from Cantonese, Mandarin, and other dialects. Some common ones include Tsoi Li Hoi Fut Hung and Choi Li Ho Fut Hung.

If you are using a different romanization, that does not mean it's wrong. It might just be that your school is using a different dialect or romanization scheme.
Kung / Gong / Mitsugi
Surname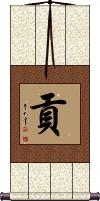 貢 is a Chinese surname that can romanize as Gong from Mandarin or Kung from Cantonese.

In Japan, this can be the surname or given name Mitsugi. The meaning of this is tribute or gifts.

香港 is the Chinese and Japanese name for the Special Administrative Region (SAR) of The Peoples Republic of China known as Hong Kong (formerly a British administrated territory).

The romanization "Hong Kong" is probably a British approximation of the Cantonese pronunciation for this land.
---
See Also: Great Britain | China | Macao | Taiwan | Singapore | Japan | Vietnam | Korea | Asia

In Cantonese, this is Jeet Kune Do. Often it is explained as the "Way of the Intercepting Fist". 截拳道 is a martial art style founded by Bruce Lee.

The first character means to cut-off or sever.
The second character is fist.
The last character means way or method.
---
See Also: Bruce Lee
The following table may be helpful for those studying Chinese or Japanese...
Title
Characters
Romaji

(Romanized Japanese)

Various forms of Romanized Chinese
Black Flag Gate
Hek Ki Boen
黑旗門

---

黑旗门
hēi qí mén

---

hei1 qi2 men2

---

hei qi men

---

heiqimen
hei ch`i men

---

heichimen

---

hei chi men
Bruce Lee
李小龍

---

李小龙
bu ruu su ri

---

buruusuri

---

bu ru su ri

---

burusuri
lǐ xiǎo lóng

---

li3 xiao3 long2

---

li xiao long

---

lixiaolong
li hsiao lung

---

lihsiaolung
Chong
Sung
Su
崇
sū
chóng / chong2 / chong
ch`ung / chung
Chow
Zhou
周
shuu / shu
zhōu / zhou1 / zhou
chou
Tian
Tien
田
den
tián / tian2 / tian
t`ien / tien
Five Families
Tsoi Li Hoi Fut Hung
蔡李何佛雄
cài lǐ hé fú xióng

---

cai4 li3 he2 fu2 xiong2

---

cai li he fu xiong

---

cailihefuxiong
ts`ai li ho fu hsiung

---

tsailihofuhsiung

---

tsai li ho fu hsiung
Kung
Gong
Mitsugi
貢

---

贡
mitsugi
gòng / gong4 / gong
kung
Hong Kong
香港
hon kon / honkon
xiāng gǎng

---

xiang1 gang3

---

xiang gang

---

xianggang
hsiang kang

---

hsiangkang
Jackie Chan
成龍

---

成龙
jakkii chiin

---

jakkiichiin

---

jaki chin

---

jakichin
chéng lóng

---

cheng2 long2

---

cheng long

---

chenglong
ch`eng lung

---

chenglung

---

cheng lung
Jeet Kune Do
截拳道
sekken dou / sekkendou / seken do / sekendo
jié quán dào

---

jie2 quan2 dao4

---

jie quan dao

---

jiequandao
chieh ch`üan tao

---

chiehchüantao

---

chieh chüan tao
In some entries above you will see that characters have different versions above and below a line.
In these cases, the characters above the line are Traditional Chinese, while the ones below are Simplified Chinese.
Many custom options...




And formats...



Successful Chinese Character and Japanese Kanji calligraphy searches within the last few hours...
All of our calligraphy wall scrolls are handmade.
When the calligrapher finishes creating your artwork, it is taken to my art mounting workshop in Beijing where a wall scroll is made by hand from a combination of silk, rice paper, and wood.
After we create your wall scroll, it takes at least two weeks for air mail delivery from Beijing to you.
Allow a few weeks for delivery. Rush service speeds it up by a week or two for $10!
When you select your calligraphy, you'll be taken to another page where you can choose various custom options.
Check out my lists of Japanese Kanji Calligraphy Wall Scrolls and Old Korean Hanja Calligraphy Wall Scrolls.
Some people may refer to this entry as Canton Kanji, Canton Characters, Canton in Mandarin Chinese, Canton Characters, Canton in Chinese Writing, Canton in Japanese Writing, Canton in Asian Writing, Canton Ideograms, Chinese Canton symbols, Canton Hieroglyphics, Canton Glyphs, Canton in Chinese Letters, Canton Hanzi, Canton in Japanese Kanji, Canton Pictograms, Canton in the Chinese Written-Language, or Canton in the Japanese Written-Language.
5 people have searched for Canton in Chinese or Japanese in the past year.
Canton was last searched for by someone else on Oct 10th, 2021