Did you mean: Bo Stef ?
Not what you want?
Try other similar-meaning words, fewer words, or just one word.

Enter your email below, and get an automatic notice when results for Bo Staff are added or updated...
Bo Staff in Chinese / Japanese...
Buy a Bo Staff calligraphy wall scroll here!
Bojutsu / Bojitsu
The art of using a stick as a weapon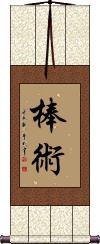 棒術 is the title Bōjutsu (though some use the romanization Bojitsu).

棒術 is a martial art centered around the use of a "bō" or staff as a weapon.

This title is a combination of the Japanese word "bō" (which means staff, stick, club, rod, pole, or cudgel) with the Japanese word "jutsu" (which means art, or technique).

While this word can be pronounced in Chinese (bang shu), it's not a common term in China. Please consider this title to be "Japanese only".
This in-stock artwork might be what you are looking for, and ships right away...
Gallery Price: $108.00
Your Price: $59.88
The following table may be helpful for those studying Chinese or Japanese...
Title
Characters
Romaji

(Romanized Japanese)

Various forms of Romanized Chinese
Bojutsu
Bojitsu
棒術

---

棒术
bou jutsu / boujutsu / bo jutsu / bojutsu
bàng shù / bang4 shu4 / bang shu / bangshu
pang shu / pangshu
In some entries above you will see that characters have different versions above and below a line.
In these cases, the characters above the line are Traditional Chinese, while the ones below are Simplified Chinese.
Not the results for bo staff that you were looking for?
Below are some entries from our dictionary that may match your bo staff search...
Characters

If shown, 2nd row is Simp. Chinese

Pronunciation
Romanization
Simple Dictionary Definition

杖道

see styles
joudou / jodo
じょうどう

More info & calligraphy:
Jodo

(See 杖術) jōdō; form of martial art using a cane staff

責任

---

责任

see styles
zé rèn
ze2 ren4

---

tse jen

---

sekinin
せきにん

More info & calligraphy:
Responsibility

responsibility; blame; duty; CL:個|个[ge4]

---

(1) duty; responsibility (incl. supervision of staff); (2) liability; onus

杖

see styles
zhàng
zhang4

---

chang

---

tsue
つえ

---

cane; walking stick; staff; wand; (surname) Tsuesaki

---

staff

枴

---

拐

see styles
guǎi
guai3

---

kuai

棒

see styles
bàng
bang4

---

pang

---

bou / bo
ぼう

---

(1) pole; rod; stick; baton; (2) line; dash; (expression) (3) (net-sl) (See 棒読み・1) spoken monotonously; (surname) Bou

---

A stick, cudgel; staff

竿

see styles
gān
gan1

---

kan

---

kan
かん

---

(suf,ctr) counter for poles, rods, etc.; (surname) Saosaki

---

staff

筇

see styles
qióng
qiong2

---

ch`iung
chiung

裁

see styles
cái
cai2

---

ts`ai
tsai

---

sai
さい

---

(suffix noun) judge; (surname) Tachi

錫

---

锡

see styles
xī
xi1

---

hsi

---

suzu(p); suzu
すず(P); スズ

---

(kana only) tin (Sn); (given name) Tamau

---

Pewter, tin; to bestow; a monk's staff; pewter

ご幣

see styles
gohei / gohe
ごへい

七僧

see styles
qī sēng
qi1 seng1

---

ch`i seng
chi seng

---

shichisō

下棒

see styles
xià bàng
xia4 bang4

---

hsia pang

---

abō

主任

see styles
zhǔ rèn
zhu3 ren4

---

chu jen

---

shunin
しゅにん

---

person in charge; senior staff; manager; chief; head; (personal name) Shunin

五線

see styles
gosen
ごせん

人員

---

人员

see styles
rén yuán
ren2 yuan2

---

jen yüan

---

jinin
じんいん

---

number of persons; personnel

人手

see styles
rén shǒu
ren2 shou3

---

jen shou

---

hitode
ひとで

---

(1) someone else's hands; someone else's possession; (2) hand (worker); aide; (3) labor; labour; work; manpower; effort; (4) help; assistance; (5) (human) hand; human act

---

a person's hand

人馬

---

人马

see styles
rén mǎ
ren2 ma3

---

jen ma

---

jinba
じんば

---

(1) (See 人馬一体・じんばいったい) man and horse; rider and horse; (2) (See ケンタウロス) centaur

但荼

see styles
dàn tú
dan4 tu2

---

tan t`u
tan tu

---

danda

冗員

---

冗员

see styles
rǒng yuán
rong3 yuan2

---

jung yüan

---

jouin / join
じょういん

---

(1) supernumerary; superfluous staff; excess personnel; (2) useless staff

削る

see styles
kezuru
けずる

剰員

see styles
jouin / join
じょういん

医員

see styles
iin / in
いいん

半旗

see styles
bàn qí
ban4 qi2

---

pan ch`i
pan chi

---

hanki
はんき

---

flag at half-mast

参謀

see styles
sanbou / sanbo
さんぼう

參謀

---

参谋

see styles
cān móu
can1 mou2

---

ts`an mou
tsan mou

員工

---

员工

see styles
yuán gōng
yuan2 gong1

---

yüan kung

在編

---

在编

see styles
zài biān
zai4 bian1

---

tsai pien

地藏

see styles
dì zàng
di4 zang4

---

ti tsang

---

Jizō
じぞう

---

(surname) Jizou

---

Ti-tsang, J. Jizō, Kṣitigarbha, 乞叉底蘗沙; Earth-store, Earth-treasury, or Earthwomb. One of the group of eight Dhvani- Bodhisattvas. With hints of a feminine origin, he is now the guardian of the earth. Though associated with Yama as overlord, and with the dead and the hells, his role is that of saviour. Depicted with the alarum staff with its six rings, he is accredited with power over the hells and is devoted to the saving of all creatures between the nirvana of Śākyamuni and the advent of Maitreya the fifth century he has been especially considered as the deliverer from the hells. His central place in China is at Chiu-hua-shan, forty li south-west of Ch'ing-yang in Anhui. In Japan he is also the protector of travellers by land and his image accordingly appears on the roads; bereaved parents put stones by his images to seek his aid in relieving the labours of their dead in the task of piling stones on the banks of the Buddhist Styx; he also helps women in labour. He is described as holding a place between the gods and men on the one hand and the hells on the other for saving all in distress; some say he is an incarnation of Yama. At dawn he sits immobile on the earth 地 and meditates on the myriads of its beings 藏. When represented as a monk, it may be through the influence of a Korean monk who is considered to be his incarnation, and who came to China in 653 and died in 728 at the age of 99 after residing at Chiu-hua-shan for seventy-five years: his body, not decaying, is said to have been gilded over and became an object of worship. Many have confused 眞羅 part of Korea with 暹羅 Siam. There are other developments of Ti-tsang, such as the 六地藏 Six Ti-tsang, i. e. severally converting or transforming those in the hells, pretas, animals, asuras, men, and the devas; these six Ti-tsang have different images and symbols. Ti-tsang has also six messengers 六使者: Yama for transforming those in hell; the pearl-holder for pretas; the strong one or animals; the devīof mercy for asuras; the devī of the treasure for human beings; one who has charge of the heavens for the devas. There is also the 延命地藏 Yanming Ti-tsang, who controls length of days and who is approached, as also may be P'u-hsien, for that Purpose; his two assistants are the Supervisors of good and evil 掌善 and 掌惡. Under another form, as 勝軍地藏 Ti-tsang is chiefly associated with the esoteric cult. The benefits derived from his worship are many, some say ten, others say twenty-eight. His vows are contained in the 地藏菩薩本願經. There is also the 大乘大集地藏十電經 tr. by Xuanzang in 10 juan in the seventh century, which probably influenced the spread of the Ti-tsang cult.

増員

see styles
zouin / zoin
ぞういん

定詰

see styles
jouzume / jozume
じょうづめ
Many custom options...




And formats...



Successful Chinese Character and Japanese Kanji calligraphy searches within the last few hours...
All of our calligraphy wall scrolls are handmade.
When the calligrapher finishes creating your artwork, it is taken to my art mounting workshop in Beijing where a wall scroll is made by hand from a combination of silk, rice paper, and wood.
After we create your wall scroll, it takes at least two weeks for air mail delivery from Beijing to you.
Allow a few weeks for delivery. Rush service speeds it up by a week or two for $10!
When you select your calligraphy, you'll be taken to another page where you can choose various custom options.
Check out my lists of Japanese Kanji Calligraphy Wall Scrolls and Old Korean Hanja Calligraphy Wall Scrolls.
Some people may refer to this entry as Bo Staff Kanji, Bo Staff Characters, Bo Staff in Mandarin Chinese, Bo Staff Characters, Bo Staff in Chinese Writing, Bo Staff in Japanese Writing, Bo Staff in Asian Writing, Bo Staff Ideograms, Chinese Bo Staff symbols, Bo Staff Hieroglyphics, Bo Staff Glyphs, Bo Staff in Chinese Letters, Bo Staff Hanzi, Bo Staff in Japanese Kanji, Bo Staff Pictograms, Bo Staff in the Chinese Written-Language, or Bo Staff in the Japanese Written-Language.
6 people have searched for Bo Staff in Chinese or Japanese in the past year.
Bo Staff was last searched for by someone else on Oct 10th, 2021