Ships from:

---
Serene Place
Chinese Landscape Print Wall Scroll
---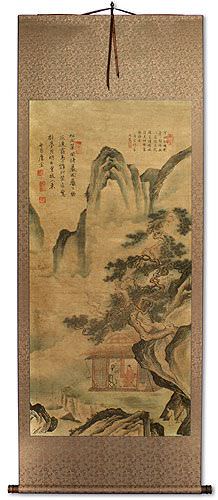 Serene Place
This features a beautiful mountain scene with a house in the foreground. Two men sit in the foyer of the house contemplating philosophy or poetry.

This is a reproduction of an ancient painting by Tang Yin. He was a famous painter of the Ming Dynasty. He was born in 1470 and died around 1523 A.D.

There is also an ancient poem written along the top of the artwork. The poem is a bit challenging to translate, but it refers to the view in this landscape and the serene place depicted.

The special handmade tea-stained paper gives this a lovely antique look. Even though this is a partial print that is finished with some handwork, each one is unique because of the handwork and mottling in the handmade paper. You will see some lines or uneven coloration in the paper - this is done on purpose to make it look antique.
This item was listed or modified
Aug 5th, 2018
Gary's random little things about China:
Where's my soy sauce?
When you sit down to eat at a restaurant in China, you will almost never see a bottle of soy sauce on the table like you might at a Chinese restaurant in the USA or UK.
In Chinese cooking culture, soy sauce is a seasoning reserved for use in the kitchen.
The fact that soy sauce can be found at Chinese restaurants outside of China probably comes from westerner confusion between Japanese food and Chinese food.
The most popular Japanese food outside of Japan is sushi, which of course is always served with soy sauce. This is the most likely reason that soy sauce migrated out of the kitchen on onto the table at your Chinese restaurant in the west.
---