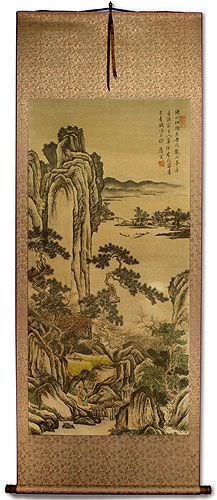 Approximate Measurements
Artwork Panel: 62cm x 129cm ≈ 24½" x 50¾"
Silk/Brocade: 71.5cm x 184cm ≈ 28" x 72½"
Width at Wooden Knobs: 80.5cm ≈ 31¾"
Serene Place
This features a beautiful mountain scene with two people standing in the foreground.

The special handmade tea-stained paper gives this a lovely antique look. Even though this is a partial print that is finished with some handwork, each one is unique because of the handwork and mottling in the handmade paper. You will see some lines or uneven coloration in the paper - this is done on purpose to make it look antique.