Not what you want?
Try searching again using:
1. Other similar-meaning words.
2. Fewer words or just one word.
Heaven Earth in Chinese / Japanese...
Buy a Heaven Earth calligraphy wall scroll here!
Start your custom "Heaven Earth" project by clicking the button next to your favorite "Heaven Earth" title below...

tiān dì

tenchi

천지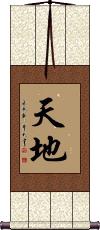 天地 is "Heaven and Earth" in Chinese, Japanese Kanji, and old Korean Hanja.

This title is used in many different contexts. It can be a general term but also used by Buddhists and in other religions.

This can also be used to refer to all of nature, the universe, the top and bottom, realm of life, or sphere of existence.

tiān xià yī jiā

tenka ikka

천하일가

This proverb can also be translated as "The whole world is one family."

It is used to mean that all humans are related under heaven.

The first two characters can be translated as "the world," "whole country," "descended from heaven," "earth under heaven," "the public" or "the ruling power."

The second two characters can mean "one family," "a household," "one's folks," "a house" or "a home." Usually this is read as "a family."

Note: This proverb can be understood in Japanese, though not commonly used.

sì dà

shi dai

사대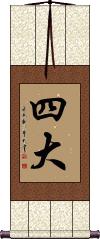 In Buddhism, this is mahābhūta, the four elements of which all things are made: earth, water, fire, and wind.

This can also represent the four freedoms: speaking out freely, airing views fully, holding great debates, and writing big-character posters.

In some context, this can be a university or college offering four-year programs.

To others, this can represent the Tao, Heaven, Earth and King.

Going back to the Buddhist context, these four elements "earth, water, fire, and wind" represent 堅, 濕, 煖, 動, which is: solid, liquid, heat, and motion.

jìng tǔ

jou do

정토

This literally means "pure land" or "clean earth."

淨土 is also the abbreviated title of a Buddhist sect which involves faith in rebirth of Buddha Amitabha (Amitābha) in the Western Heaven. Sometimes this sect is translated as "Paradise of the West." Other titles of this school of Buddhism include Amidism or Elvsium.
---
See Also: Nirvana | Shin Buddhism

dào tiān dì jiàng fǎ

dou ten chi shou hou

도천지장법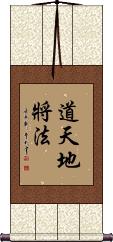 The first chapter of Sun Tzu's Art of War lists five key points to analyzing your situation.

It reads like a 5-part military proverb. Sun Tzu says that to sharpen your skills, you must plan. To plan well, you must know your situation. Therefore, you must consider and discuss the following:

1. Philosophy and Politics: Make sure your way or your policy is agreeable among all of your troops (and the citizens of your kingdom as well). For when your soldiers believe in you and your way, they will follow you to their deaths without hesitation, and will not question your orders.

2. Heaven/Sky: Consider climate / weather. This can also mean to consider whether God is smiling on you. In the modern military, this could be waiting for clear skies so that you can have air support for an amphibious landing.

3. Ground/Earth: Consider the terrain in which the battle will take place. This includes analyzing defensible positions, exit routes, and using varying elevation to your advantage. When you plan an ambush, you must know your terrain, and the best location from which to stage that ambush. This knowledge will also help you avoid being ambushed, as you will know where the likely places in which to expect an ambush from your enemy.

4. Leadership: This applies to you as the general, and also to your lieutenants. A leader should be smart and be able to develop good strategies. Leaders should keep their word, and if they break a promise, they should punish themselves as harshly as they would punish subordinates. Leaders should be benevolent to their troops, with almost a fatherly love for them. Leaders must have the ability to make brave and fast decisions. Leaders must have steadfast principles.

5. [Military] Methods: This can also mean laws, rules, principles, model, or system. You must have an efficient organization in place to manage both your troops and supplies. In the modern military, this would be a combination of how your unit is organized, and your SOP (Standard Operating Procedure).
---
Notes: This is a simplistic translation and explanation. Much more is suggested in the actual text of the Art of War (Bing Fa). It would take a lot of study to master all of these aspects. In fact, these five characters can be compared to the modern military acronyms such as BAMCIS or SMEAC.

CJK notes: I have included the Japanese and Korean pronunciations but in Chinese, Korean and Japanese, this does not make a typical phrase (with subject, verb, and object) it is a list that only someone familiar with Sun Tzu's writings would understand.
Search for Heaven Earth in my Japanese & Chinese Dictionary
This in-stock artwork might be what you are looking for, and ships right away...
Gallery Price: $142.00
Your Price: $78.88
Gallery Price: $142.00
Your Price: $78.88
Gallery Price: $70.00
Your Price: $38.88
Gallery Price: $70.00
Your Price: $38.88
The following table may be helpful for those studying Chinese or Japanese...
Title
Characters
Romaji

(Romanized Japanese)

Various forms of Romanized Chinese
Heaven and Earth
天地
tenchi
tiān dì / tian1 di4 / tian di / tiandi
t`ien ti / tienti / tien ti
One Family Under Heaven
天下一家
tenka ikka / tenkaikka / tenka ika / tenkaika
tiān xià yī jiā

---

tian1 xia4 yi1 jia1

---

tian xia yi jia

---

tianxiayijia
t`ien hsia i chia

---

tienhsiaichia

---

tien hsia i chia
Shidai
Sida
Mahabhuta
四大
shi dai / shidai
sì dà / si4 da4 / si da / sida
ssu ta / ssuta
Pure Land
Jodo
淨土

---

净土
jou do / joudo / jo do / jodo
jìng tǔ / jing4 tu3 / jing tu / jingtu
ching t`u / chingtu / ching tu
Water Dragon
Coiled Dragon
蟠龍

---

蟠龙
han ryuu / hanryuu / han ryu / hanryu
pān lóng / pan1 long2 / pan long / panlong
p`an lung / panlung / pan lung
Art of War: 5 Points of Analysis
道天地將法

---

道天地将法
dou ten chi shou hou

---

doutenchishouhou

---

do ten chi sho ho

---

dotenchishoho
dào tiān dì jiàng fǎ

---

dao4 tian1 di4 jiang4 fa3

---

dao tian di jiang fa

---

daotiandijiangfa
tao t`ien ti chiang fa

---

taotientichiangfa

---

tao tien ti chiang fa
In some entries above you will see that characters have different versions above and below a line.
In these cases, the characters above the line are Traditional Chinese, while the ones below are Simplified Chinese.
Successful Chinese Character and Japanese Kanji calligraphy searches within the last few hours...
All of our calligraphy wall scrolls are handmade.
When the calligrapher finishes creating your artwork, it is taken to my art mounting workshop in Beijing where a wall scroll is made by hand from a combination of silk, rice paper, and wood.
After we create your wall scroll, it takes at least two weeks for air mail delivery from Beijing to you.
Allow a few weeks for delivery. Rush service speeds it up by a week or two for $10!
When you select your calligraphy, you'll be taken to another page where you can choose various custom options.
Check out my lists of Japanese Kanji Calligraphy Wall Scrolls and Old Korean Hanja Calligraphy Wall Scrolls.
Some people may refer to this entry as Heaven Earth Kanji, Heaven Earth Characters, Heaven Earth in Mandarin Chinese, Heaven Earth Characters, Heaven Earth in Chinese Writing, Heaven Earth in Japanese Writing, Heaven Earth in Asian Writing, Heaven Earth Ideograms, Chinese Heaven Earth symbols, Heaven Earth Hieroglyphics, Heaven Earth Glyphs, Heaven Earth in Chinese Letters, Heaven Earth Hanzi, Heaven Earth in Japanese Kanji, Heaven Earth Pictograms, Heaven Earth in the Chinese Written-Language, or Heaven Earth in the Japanese Written-Language.
6 people have searched for Heaven Earth in Chinese or Japanese in the past year.
Heaven Earth was last searched for by someone else on Dec 18th, 2015