Buy a Custom Nirvana Chinese/Japanese Calligraphy Wall Scroll
We have many options to create artwork with the Chinese characters / Asian symbols / Japanese Kanji for Nirvana on a wall scroll or portrait.
If you don't find what you are looking for below, there are a dizzying number of Nirvana-related words and phrases which you can find here: Japanese/Chinese/Buddhist Dictionary entries for Nirvana.
Some people associate Nirvana with Heaven, so you might want to check out this page: Heaven.
Quick links to words on this page...

niè pán

ne han

열반

These are the Chinese characters that mean Nirvāṇa. I will let you decide what Nirvana means to you.

涅槃 / 涅盤 can also be translated as "Buddha's death and salvation" or "death of a Buddhist monk" depending on context. However, this is not seen with any bad meaning. You could replace "death" with "moving on," as that is how it's seen in a Buddhist context.
---
More info from our dictionary: Nirvana

fèng huáng niè pán

This proverb suggests "Legendary Phoenix rises from the ashes." Literally, it means, "Legendary Phoenix [reaches] Nirvana."

There is a legend in China of a great bird which is reborn once every 500 years. This bird gathers all the ill-will, suffering, desire, and other negative things of the whole world. The bird then plunges into the fire to burn away all negative things, sacrificing itself in the process (achieving Nirvana, or perhaps allowing others the opportunity to reach Nirvana).

500 years later, the phoenix is reborn from the ashes again, and the cycle repeats.

pú tí

bodai

보리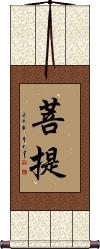 The Bodhi is the moment of completion in Buddhism. It is when all things become known, and you have completed your journey to enlightenment.

The reference is to the Bodhi tree where Siddhartha Gautama (the legendary man and who established the Buddhist religion), achieved enlightenment. Sometimes this is referred to as "the tree of enlightenment" but if you want the full version with the character for tree on the end, please see our other entry.
---
See Also: Buddhism | Buddha | Enlightenment

ken shou jyo butsu

見性成佛 is a complex concept in Japanese Buddhism. 見性成佛 is the initial enlightenment that leads to self-awareness, becoming Buddha, and the path to enter Nirvana.


---
See Also: Buddhism | Enlightenment | Initial Enlightenment

nā mó ē mí tuó fó

namu amida butsu

나무아미타불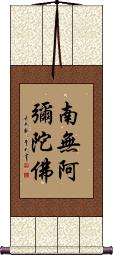 This is how to express "The Compassionate Amitabha Buddha" (especially for the Pure Land Buddhist Sect).

Some will translate as, "Homage to Amitâbha Buddha" or "I seek refuge in the Amitâbha Buddha."

This is valid in Chinese characters Japanese Kanji, and old Korean Hanja.

Sometimes modern Japanese use a different version of the 4th and last Kanji but the version shown here is the most universal.

This is used to pay homage to Amitabha Buddha.
---
See Also: Bodhisattva | Buddhism

namu amida butsu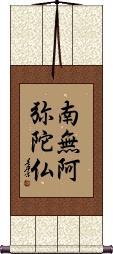 This is the modern Japanese version of "Namu Amida Butsu" or "The Compassionate Amitabha Buddha."

Some will translate this as, "I sincerely believe in Amitabha; Lord have mercy on me."

This phrase especially applies to Japanese Pure Land Buddhists.

There is a more universal version using ancient characters (with more strokes) for the 4th and last characters. That version is also used in Chinese, Korean, and occasionally Vietnamese. This is used to pay homage to Amitabha Buddha.
---
See Also: Bodhisattva | Buddhism

bā zhèng dào

ha sshou dou

팔정도

八正道 is a complex set of steps that Buddhists much take to cleanse karma, achieve enlightenment, eventually cease the cycle of rebirth and live in a state of Nirvana.
---
If the idea of 8 separate wall scrolls plus this title is too much for you, we can custom-arrange all eight of these concepts on a single wall scroll. Just post your request on our Asian calligraphy forum, and we can discuss options.

Note: This term is exclusively used by devout Buddhists. It is not a common term, and is remains an unknown concept to most Japanese and Chinese people.
---
See Also: Buddhism | Enlightenment

itami naku shite erumono wa nashi

This Japanese phrase means "no pain, no gain."

Literally, this suggests that with pain, a gain must follow.

The pain Kanji here can also be translated as sorrow or suffering. The gain can also mean profit, advantage, or benefit. In Japanese Buddhist context, that gain Kanji can mean rebirth in paradise, entering nirvana.

The character break down:
痛みなく (itami naku) pain; ache; sore; grief; distress. The naku part adds a meaning of "a lot of" or "extended"
して (shite) and then. (indicates a causative expression; acts as a connective particle)
得る (eru) to get; to acquire; to obtain; to procure; to earn; to win; to gain; to secure; to attain.
もの (mono) conjunctive particle indicating a cause or reason.
なし (nashi) none of; -less; without; no.
---
Note: Because this selection contains some special Japanese Hiragana characters, it should be written by a Japanese calligrapher.

jìng tǔ

jou do

정토

This literally means "pure land" or "clean earth."

This is also the abbreviated title of a Buddhist sect which involves faith in rebirth of Buddha Amitabha (Amitābha) in the Western Heaven. Sometimes this sect is translated as "Paradise of the West." Other titles of this school of Buddhism include Amidism or Elvsium.
---
See Also: Shin Buddhism

zhuǎn shì

ten sei

전세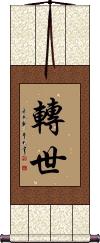 轉世 is the Buddhist idea of reincarnation or transmigration.

Other definitions of this term: "Attainer of Nirvana from within the desire realm," "A practitioner who enters directly into Nirvana from the desire realm, without traversing the form and formless realms. One of the 27 kinds of Hinayana sages," or simply, "to return again to this life."

轉世 is also a Japanese title but the first Kanji was slightly simplified after WWII. Just let us know if you want the modern Japanese version when you order.
---

shi ken ha ra mitsu dai kou myou

This is "shiken haramitsu daikōmyō," a famous Japanese Buddhist mantra.

四拳 = shi-ken = four fist (many translate this as "four hearts").
波羅蜜 = ha-ra-mitsu = A loanword representing pāramitā, or entrance into Nirvana. Awkwardly, it also means jackfruit.
大光明 = dai-kou-myo = big/great light bright (great bright light).

Shiken represents four hearts:
1. The Merciful Heart - Love and caring for all living things.
2. The Sincere Heart - Pursues righteousness, or the right path - sincerely trying to do what is right.
3. The Attuned Heart - Knows that nature and fate have their ways, and thus stays in tune with the universe.
4. The Dedicated Heart - Steadfast on the chosen path to the end.

jì

jaku

적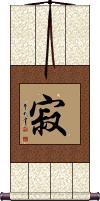 寂 means silent, solitary, quiet, calm, still, rest, or tranquil.

This also has a strong Buddhist association where it can mean "entering into Nirvana." In that context, this is sometimes used to refer to the passing of a Buddhist monk (he is silent, as he has entered Nirvana). For the living, this is about tranquility (especially of mind).

Some will also use this to mean "elegant simplicity."

From Sanskrit, this can represent praśama, vivikta, śānti, or nibbāna (nirvāṇa).

mén

mon

문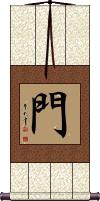 門 is the Chinese, Japanese Kanji, and old Korean Hanja for gate, door, gateway, doorway, opening, entrance, valve, or switch.

Most commonly, this is simply gate or door.

門 is also a Chinese surname that romanizes as Men.

In Japanese, this can be surnames romanizing as Yuki, Mon, To, or Kado.

In the Buddhist context, beyond door or gate, this can be a counter for a Buddhist sect, teaching, or school (we might say "slice" of bread, this would be "gate" of teaching). In this way, it kind of refers to one of several doors that lead to salvation or nirvana.
Search for in my Japanese & Chinese Dictionary
The following table may be helpful for those studying Chinese or Japanese...
Title
Characters
Romaji

(Romanized Japanese)

Various forms of Romanized Chinese
Nirvana
涅槃 / 涅盤

---

涅盘
ne han / nehan
niè pán / nie4 pan2 / nie pan / niepan
nieh p`an / niehpan / nieh pan
Phoenix Rise from the Ashes
鳳凰涅磐

---

凤凰涅磐
fèng huáng niè pán

---

feng4 huang2 nie4 pan2

---

feng huang nie pan

---

fenghuangniepan
feng huang nieh p`an

---

fenghuangniehpan

---

feng huang nieh pan
Bodhi - Awakening Enlightenment
菩提
bodai
pú tí / pu2 ti2 / pu ti / puti
p`u t`i / puti / pu ti
Kensho Jyobutsu - Enlightenment - Path to Buddha
見性成佛

---

見性成仏
ken shou jyo butsu

---

kenshoujyobutsu

---

ken sho jyo butsu

---

kenshojyobutsu
Namo Amitabha Buddha
南無阿彌陀佛

---

南无阿弥陀佛
namu amida butsu

---

namuamidabutsu
nā mó ē mí tuó fó

---

na1 mo2 e1 mi2 tuo2 fo2

---

na mo e mi tuo fo

---

namoemituofo
na mo o mi t`o fo

---

namoomitofo

---

na mo o mi to fo
Namu Amida Butsu
南無阿弥陀仏
namu amida butsu

---

namuamidabutsu
The Noble Eightfold Path
八正道
ha sshou dou

---

hasshoudou

---

ha sho do

---

hashodo
bā zhèng dào

---

ba1 zheng4 dao4

---

ba zheng dao

---

bazhengdao
pa cheng tao

---

pachengtao
No Pain No Gain
痛みなくして得るものなし
itami naku shite erumono wa nashi
Pure Land
Jodo
淨土

---

净土
jou do / joudo / jo do / jodo
jìng tǔ / jing4 tu3 / jing tu / jingtu
ching t`u / chingtu / ching tu
Reincarnation (Buddhism)
轉世

---

转世
ten sei / tensei
zhuǎn shì

---

zhuan3 shi4

---

zhuan shi

---

zhuanshi
chuan shih

---

chuanshih
Shiken Haramitsu Daikomyo
四拳波羅蜜大光明
shi ken ha ra mitsu dai kou myou

---

shi ken ha ra mitsu dai ko myo

---

shikenharamitsudaikomyo
Silent
Solitary
寂
jaku
jì / ji4 / ji
chi
Gate
門

---

门
mon
mén / men2 / men
In some entries above you will see that characters have different versions above and below a line.
In these cases, the characters above the line are Traditional Chinese, while the ones below are Simplified Chinese.
All of our calligraphy wall scrolls are handmade.
When the calligrapher finishes creating your artwork, it is taken to my art mounting workshop in Beijing where a wall scroll is made by hand from a combination of silk, rice paper, and wood.
After we create your wall scroll, it takes at least two weeks for air mail delivery from Beijing to you.
Allow a few weeks for delivery. Rush service speeds it up by a week or two for $10!
When you select your calligraphy, you'll be taken to another page where you can choose various custom options.