Trustworthy in Chinese / Japanese...
Buy a Trustworthy calligraphy wall scroll here!
Personalize your custom "Trustworthy" project by clicking the button next to your favorite "Trustworthy" title below...
Faithful / Honorable / Trustworthy / Fidelity / Loyalty

信義 is a word that is often used to describe a person with an honest and loyal reputation.

To put it simply, this applies to somebody you can trust (with your life).

In Chinese, this is often defined as good faith, honor, trust, and justice.
In Korean, this word means fidelity, truthfulness, or faithfulness.
In Japanese: faith, fidelity and loyalty. It's also a Japanese male given name when pronounced "Nobuyoshi".

The first two characters mean resolute with firm determination.
The second two characters mean reliable.

Together, this creates a 4-character expression that clearly means dependable.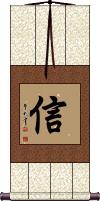 信 is another character that expresses the idea of honesty.

It can also mean truth, faith, believe in, fidelity, sincerity, trust and/or confidence.

Some have included this in the list for the Bushido, although "makoto" is probably more common/popular.

Note: In some context, this character can mean letter, news or envoy. However, alone, it will generally be read with the honesty-meaning.
---

Honesty is being truthful and sincere. It is important because it builds trust. When people are honest, they can be relied on not to lie, cheat or steal. Being honest means that you accept yourself as you are. When you are open and trustworthy, others can believe in you.

正直 is one of the 8 key concepts of Tang Soo Do.
---
Note: This entry is cross-listed as "integrity" because it also fits that definition.



Please note that the second Kanji sometimes has an alternate form in Japanese. Let us know if you want the alternate form shown to the right.
---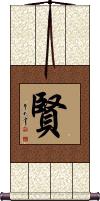 賢 is used to refer to being a wise, trustworthy and virtuous person. But it also contains the ideas of intelligence, genius, scholarship, virtue, sage, saint, good, excellent in character.

賢 is used in Chinese, Japanese Kanji, and old Korean Hanja. Also used in a Buddhist context with same meaning.

Note: Can also be male given name, Masaru, in Japanese.
The following table may be helpful for those studying Chinese or Japanese...
Title
Characters
Romaji

(Romanized Japanese)

Various forms of Romanized Chinese
Faithful
Honorable
Trustworthy
Fidelity
Loyalty
信義

---

信义
shingi
xìn yì / xin4 yi4 / xin yi / xinyi
hsin i / hsini
Dependable
堅毅可靠

---

坚毅可靠
jiān yì kě kào

---

jian1 yi4 ke3 kao4

---

jian yi ke kao

---

jianyikekao
chien i k`o k`ao

---

chienikokao

---

chien i ko kao
Honesty
Fidelity
信
shin
xìn / xin4 / xin
hsin
Honesty
正直
shoujiki / shojiki
zhèng zhí

---

zheng4 zhi2

---

zheng zhi

---

zhengzhi
cheng chih

---

chengchih
Wise and Virtuous
賢

---

贤
ken
xián / xian2 / xian
hsien
In some entries above you will see that characters have different versions above and below a line.
In these cases, the characters above the line are Traditional Chinese, while the ones below are Simplified Chinese.
Not the results for trustworthy that you were looking for?
Below are some entries from our dictionary that may match your trustworthy search...
Characters

If shown, 2nd row is Simp. Chinese

Pronunciation
Romanization
Simple Dictionary Definition

強い

see styles
tsuyoi
つよい

More info & calligraphy:
Tsuyoi

(adjective) (1) strong; potent; competent; domineering; tough; (adjective) (2) strong; brawny; powerful; healthy; rugged; (adjective) (3) good (at); skilled; knowledgeable; (adjective) (4) (as 〜に強い) being able to handle; know how to deal (with); durable (against); resistant (to); resilient; (adjective) (5) firm; rigid; solid; (adjective) (6) intense; strong; fierce; high; (adjective) (7) dependable; trustworthy

信實

---

信实

see styles
xìn shí
xin4 shi2

---

hsin shih

---

nobuzane
のぶざね

---

(personal name) Nobuzane

可信

see styles
kě xìn
ke3 xin4

---

k`o hsin
ko hsin

---

kashin
よしのぶ

---

(given name) Yoshinobu

---

believable

堅人

see styles
katajin
かたじん

実体

see styles
jittei / jitte
じってい

慥か

see styles
tashika
たしか

把穩

---

把稳

see styles
bǎ wěn
ba3 wen3

---

pa wen

着実

see styles
chakujitsu
ちゃくじつ

確か

see styles
tashika
たしか

誠信

---

诚信

see styles
chéng xìn
cheng2 xin4

---

ch`eng hsin
cheng hsin

---

jōshin
まさのぶ

---

(personal name) Masanobu

---

True and trustworthy, true, reliable; true and trustworthy

らしい

see styles
rashii / rashi
らしい

信得過

---

信得过

see styles
xìn de guò
xin4 de5 guo4

---

hsin te kuo

守信用

see styles
shǒu xìn yòng
shou3 xin4 yong4

---

shou hsin yung

弛まぬ

see styles
tayumanu
たゆまぬ

靠得住

see styles
kào de zhù
kao4 de5 zhu4

---

k`ao te chu
kao te chu

值得信賴

---

值得信赖

see styles
zhí de xìn lài
zhi2 de5 xin4 lai4

---

chih te hsin lai

頼もしい

see styles
tanomoshii / tanomoshi
たのもしい

信用できる

see styles
shinyoudekiru / shinyodekiru
しんようできる

信用出来る

see styles
shinyoudekiru / shinyodekiru
しんようできる

信頼に足る

see styles
shinrainitaru
しんらいにたる

当てになる

see styles
ateninaru; ateninaru
あてになる; アテになる

一點水一個泡

---

一点水一个泡

see styles
yī diǎn shuǐ yī gè pào
yi1 dian3 shui3 yi1 ge4 pao4

---

i tien shui i ko p`ao
i tien shui i ko pao

Variations:
シュア
シュアー

see styles
shua; shuaa / shua; shua
シュア; シュアー
(adjectival noun) sure; certain; trustworthy

Variations:
信用できる
信用出来る

see styles
shinyoudekiru / shinyodekiru
しんようできる
(exp,adj-f) (See 信用・しんよう・1) believable; credible; trustworthy

Variations:
確か(P)
確(io)
慥か

see styles
tashika
たしか
(noun or adjectival noun) (1) sure; certain; positive; definite; (noun or adjectival noun) (2) reliable; trustworthy; safe; sound; firm; accurate; correct; exact; (adverb) (3) If I'm not mistaken; If I remember correctly; If I remember rightly
Many custom options...




And formats...



Successful Chinese Character and Japanese Kanji calligraphy searches within the last few hours...
All of our calligraphy wall scrolls are handmade.
When the calligrapher finishes creating your artwork, it is taken to my art mounting workshop in Beijing where a wall scroll is made by hand from a combination of silk, rice paper, and wood.
After we create your wall scroll, it takes at least two weeks for air mail delivery from Beijing to you.
Allow a few weeks for delivery. Rush service speeds it up by a week or two for $10!
When you select your calligraphy, you'll be taken to another page where you can choose various custom options.
Check out my lists of Japanese Kanji Calligraphy Wall Scrolls and Old Korean Hanja Calligraphy Wall Scrolls.
Some people may refer to this entry as Trustworthy Kanji, Trustworthy Characters, Trustworthy in Mandarin Chinese, Trustworthy Characters, Trustworthy in Chinese Writing, Trustworthy in Japanese Writing, Trustworthy in Asian Writing, Trustworthy Ideograms, Chinese Trustworthy symbols, Trustworthy Hieroglyphics, Trustworthy Glyphs, Trustworthy in Chinese Letters, Trustworthy Hanzi, Trustworthy in Japanese Kanji, Trustworthy Pictograms, Trustworthy in the Chinese Written-Language, or Trustworthy in the Japanese Written-Language.
51 people have searched for Trustworthy in Chinese or Japanese in the past year.
Trustworthy was last searched for by someone else on Jul 19th, 2021