Humor in Chinese / Japanese...
Buy a Humor calligraphy wall scroll here!
Personalize your custom "Humor" project by clicking the button next to your favorite "Humor" title below...
---
---

河東獅吼 is actually a proverb and joke about the plight and fear of a hen-pecked husband.

In ancient times, it was used to describe a wife who would berate her husband or go into jealous rages. However, this phrase currently brings about ideas of a husband that cowers in fear and cringes when his wife screams (or roars) at him.

Please only purchase this as a good-natured joke. If your wife or husband does not have a good sense of humor, it's probably not a good idea to hang this on your wall to irritate your mate.
The Whole Room Rocks With Laughter
The perfect scroll if you love humor or as a gift for the comedian in your life

In China, 哄堂大笑 is a proverb that is used in response to a good joke or witty comment.

The story goes that Mr. Feng and Mr. He were both senior officials in the Song Dynasty (about a thousand years ago). One day, Mr. Feng walked into their shared office wearing a new pair of boots. The boots caught the eye of Mr. He who said, "New boots! - how much were they?." Mr. Feng lifted one of the boots off the ground as if to show it off and responded, "900 coins."
Astonished, Mr. Feng explained, "900? How can that be? - I paid 1800 coins for my boots!." Mr. Feng then lifted his other foot off the ground and said, "This boot was also 900 coins."

It is said that the whole room was shaking from the laughter of all that heard Mr. Feng's joke on Mr. He.


One Who Does Not Do Bad Things, Worries Not of Knocks at His Door
bái tiān bú zuò kuī xīn shì yè bàn qiāo mén bù chī jīng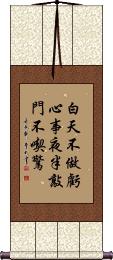 白天不做亏心事夜半敲门不吃惊 literally translates as: [If one does] not do bad things in the daytime, one need not be alarmed at knocks on the door in the middle of the night.

The meaning is something like, "A quiet conscience sleeps in thunder." Basically, the message is, "don't commit crimes and you won't be jumpy every time the doorbell rings (so don't do anything wrong and your life will have fewer worries and you can sleep at night)."
A sly rabbit has three openings to its den
-or- The crafty rabbit has three different entrances to its lair

狡兔三窟 speaks to the cunning character of a sly rabbit. Such a rabbit will not have just one hole but rather a few entrances and exits from his liar.

About 2,250 years ago, a rich man told his assistant to go and buy something wonderful that he did not yet possess. He was a man that already had everything, so the assistant went to a local village that owed a great deal of money to the rich man. The assistant told the village elders that all debts were forgiven. All the villagers rejoiced and praised the rich man's name. The assistant returned to the rich man and told him he had purchased "benevolence" for him. The rich man was mildly amused but perhaps slightly confused by the action.

Sometime later, the rich man fell from the favor of the Emperor and was wiped out without a penny to his name. One day he was walking aimlessly and stumbled into the village where the debts had been forgiven. The villagers recognized the man and welcomed him with open arms, clothed, fed him, and gave him a place to live.

Without trying, the man had become like the sly and cunning rabbit. When his exit was blocked, he had another hole to emerge from - and was reborn. This story and idiom come from a book titled "The Amendment" - it's unclear whether this man actually existed or not. But the book did propel this idiom into common use in China.

Still today, this idiom about the rabbit is used in China when suggesting "backup plans," alternate methods, and anyone with a good escape plan.
Roar of Laughter / Big Laughs

大笑 can be translated as "roar of laughter," "loud laughter," "hearty laugh," or "cachinnation."

The first character means big or great, and the second means to laugh or smile.

If you like humor, this is a great wall scroll to hang in your home.
---
See Also: The Whole Room Rocks With Laughter
Happy / Laughter / Cheerful Bliss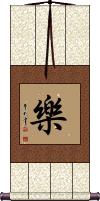 樂 is a single-character form of happiness or bliss that holds the ideas of laughing and having a good time.

This can also be translated as happy, glad, enjoyable, fun, and sometimes, music.

This a really good character if your audience is Chinese.

This is not a word seen alone very often in Korean.


In Japanese, this character is written like the image shown to the right. If you order this from the Japanese master calligrapher, it will look like this instead of the character shown above.
Note: In Japanese, this has a meaning of comfort, ease, and enjoyment.
---
See Also: Joyfulness
The following table may be helpful for those studying Chinese or Japanese...
Title
Characters
Romaji

(Romanized Japanese)

Various forms of Romanized Chinese
Sense of Humor
笑いの壺
warainotsubo
The Roar of the Lioness
河東獅吼

---

河东狮吼
hé dōng shī hǒu

---

he2 dong1 shi1 hou3

---

he dong shi hou

---

hedongshihou
ho tung shih hou

---

hotungshihhou
The Whole Room Rocks With Laughter
哄堂大笑
hōng tāng dà xiào

---

hong1 tang1 da4 xiao4

---

hong tang da xiao

---

hongtangdaxiao
hung t`ang ta hsiao

---

hungtangtahsiao

---

hung tang ta hsiao
One Who Does Not Do Bad Things, Worries Not of Knocks at His Door
白天不做虧心事夜半敲門不吃驚

---

白天不做亏心事夜半敲门不吃惊
bái tiān bú zuò kuī xīn shì yè bàn qiāo mén bù chī jīng

---

bai2 tian1 bu2 zuo4 kui1 xin1 shi4 ye4 ban4 qiao1 men2 bu4 chi1 jing1

---

bai tian bu zuo kui xin shi ye ban qiao men bu chi jing
pai t`ien pu tso k`uei hsin shih yeh pan ch`iao men pu ch`ih ching

---

pai tien pu tso kuei hsin shih yeh pan chiao men pu chih ching
A sly rabbit has three openings to its den
狡兔三窟
jiǎo tù sān kū

---

jiao3 tu4 san1 ku1

---

jiao tu san ku

---

jiaotusanku
chiao t`u san k`u

---

chiaotusanku

---

chiao tu san ku
Roar of Laughter
Big Laughs
大笑
taishou / taisho
dà xiào / da4 xiao4 / da xiao / daxiao
ta hsiao / tahsiao
Happy
Laughter
Cheerful Bliss
樂 / 楽

---

乐
raku
lè / le4 / le
Happy Laughter
歡笑

---

欢笑
huān xiào

---

huan1 xiao4

---

huan xiao

---

huanxiao
huan hsiao

---

huanhsiao
In some entries above you will see that characters have different versions above and below a line.
In these cases, the characters above the line are Traditional Chinese, while the ones below are Simplified Chinese.
Many custom options...




And formats...



Successful Chinese Character and Japanese Kanji calligraphy searches within the last few hours...
All of our calligraphy wall scrolls are handmade.
When the calligrapher finishes creating your artwork, it is taken to my art mounting workshop in Beijing where a wall scroll is made by hand from a combination of silk, rice paper, and wood.
After we create your wall scroll, it takes at least two weeks for air mail delivery from Beijing to you.
Allow a few weeks for delivery. Rush service speeds it up by a week or two for $10!
When you select your calligraphy, you'll be taken to another page where you can choose various custom options.
Check out my lists of Japanese Kanji Calligraphy Wall Scrolls and Old Korean Hanja Calligraphy Wall Scrolls.
Some people may refer to this entry as Humor Kanji, Humor Characters, Humor in Mandarin Chinese, Humor Characters, Humor in Chinese Writing, Humor in Japanese Writing, Humor in Asian Writing, Humor Ideograms, Chinese Humor symbols, Humor Hieroglyphics, Humor Glyphs, Humor in Chinese Letters, Humor Hanzi, Humor in Japanese Kanji, Humor Pictograms, Humor in the Chinese Written-Language, or Humor in the Japanese Written-Language.
22 people have searched for Humor in Chinese or Japanese in the past year.
Humor was last searched for by someone else on Aug 12th, 2022