Not what you want?
Try searching again using:
1. Other similar-meaning words.
2. Fewer words or just one word.

If all else fails, email me and
tell me what you need.
Benefit in Chinese / Japanese...
Buy a Benefit calligraphy wall scroll here!
Personalize your custom "Benefit" project by clicking the button next to your favorite "Benefit" title below...

ji ta kyou ei

自他共榮 can be translated a few different ways. Here are some possibilities:
Benefit mutually and prosper together.
Mutual welfare and benefit.
A learning concept of mutual benefit and welfare (that applies to all fields of society).
Mutual prosperity.

The first two characters are easy to explain. They are "self" and "others." Together, these two characters create a word which means "mutual" (literally "me and them").

The third character can have different meanings depending on context. Here, it means "in common" or "to share."

The fourth character suggests the idea of "prosperity," "flourishing" or becoming "glorious."

It should be noted that these Kanji are used almost exclusively in the context of Judo martial arts. 自他共榮 is not a common or recognized Japanese proverb outside of Judo.
---
In modern Japanese Kanji, the last character looks like

instead of

. If you want this slightly-simplified version, please let us know when you place your order.

kāi juàn yǒu yì

개권유익

There are several ways to translate this ancient proverb. Translated literally and directly it says, "Open roll has/yields benefit."

To understand that, you must know a few things...

First, Chinese characters and language have deeper meanings that often are not spoken but are understood - especially with ancient text like this. Example: It's understood that the "benefit" referred to in this proverb is to the mind of the reader. Just the last character expresses that whole idea.

Second, Chinese proverbs are supposed to make you think, and leave a bit of mystery to figure out.

Third, for this proverb, it should be noted that roll = book. When this proverb came about (about two thousand years ago) books were really rolls of bamboo slips strung together. The first bound books like the ones we use today did not come about until about a thousand years after this proverb when they invented paper in China.

開卷有益 is a great gift for a bookworm who loves to read and increase their knowledge. Or for any friend that is or wants to be well-read.

Some other translations of this phrase:
Opening a book is profitable
The benefits of education.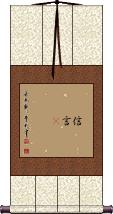 This is the Mawangdui version of Daodejing chapter 81.


It can be translated this way:
Credible words are not eloquent;
Eloquent words are not credible.

The wise are not erudite;
The erudite are not wise.

The adept are not all-around;
The all-around are not adept.
The sages do not accumulate things.
Yet the more they have done for others,
The more they have gained themselves;
The more they have given to others,
The more they have gotten themselves.

Thus, the way of tian (heaven) is to benefit without harming;
The way of sages is to do without contending.
Another translation:
Sincere words are not showy;
showy words are not sincere.
Those who know are not "widely learned";
those "widely learned" do not know.
The good do not have a lot;
Those with a lot are not good.
The Sage accumulates nothing.
Having used what he had for others,
he has even more.
Having given what he had to others,
what he has is even greater.
Therefore, the Way of Heaven is to benefit and not cause any harm,
The Way of Man is to act on behalf of others and not to compete with them.
And a third translation:
True words aren't charming,
charming words aren't true.
Good people aren't contentious,
contentious people aren't good.
People who know aren't learned,
learned people don't know.
Wise souls don't hoard;
the more they do for others the more they have,
the more they give the richer they are.
The Way of heaven provides without destroying.
Doing without outdoing
is the Way of the wise.

itami naku shite erumono wa nashi

This Japanese phrase means "no pain, no gain."

Literally, this suggests that with pain, a gain must follow.

The pain Kanji here can also be translated as sorrow or suffering. The gain can also mean profit, advantage, or benefit. In Japanese Buddhist context, that gain Kanji can mean rebirth in paradise, entering nirvana.

The character break down:
痛みなく (itami naku) pain; ache; sore; grief; distress. The naku part adds a meaning of "a lot of" or "extended"
して (shite) and then. (indicates a causative expression; acts as a connective particle)
得る (eru) to get; to acquire; to obtain; to procure; to earn; to win; to gain; to secure; to attain.
もの (mono) conjunctive particle indicating a cause or reason.
なし (nashi) none of; -less; without; no.
---
Note: Because this selection contains some special Japanese Hiragana characters, it should be written by a Japanese calligrapher.
Past experience is the teacher for the future.
Past events not forgotten serve as teachers for later events.

qián shì bú wàng hòu shí zhī shī

The most literal translation to English of this ancient Chinese proverb is:
"Past events not forgotten serve as teachers for later events."

However, it's been translated several ways:
Don't forget past events, they can guide you in future.
Benefit from past experience.
Past experience, if not forgotten, is a guide for the future.
Past calamity is my teacher.
A good memory for the past is a teacher for the future.
The remembrance of the past is the teacher of the future.
If one remembers the lessons of the past; They will serve as a guide to avoid mistakes in the future.

The origin:
This proverb comes from the 5th century B.C. just before the Warring States Period in the territory now known as China.
The head of the State of Jin, Zhi Bo, seized power in a coup. He did this with help from the armies of the State of Han and Wei. Instead of being grateful for the help from Han and Wei, he treacherously took the land of Han and Wei. Never satisfied, Zhi Bo employed the armies of Han and Wei to attack and seize the State of Zhao.

The king of Zhao took advice from his minister Zhang Mengtan and secretly contacted the Han and Wei armies to reverse their plans and attack the army of Zhi Bo instead. The plan was successful, and the State of Zhao was not only saved but was set to become a powerful kingdom in the region.

Zhang Mengtan immediately submitted his resignation to a confused king of Zhao. When asked why, Zhang Mengtan said, "I've done my duty to save my kingdom but looking back at past experience, I know sovereign kings are never satisfied with the power or land at hand. They will join others and fight for more power and more land. I must learn from past experiences, as those experiences are the teachers of future events."
The king could not dispute the logic in that statement and accepted Zhang Mengtan's resignation.

For generations, the State of Zhao continued to fight for power and land until finally being defeated and decimated by the State of Qin (which lead to the birth of the Qin Dynasty in 221 B.C.).

quán fǎ

kenpou

권법

This form of martial arts can be translated in several ways. Some will call it "fist principles" or "the way of the fist," or even "law of the fist." The first character literally means fist. The second can mean law, method, way, principle or Buddhist teaching.

Kempo is really a potluck of martial arts. Often a combination of Chinese martial arts such as Shaolin Kung Fu with Japanese martial arts such as Karate, Jujutsu (Jujitsu), Aikido, and others. You may see the term "Kempo Karate" which basically means Karate with other disciplines added. In this way, Kempo becomes an adjective rather than a title or school of martial arts.

These facts will long be argued by various masters and students of Kempo. Even the argument as to whether it should be spelled "kenpo" or "Kempo" ensues at dojos around the world (the correct Romaji should actually be "kenpou" if you precisely follow the rules).

The benefit of Kempo is that the techniques are easier to learn and master compared to pure Kung Fu (wu shu). Students are often taught basic Karate moves, kicks, and punches before augmenting the basic skills with complex Kung Fu techniques. This allows students of Kempo achieve a level where they can defend themselves or fight in a relatively short amount of time (a few years rather than a decade or more).

Because the definition of this word is so fluid, I should make some notes here:

1. Purists in Okinawa will claim that "Okinawa Kenpo" or "Ryukyu Hon Kenpo" is the original and true version of this martial art from the old kingdom. There is actually little or no connection between Okinawa Kenpo and the way the word is used elsewhere.

2. In Chinese, where these characters are pronounced "quan fa" (sometimes Romanized as "chuan fa" because the Chinese-pinyin "q" actually sounds like an English "ch" sound), these characters do not hold the connotation of being a mixed martial art. It is simply defined as "the law of the fist."

3. In my Japanese dictionary, it oddly defines Kenpo as "Chinese art of self-defense." I personally don't feel this is the most common way that people perceive the word but just something you should know.
Many custom options...




And formats...



The following table may be helpful for those studying Chinese or Japanese...
Title
Characters
Romaji

(Romanized Japanese)

Various forms of Romanized Chinese
Mutual Welfare and Benefit
自他共榮

---

自他共荣 / 自他共栄
ji ta kyou ei

---

jitakyouei

---

ji ta kyo ei

---

jitakyoei
An Open Book Benefits Your Mind
開卷有益

---

开卷有益
kāi juàn yǒu yì

---

kai1 juan4 you3 yi4

---

kai juan you yi

---

kaijuanyouyi
k`ai chüan yu i

---

kaichüanyui

---

kai chüan yu i
Grace from Heaven
Grace from God
神の恩恵
kami no on kei

---

kaminoonkei
Daodejing
Tao Te Ching - Chapter 81
信言不美美言不信知者不博博者不知善者不多多者不善聖人無積既以為人己癒有既以予人矣已癒多故天之道利而不害聖人之道為而不爭

---

信言不美美言不信知者不博博者不知善者不多多者不善圣人无积既以为人己愈有既以予人矣已愈多故天之道利而不害圣人之道为而不争
No Pain No Gain
痛みなくして得るものなし
itami naku shite erumono wa nashi
Past experience is the teacher for the future.
前事不忘后事之師

---

前事不忘后事之师
qián shì bú wàng hòu shí zhī shī

---

qian2 shi4 bu2 wang4 hou4 shi2 zhi1 shi1

---

qian shi bu wang hou shi zhi shi
ch`ien shih pu wang hou shih chih shih

---

chien shih pu wang hou shih chih shih
Kenpo
Kempo
Quan Fa
Chuan Fa
拳法
kenpou / kenpo
quán fǎ / quan2 fa3 / quan fa / quanfa
ch`üan fa / chüanfa / chüan fa
In some entries above you will see that characters have different versions above and below a line.
In these cases, the characters above the line are Traditional Chinese, while the ones below are Simplified Chinese.
Successful Chinese Character and Japanese Kanji calligraphy searches within the last few hours...
All of our calligraphy wall scrolls are handmade.
When the calligrapher finishes creating your artwork, it is taken to my art mounting workshop in Beijing where a wall scroll is made by hand from a combination of silk, rice paper, and wood.
After we create your wall scroll, it takes at least two weeks for air mail delivery from Beijing to you.
Allow a few weeks for delivery. Rush service speeds it up by a week or two for $10!
When you select your calligraphy, you'll be taken to another page where you can choose various custom options.
Check out my lists of Japanese Kanji Calligraphy Wall Scrolls and Old Korean Hanja Calligraphy Wall Scrolls.
Some people may refer to this entry as Benefit Kanji, Benefit Characters, Benefit in Mandarin Chinese, Benefit Characters, Benefit in Chinese Writing, Benefit in Japanese Writing, Benefit in Asian Writing, Benefit Ideograms, Chinese Benefit symbols, Benefit Hieroglyphics, Benefit Glyphs, Benefit in Chinese Letters, Benefit Hanzi, Benefit in Japanese Kanji, Benefit Pictograms, Benefit in the Chinese Written-Language, or Benefit in the Japanese Written-Language.