Tiger
Chinese / Japanese Kanji Calligraphy Portrait
This Chinese character is "hu" which means tiger.
In Mandarin Chinese this word is pronounced kind of like the English word "who".
In Chinese culture, the tiger is seen as the king of all animals.
Proof of this can be found by looking at another character "wang" which is written like this...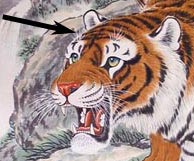 This character means "king".
If you have ever looked at a tiger face to face, you will see the fur on the tiger's head is in a similar shape to this "wang character" - take a look...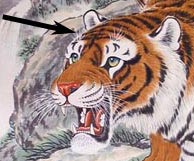 If you aren't Chinese, it might take a little imagination to see the symbol on the tiger's head, but anyone who speaks and writes Chinese will tell you that it's true.
This is a great gift for a real tiger-lover
---
Link: Options for custom Tiger-related Chinese/Japanese/Korean calligraphy are available here!
---
About the materials and construction of this painting:
The calligraphy was done using black Chinese ink on xuan paper (known incorrectly in the west as "rice paper"). The raw artwork was then taken to our Wall Scroll Workshop where it was laminated to more sheets of xuan paper, and built into a beautiful portrait with silk brocade border.
---
About the artist:
This calligraphy was created by Li Dan-Qing of Beijing. He's an older gentleman who has been involved with the art community of China, all of his life. Now in retirement, he creates calligraphy for us for sort of "hobby income".
This item was listed or modified
Mar 7th, 2014

Printer Friendly
Version
Gary's random little things about China:
Will there be enough hotels?
As the Chinese Government prepares Beijing for the 2008 Olympic Games, here are some related facts:
More than 200 new hotels are being built in Beijing.
Almost 100 miles of new subway and local transit rail lines are being laid.
Hundreds of miles of new and improved highways are being built.
Almost 100,000 billboard signs have been put up to encourage Chinese people to be friendly to foreigners (and to stop spitting in public).
Beijing taxi drivers have been ordered to learn basic landmark and navigational English.
The greater effect:
From the construction associated with the 2008 Olympics, The Three-Gorges Dam project, and other construction in China, there is a worldwide shortage of concrete and steel.
Because of the Para-Olympics, all new subway lines in Beijing are incorporating elevators making Beijing more accessible to disabled people than ever before.
Beijing's skies are usually gray by nature. In years past, on the days when the clouds clear, the sky was brown with pollution.
But in preparations for the Olympics along with a new public enthusiasm for environmental issues, gross-polluting vehicles have been banned by the Chinese Government.
So for the last few years, when the clouds clear over Beijing, blue sky can be seen for the first time in decades.