My Little Travel Partner
2-year-old adventurer, Kaili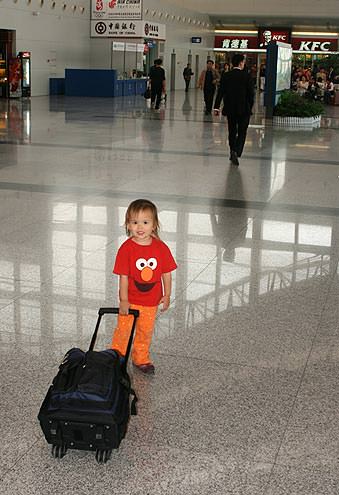 Kaili pulled her own luggage during almost the whole trip. She insisted on doing it herself. This picture is from the arrival at the Chengdu airport.
On my Spring 2008 art-buying adventure, I took my oldest daughter with me for the first time.
Granted, the travel was a little slower and more challenging with her along, but she was a good sport.
Kaili's name actually comes from an adventure I took in 2003. There was a certain village that had become a small town over the years. I found that the people seemed extra-nice and helpful in this place. The experience in the little town known as "Kaili" left such an impression on me that I named my first daughter after the town.
Kaili managed to charm her way into the hearts of many along the way. She also drew a lot of interest because she is half-Chinese and half-American (half-Caucasian). Chinese people are very interested in the looks of mixed children. Although, a couple generations ago, mixed children would be shunned, today, they are embraced in the culture. Of course, even in the USA, a few generations ago, it would have been illegal for my wife and I to be married. So both cultures have come a long way in terms of tolerance.
The locals were impressed that Kaili could speak Chinese (at least as good as you could ever expect from a two-year-old).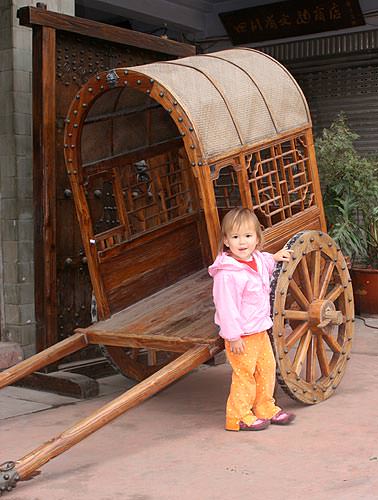 Kaili and I spent a day at an antique market in Chengdu. I was looking for a rickshaw to borrow and take her for a ride, but the closest I could find was this small old horse cart.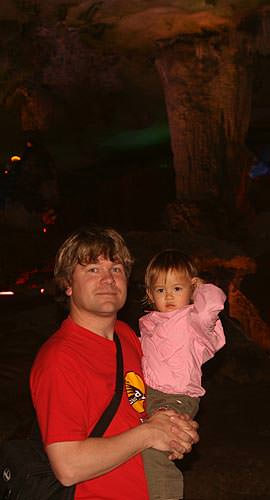 Taking some time off in Guilin, Kaili and I went to the deep underground caves. Taking the boat in the underground river was her favorite part.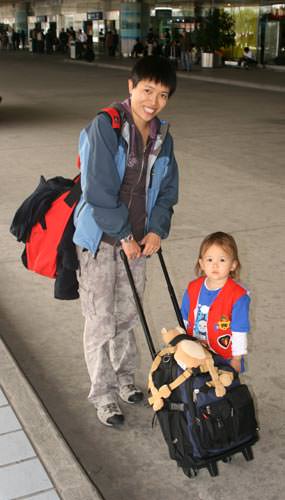 The intrepid traveler Kaili finally gives up her desire to pull her own luggage at the end of the trip.
---