Not what you want?
Try searching again using:
1. Other similar-meaning words.
2. Fewer words or just one word.
Mann in Chinese / Japanese...
Buy a Mann calligraphy wall scroll here!
Start your custom "Mann" project by clicking the button next to your favorite "Mann" title below...
Switched to secondary search mode due to lack of results using primary.
These secondary results may not be very accurate. Try a different but similar meaning word or phrase for better results. Or...
Look up Mann in our Japanese Kanji & Chinese Character Dictionary
Our dictionary is a different system then the calligraphy search you just tried.
If you want a special phrase, word, title, or proverb, feel free to contact me, and I will translate your custom calligraphy idea for you.

lǐ mào

예모|례모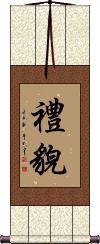 Courtesy is being polite and having good manners. When you speak and act courteously, you give others a feeling of being valued and respected. Greet people pleasantly. Bring courtesy home. Your family needs it most of all. Courtesy helps life to go smoothly.
---
If you put the words "fēi cháng bù" in front of this, it is like adding "very much not." It's a great insult in China, as nobody wants to be called "extremely discourteous" or "very much impolite."
---

ē xiū luó

ashura

아수라

This demon title comes from the ancient Sanskrit word Asura.

阿修羅 is often used in Buddhism when describing various demons. Sometimes defined as "Fighting and battling giant demon."

In the context of Buddhism: This title originally meant a spirit, spirits, or even the gods (perhaps before 1700 years ago). It now generally indicates titanic demons, enemies of the gods, with whom, especially Indra, they wage constant war. They are defined as "not devas," and "ugly," and "without wine." There are four classes of asuras, separated according to their manner of rebirth. They can be egg-born, womb-born, transformation-born, and spawn- or water-born. Their abode is in the ocean, north of Sumeru but certain of the weaker dwell in a western mountain cave. They have realms, rulers, and palaces, as have the devas.

In terms of power, Asuras rank above humans but below most of the other deities. They live in the area near the coastal foot of Mount Sumeru (on the northern side). Their domain is partially or wholly in the ocean.

hé zhǎng

gasshou

합장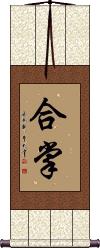 合掌 is the act of greeting someone (can also be done when departing) with hands brought together in a prayerful manner.

In India, this would be accompanied by the verbal greeting and blessing of "Namaste." In China, Japan, and Korea, this is how Buddhists will greet each other. Sometimes done by people who are not devout Buddhists in China, Japan, and Korea to show respect, reverence or great thanks to someone for a gift, forgiveness, or some honor that has been bestowed.

In Japan, this is almost always associated with a deep bow. In China where bowing is not an everyday occurrence, there may be a shallow bow but the act will be done with deep feeling. Korean culture seems to have more bowing than China but less than Japan.
---
See Also: Namaste

gōng hé

guai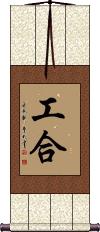 工合 is one of those Asian words that is used more in English than it is in the original Chinese.

Gung Ho was originally used to speak of Carlson's Raiders, a group of "Gung Ho" U.S. Marines who went on an island-hopping campaign of death during WWII.

A movie called Gung Ho came out in the mid-1940s and was later re-released in the 1950s depicting the 2nd Marine Raider Battalion, and brought this word to the mainstream.

It is still sometimes used today within the U.S. Marine Corps brotherhood to refer to a unit or group that works well together, or is otherwise efficient and motivated (has good moral).

In 1986, there was a movie called Gung Ho, about a Japanese company taking over an American automotive factory. They completely ignored the fact that this was a Chinese title.

It should be noted that this title actually means a condition, state, manner, or health of something in Japanese.

Language and pronunciation notes:
Like many Asian words absorbed into common use in English, this one is drastically mispronounced. The official Romanization is "gong he" but that doesn't tell you enough. The vowel sound on the first character is like the English word "own," now just add the g-sounds to the beginning and end. The second character is misleading, as you might think it is like the English word "he." In reality, the vowel sound is more like the "u" in "up."

It should also be noted, that the current generation in China no longer uses, or recognizes this as a common word or slogan.
---
Note: This can be pronounced and is a word in Japanese, though seldom used. Japanese will use a variation of "具合" instead. But still, not common.

hé shí

gou juu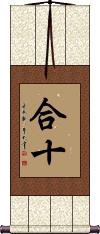 The word namaste comes from Sanskrit and is a common greeting in the Hindi and Nepali languages exchanged by devout Hindu or Buddhist people in Southern Asia (especially India).

Here you can see the Chinese form (and Japanese but not well-known in Japan) of this word which is used describe a Buddhist (or Hindu) greeting with palms closed together in a prayerful manner, generally at chest level. However, this selection of characters describes the act, and is not a word spoken during the greeting. In fact, words or a greeting is seldom spoken when two Chinese or Japanese Buddhists meet. The greeting is silent, and respectful but composed completely of body language.

Note that the greeting namaste as well as the act of placing palms together are used both as a hello and goodbye (kind of like the word aloha in Hawaiian).
---
If you are looking for a welcoming hello and goodbye, you may want to consider gassho or a simple welcome.
Search for Mann in my Japanese & Chinese Dictionary
The following table may be helpful for those studying Chinese or Japanese...
Title
Characters
Romaji

(Romanized Japanese)

Various forms of Romanized Chinese
Husemann
胡斯曼
hú sī màn

---

hu2 si1 man4

---

hu si man

---

husiman
hu ssu man

---

hussuman
Manning
曼寧

---

曼宁
màn níng / man4 ning2 / man ning / manning
Manny
曼尼
màn ní / man4 ni2 / man ni / manni
Manny
マニー
manii / mani
Courtesy
Politeness
禮貌

---

礼貌
lǐ mào / li3 mao4 / li mao / limao
Frightful Demon
Asura
阿修羅

---

阿修罗
ashura
ē xiū luó

---

e1 xiu1 luo2

---

e xiu luo

---

exiuluo
o hsiu lo

---

ohsiulo
Gassho
合掌
gasshou / gasho
hé zhǎng / he2 zhang3 / he zhang / hezhang
ho chang / hochang
Gung Ho
工合
guai
gōng hé / gong1 he2 / gong he / gonghe
kung ho / kungho
Love Your Children, But Discipline Them Too
愛在心里狠在面皮 / 愛在心里狠在麵皮

---

爱在心里狠在面皮
ài zài xīn lǐ hěn zài miàn pì

---

ai4 zai4 xin1 li3 hen3 zai4 mian4 pi4

---

ai zai xin li hen zai mian pi

---

aizaixinlihenzaimianpi
ai tsai hsin li hen tsai mien p`i

---

ai tsai hsin li hen tsai mien pi
Namaste - Greeting
合十
gou juu / goujuu / go ju / goju
hé shí / he2 shi2 / he shi / heshi
ho shih / hoshih
In some entries above you will see that characters have different versions above and below a line.
In these cases, the characters above the line are Traditional Chinese, while the ones below are Simplified Chinese.
Successful Chinese Character and Japanese Kanji calligraphy searches within the last few hours...
All of our calligraphy wall scrolls are handmade.
When the calligrapher finishes creating your artwork, it is taken to my art mounting workshop in Beijing where a wall scroll is made by hand from a combination of silk, rice paper, and wood.
After we create your wall scroll, it takes at least two weeks for air mail delivery from Beijing to you.
Allow a few weeks for delivery. Rush service speeds it up by a week or two for $10!
When you select your calligraphy, you'll be taken to another page where you can choose various custom options.
Check out my lists of Japanese Kanji Calligraphy Wall Scrolls and Old Korean Hanja Calligraphy Wall Scrolls.
Some people may refer to this entry as Mann Kanji, Mann Characters, Mann in Mandarin Chinese, Mann Characters, Mann in Chinese Writing, Mann in Japanese Writing, Mann in Asian Writing, Mann Ideograms, Chinese Mann symbols, Mann Hieroglyphics, Mann Glyphs, Mann in Chinese Letters, Mann Hanzi, Mann in Japanese Kanji, Mann Pictograms, Mann in the Chinese Written-Language, or Mann in the Japanese Written-Language.
4 people have searched for Mann in Chinese or Japanese in the past year.
Mann was last searched for by someone else on Jun 4th, 2016